New England Patriots 13-3 Los Angeles Rams: Tom Brady's Patriots win sixth Super Bowl
By David Currie at Mercedes-Benz Stadium, Atlanta
Last Updated: 06/02/19 1:53pm
Tom Brady won a record sixth Super Bowl and the New England Patriots tied the Pittsburgh Steelers' six-strong haul of Vince Lombardi trophies as they beat the Los Angeles Rams 13-3 in Super Bowl LIII - the lowest-scoring in NFL history.
Sadly the game was not the high-scoring thriller most had anticipated, with defense dominating throughout - it was, ironically, a whole 53 minutes until the first touchdown was finally scored.
The teams exchanged only field goals either side of half-time, before the Patriots ultimately streaked clear in the fourth quarter, with Sony Michel scoring a goal-line TD and then Stephon Gilmore intercepting Jared Goff on the subsequent drive. Stephen Gostkowski kicked another through the posts to ice it late on.
Game's key stats
| | | | |
| --- | --- | --- | --- |
| NEW ENGLAND | | LOS ANGELES | |
| Passing | C/A Yds TD Int | Passing | C/A Yds TD Int |
| Tom Brady | 21/35 262 0 1 | Jared Goff | 19/38 229 0 1 |
| Rushing | Att Yds TD | Rushing | Att Yds TD |
| Sony Michel | 18 94 1 | Todd Gurley | 10 35 0 |
| Rex Burkhead | 7 43 0 | C.J. Anderson | 7 22 0 |
| Receiving | Rec Yds TD | Receiving | Rec Yds TD |
| Julian Edelman | 10 141 0 | Brandin Cooks | 8 120 0 |
| Rob Gronkowski | 6 87 0 | Robert Woods | 5 70 0 |
| Rex Burkhead | 2 15 0 | Josh Reynolds | 3 28 0 |
| Total yards | 407 | Total yards | 260 |
The beginning of the game gave no hint to the attritional, defensive chess match that would follow, as Cordarrelle Patterson made an incisive run on the opening kick-off and then Michel found some gaps on a handy first series for New England in front of a heavily Patriots-favoured crowd in the Mercedes-Benz Stadium in Atlanta.
But, as they neared the end zone, Tom Brady was intercepted by Cory Littleton off a tipped pass intended for Chris Hogan.
It meant the Patriots kept their record of never scoring an offensive touchdown in the first quarter of any of their nine Super Bowl trips under Bill Belichick and Brady. Meanwhile, the Rams managed only two first downs in the whole of the first half - the first time they have gone scoreless in the opening half of a game under head coach Sean McVay.
Low scoring affair
13-3 is the lowest scoring Super Bowl in history
The Rams are only the second team not to score a Super Bowl touchdown (Miami Dolphins, 1972)
In case you were wondering ... lowest-scoring Super Bowls:

1. VII: Dolphins 14, Redskins 7

2. IX: Steelers 16, Vikings 6

3. III: Jets 16, Colts 7

4. VI: Cowboys 24, Dolphins 3

5. V: Colts 16, Cowboys 13

— Gil Brandt (@Gil_Brandt) February 4, 2019
Things did not improve much after Maroon 5's half-time show (nor during it), as the punt-fest continued, only to be broken up by the odd big passing play from Brady to Julian Edelman - Super Bowl MVP - who hauled in 10 catches for 141 yards.
The Patriots could not put up any further points, however, and the Rams tied the game up with a 53-yard Greg Zuerlein field goal. Los Angeles had the chance to take the lead earlier in the drive, but Goff delivered the ball late to a wide-open Brandin Cooks in the end zone, giving Jason McCourty time to recover and disrupt the pass.
It was the kind of error that plagued 24-year-old Goff in his maiden Super Bowl appearance, as he completed only 50 per cent of his 38 throws for 229 yards - with just 95 of those coming in the first three quarters. Todd Gurley too was again a non-factor, touching the ball only 11 times for 34 yards.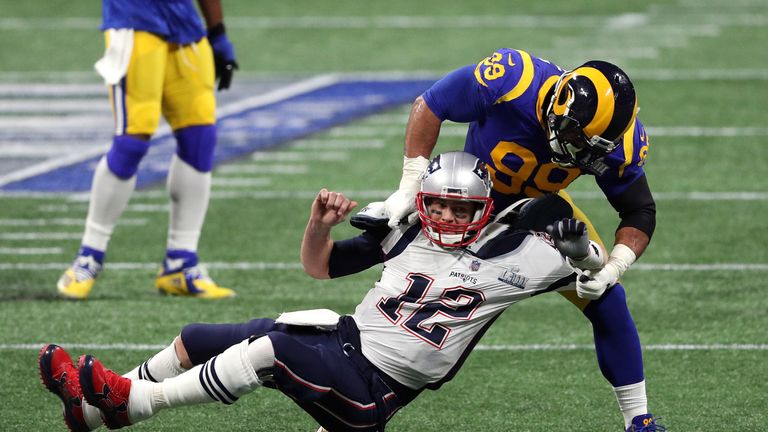 Brady did not have one of his better outings either, in truth. In fact, at one stage, the highlight of the game looked to be a Super Bowl record 65-yard punt by Johnny Hekker for the Rams.
Thankfully that was not the case, as following Zuerlein's kick to tie the game, the Patriots finally woke from their Super Bowl slumber, with Brady completing a key 29-yard pass to Rob Gronkowski to set them up at the goal line for Michel to ultimately rumble in for the touchdown.
Goff moved the Rams down the field to try and tie things up, and again very nearly found Cooks for a TD to tie it but, after it fell incomplete, Goff attempted the same play but this time telegraphed it and saw a poor pass picked off by Gilmore.
The Patriots then ran down the clock and added a further three points just for good measure on their way to creating history.
SECOND QUARTER
Patriots 3-0 Rams: Stephen Gostkowski 42-yard field goal
THIRD QUARTER
Patriots 3-3 Rams: Greg Zuerlein 53-yard field goal
FOURTH QUARTER
Patriots 10-3 Rams: Sony Michel 2-yard run
Patriots 13-3 Rams: Stephen Gostkowski 41-yard field goal
Sky Sports coverage of the NFL will continue through the off-season as we track the player moves and the storylines in the build-up to the 100th year of the NFL - and we will have all three days of the NFL Draft covered in April.