NFL Draft 2020: Joe Burrow selected by Cincinnati Bengals
Quarterbacks Tua Tagovailoa and Justin Herbert also go in the top six as virtual Draft passes without a hitch; Packers select quarterback Jordan Love
Last Updated: 24/04/20 11:58am
As expected, the Cincinnati Bengals made Louisiana State quarterback Joe Burrow the new face of their franchise with the first overall pick of the 2020 NFL Draft.
In years gone by, drama has stalked the opening stages of the Draft, where the best players in college football are selected by the 32 NFL franchises, but there had been little doubt about Burrow and the Bengals.
Cincinnati finished with the NFL's worst record last season (2-14) while Burrow won the Heisman Trophy and led LSU to the National Championship with perhaps the best season by a college quarterback in history, setting a host of records along the way.
2020 NFL Draft - Top Five
| | | |
| --- | --- | --- |
| (1) Cincinnati Bengals | Joe Burrow (QB) | LSU |
| (2) Washington Redskins | Chase Young (DE) | Ohio State |
| (3) Detroit Lions | Jeff Okudah (CB) | Ohio State |
| (4) New York Giants | Andrew Thomas (T) | Georgia |
| (5) Miami Dolphins | Tua Tagovailoa (QB) | Alabama |
As the coronavirus pandemic forced the NFL into the first fully virtual draft, rather than Las Vegas, there was more doubt about whether internet connections would hold up than whether the Bengals would give up top spot or cause a surprise.
NFL commissioner Roger Goodell put Burrow's home state on the clock from the comfort of his basement, and it took just a matter of minutes for the Bengals to make the pick - the third successive year the Heisman Trophy winner has been the first selection.
Burrow said: "I knew I was going to have a really good season because I knew we had good players coming back, great coaches and we were going to work really hard. But to jump up to number one overall is crazy to me. It's a dream come true.
"I wasn't very good in my junior year, but I worked hard to get better - we all worked hard and we came together as a team," the 23-year-old added after taking the call at home with his parents in Athens, Ohio, just over 150 miles from Cincinnati's Paul Brown Stadium.
Trades in short supply
For the first time since 2015, no team in the top 10 traded their pick
Just as Burrow stayed in his home state, the second overall pick did likewise when Washington Redskins selected the man regarded as the best player in the Draft - Ohio State defensive end Chase Young who was born and grew up in Maryland.
When Detroit opted against trading the third overall pick, they went with Young's Ohio teammate and cornerback Jeff Okudah, underlining another theme - the top three picks were teammates at Ohio in 2017 before Burrow transferred to LSU.
New York Giants opted for offensive tackle Andrew Thomas with the fourth pick before the two other quarterbacks followed to round out the top six. The third time in the common Draft era three QBs were selected into the top six selections.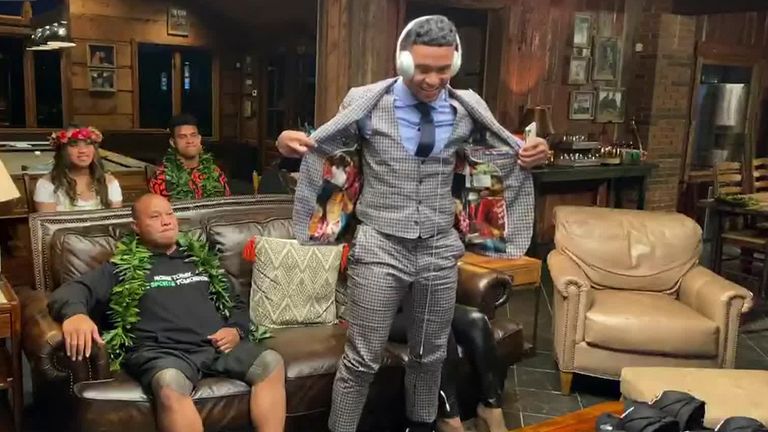 The second quarterback came off the board with Miami's pick of Alabama's Tua Tagovailoa and he was followed by Oregon's Justin Herbert being selected by the Los Angeles Chargers who are moving on from Phillip Rivers for the first time since 2005.
Miami famously passed on Drew Brees more than 15 years ago but there was no repeat this year. The Dolphins have been in need at quarterback and despite one or two erroneous suggestions earlier in the day that they may move for a tackle, or a different quarterback, it was the Hawaiian-born left-handerTagovailoa whose name was called by Goodell.
Injury doubts surround the talented signal caller after recent hip surgery and a host of injury concerns, but his agent has been at pains to alleviate those concerns while Tagovailoa released a video of his own Pro Day and received a clean bill of health from an independent doctor.
Herbert followed him off the board, with the Chargers strangely opting for Gary Anderson's nine-dart finish at the World Matchplay to welcome their new arrival.
The fourth quarterback of the first round was Jordan Love, who is on his way to Green Bay to compete with Aaron Rodgers, who may have been more welcoming for some support on offense, especially after the Packers traded up for the pick.
As it is, he gets competition for his job from Love in scenes reminiscent of Rodgers' own arrival at Lambeau to back up Brett Favre.
2020 NFL Draft - Six to 10
| | | |
| --- | --- | --- |
| (6) Los Angeles Chargers | Justin Herbert (QB) | Oregon |
| (7) Carolina Panthers | Derrick Brown (DT) | Auburn |
| (8) Arizona Cardinals | Isaiah Simmons (LB) | Clemson |
| (9) Jacksonville Jaguars | CJ Henderson (CB) | Florida |
| (10) Cleveland Browns | Jedrick Wills (OT) | Alabama |
With trades few and far between early on, perhaps hinting at franchises' uncertainty over the technology and a lack of in-person time with the prospects, it was not until the 13th selection that a team made their move. Tom Brady's Tampa Bay Buccaneers moved up one spot to take San Francisco's position to claim the last big-name tackle on the board, Tristan Wirfs.
A generational class of players in the wide receiver position began to find their new homes from the 12th pick when Las Vegas Raiders made Henry Ruggs III the first wide-out off the board. The Alabama speed merchant was highly-regarded for his searing pace, but CeeDee Lamb and Jerry Jeudy were expected to be picked before him.
Vegas was also confirmed as the host for the NFL Draft in 2022 after this year's event was cancelled.
2020 NFL Draft - 11-20
| | | |
| --- | --- | --- |
| (11) New York Jets | Mekhi Becton (OT), Louisville | |
| (12) Las Vegas Raiders | Henry Ruggs III (WR), Alabama | |
| (13) Tampa Bay Buccaneers | Tristan Wirfs (OT), Iowa | From San Francisco |
| (14) San Francisco 49ers | Javon Kinlaw (DC), South Carolina | From Tampa Bay |
| (15) Denver Broncos | Jerry Jeudy (WR), Alabama | |
| (16) Atlanta Falcons | AJ Terrell (CB), Clemson | |
| (17) Dallas Cowboys | CeeDee Lamb (WR), Oklahoma | |
| (18) Miami Dolphins | Austin Jackson (OT), USC | |
| (19) Las Vegas Raiders | Damon Arnette (CB), Ohio State | |
| (20) Jacksonville Jaguars | K'Lavon Chaisson (LB), LSU | |
Instead, Jeudy went to the Denver Broncos (15th pick) and was followed by Lamb to the Dallas Cowboys two selections later before Jalen Reagor and Justin Jefferson followed to the Philadelphia Eagles and Minnesota Vikings respectively.
There was intrigue around what the New England Patriots might do, an off-season of huge change is in store and it was no surprise that they dropped back from the 23rd pick to claim second and third-round selections from the Chargers - giving them 13 selections all outside the first round.
2020 NFL Draft - 21-32
| | | |
| --- | --- | --- |
| (21) Philadelphia Eagles | Jalen Reagor (WR), TCU | |
| (22) Minnesota Vikings | Justin Jefferson (WR), LSU | |
| (23) LA Chargers | Kenneth Murray (LB), Oklahoma | from New England |
| (24) New Orleans Saints | Cesar Ruiz (C), Michigan | |
| (25) San Francisco 49ers | Brandon Aiyuk (WR), Arizona State | from Minnesota |
| (26) Green Bay Packers | Jordan Love (QB), Utah State | from Miami |
| (27) Seattle Seahawks | Jordyn Brooks (LB), Texas Tech | |
| (28) Baltimore Ravens | Patrick Queen (LB), LSU | |
| (29) Tennessee Titans | Isaiah Wilson (T), Georgia | |
| (30) Miami Dolphins | Noah Igbinoghene (CB), Auburn | from Green Bay |
| (31) Minnesota Vikings | Jeff Gladney (CB), Texas Christian | from San Francisco |
| (32) Kansas City Chiefs | Clyde Edwards-Helaire (RB), LSU | |
Coverage of days two and three of the NFL Draft continues on Sky Sports Action on Friday and Saturday night - join us for build-up from 10pm on Friday with the picks underway at 1am