Chandler Jones: Arizona Cardinals pass rusher out for season with biceps injury
Jones sustained the injury during the second quarter of the Cardinals' 30-10 win over the New York Jets on Sunday
Last Updated: 14/10/20 10:59pm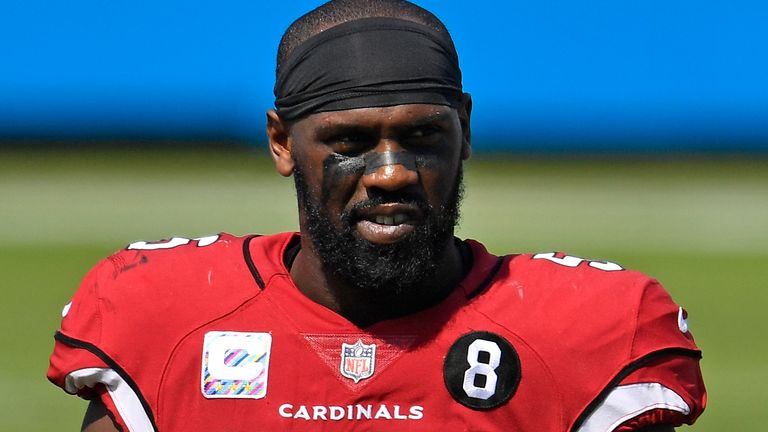 Arizona Cardinals pass rusher Chandler Jones will miss the remainder of the season due to a right biceps injury.
Jones sustained the injury during the second quarter of the Cardinals' 30-10 win over the New York Jets on Sunday and was hopeful it would not require surgery.
However, Cardinals head coach Kliff Kingsbury revealed on Wednesday that Jones is set to undergo an operation and he is expected to be sidelined for three to four months.
"He's a tremendous player, as we all know," Kingsbury said. "Great person.
"Great leader on this team. It's not going to be easy, but we have some guys who have seen playing time this year who will continue to play and get more."
Kingsbury said his team will use "a rotation of guys" to replace Jones, who has recorded double-digit sack totals in each of the previous five seasons.
Hasson Reddick, rookie Isaiah Simmons and backup Dennis Gardeck, who had his first two sacks against the Jets after Jones was hurt, are expected to compete for a starting role.
Jones, who played for New England Patriots between 2012-15, had a career-best 19 sacks as an All-Pro last year and has followed that up with 11 tackles, one fumble recovery and one sack in his first five games of 2020.
Former NFL coach Rob Ryan says the Dallas Cowboys will struggle to replace their quarterback and leader Dak Prescott, following the devastating injury he suffered on Sunday that will keep him out of the season.
A visibly emotional Prescott was carted off the field during the third quarter of the Cowboys' 37-34 win over the New York Giants after a gruesome compound fracture and dislocation to his right ankle.
Prescott had been playing brilliantly through the first four and a half games of the season, throwing for 1,856 yards and nine touchdowns (and scoring three on the ground), helping to keep the team competitive despite a leaky defence.
"You saw how much respect he had from both sidelines," coach Ryan said on NFL Overtime (Tuesdays, 9pm, Sky Sports NFL). "On that Dallas team, this wasn't a team-mate, this was a brother.
"This is their leader, and you can't just replace him."
Seattle Seahawks receiver D.K. Metcalf is currently 'the best in the NFL', according to Good Morning Football's Kay Adams.
"Do you want me to say it? Sure, I'll say it on Sky Sports; I think he's the best wide receiver in the NFL in 2020," Adams said as a guest on NFL Overtime.
"He is a true No 1, physically, anatomically, how fast he is, how big he is. He has gained the trust of Russell Wilson, who wheeling and dealing through the air and has to throw a ton because of the lack of defence they have there.
"Numbers-wise, Metcalf scores touchdowns - that's what he does, he sets up camp in the endzone."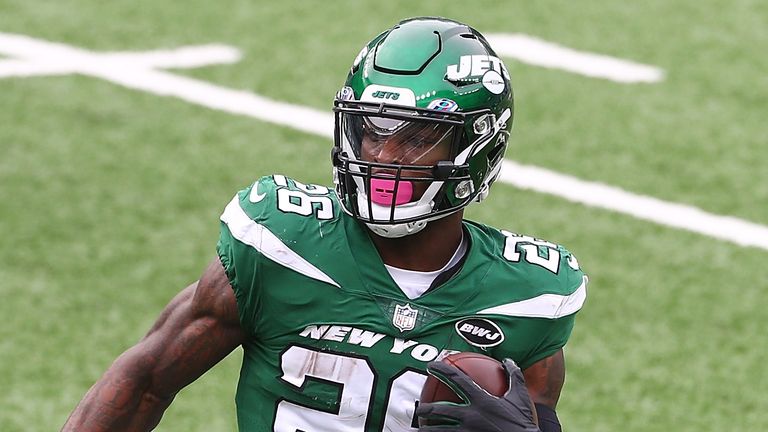 The New York Jets released disgruntled running back Le'Veon Bell on Tuesday night.
The three-time Pro Bowl selection signed a four-year, $52.5m deal as a free agent with the Jets in March of 2019. But there were issues from the start as rumours emerged that coach Adam Gase wasn't thrilled about the move. The signing was orchestrated by then-general manager Mike Maccagnan, who was dismissed two months later.
"After having conversations with Le'Veon and his agent and exploring potential trade options over the past couple of days, we have made the decision to release Le'Veon," Jets general manager Joe Douglas said in a news release.
Shortly after the announcement of his release, Bell tweeted a photo of himself and said, "got a lot to prove. I'm ready to go."
Week Six gets underway on Sky Sports NFL with a triple header on Sunday, starting with an AFC North rivalry with the Cleveland Browns against the Pittsburgh Steelers - build up begins at 5pm, with kick-off at 6pm.