NFL Grades Week 10: The Buffalo Bills slip up at home to the starring New Orleans Saints
By Tom Julian and Owen Davis
Last Updated: 21/11/17 8:46pm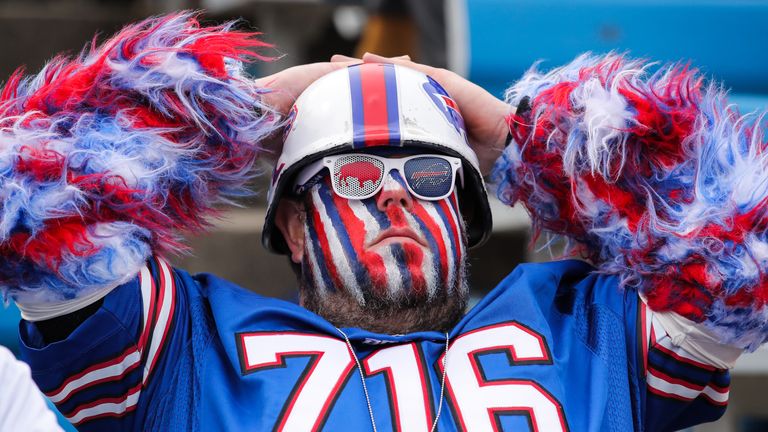 The playoff picture became even clearer after Week 10 in the NFL. Which teams stood out and which flopped?
The New Orleans Saints and Los Angles Rams continued their impressive runs to the 2017 postseason promised land with emphatic wins.
On the other side, there were a number of teams who didn't show up in Week 10, including the Buffalo Bills and New York Giants (again!).
Here's a look at our weekly team grades...
AFC EAST
New England Patriots (W 41-16 @ Denver)
Before this weekend, the Patriots hadn't won back-to-back games in Denver since 1966, but up steps Tom Brady, throwing three touchdowns as New England's depth of offensive options put Denver to the sword.
Defensively, New England limited the Broncos' scoring opportunities, and have now conceded fewer than 17 points in each of their last five games. Grade A
Miami Dolphins (L 21-45 @ Carolina)
With less than a minute to play in the first half, Jay Cutler's costly interception set up Carolina's second touchdown and the Panthers then went on to set a franchise record 548 total yards. The NFL's lowest-scoring offense was left with no chance.
Commentator Jon Gruden said during the game that Miami were the most inconsistent team he had seen on both offense and defense. Grade D
New York Jets (L 10-15 @ Tampa Bay)
Inconsistency has also been the story of the Jets' season, and this was one of their off days. Josh McCown was sacked six times and though Robby Anderson scored a last-minute touchdown which softened the blow, this was another disappointing performance from the Jets, failing to capitalise after their impressive Week Nine win over the Bills. Grade E
Buffalo Bills (L 10-47 v New Orleans)
Tyrod Taylor was contained to just 56 passing yards and the Bills defense was demolished by a Saints running game which racked up six TDs and almost 300 yards on the ground. Two weeks ago the Bills were competing for AFC East honours, but now find themselves battling for their place in the playoffs. Grade F
AFC NORTH
Pittsburgh Steelers (W 20-17 @ Indianapolis)
This was far from vintage Steelers and, against a better opponent, Pittsburgh would be ruing a missed opportunity. But, down 17-3 in the third quarter, the Steelers then scored four times without reply, including Chris Boswell's last-second 33-yard field goal to walk away with the win. Grade B
Cincinnati Bengals (L 20-24 @ Tennessee)
Despite two show-reel type touchdown passes to Brandon LaFell and A.J. Green, it was another sluggish day for Andy Dalton and the Bengals offense. Though the stats sheet won't tell the whole story, Dalton's targets found it tough going to create space and Cincinnati were forced to punt seven times. Grade C-
Cleveland Browns (L 24-38 @ Detroit)
Giving up 21 unanswered points is a recipe for disaster and the Browns, as good as they were in portions of this game, suffer a ninth defeat in nine as a result. DeShone Kizer played well, the Browns' run game produced its season-best but, in 16 minutes, Matthew Stafford threw three touchdown passes and all that good work was undone. Grade E
Baltimore Ravens (Bye)
AFC SOUTH
Tennessee Titans (W 24-20 v Cincinnati)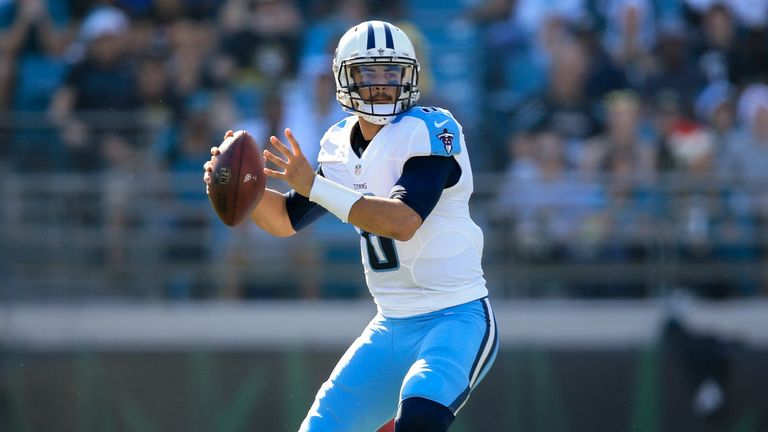 The Titans overcame a wasteful Cincinnati team thanks to quarterback Marcus Mariota leading a 73-yard touchdown drive to win the game, but there were also glaring errors - Rishard Matthews dropped a catch that would have ended in a score, rookie Corey Davis fumbled entering the endzone. Grade B+
Jacksonville Jaguars (W 20-17 v Los Angeles Chargers) (OT)
Somehow the Jags came out of Everbank Field with a W on Sunday, despite two Blake Bortles interceptions in the final two minutes and Josh Lambo's game-winning overtime field goal being deflected but still making it through the posts.
Bortles actually played relatively well for the first three quarters of the game, but it all so nearly came undone thanks to his last minute erratic throws. Fortunately for head coach Doug Marrone, it didn't end up mattering and the Jaguars keep the pressure on Tennessee for the AFC South title. Grade B
Indianapolis Colts (L 17-20 v Pittsburgh)
It was another tough day at the office for Colts quarterback Jacoby Brissett, who will finally find some respite in Week 11 with a bye week. The young QB was sacked three times and entered the concussion protocol at the end of the third quarter.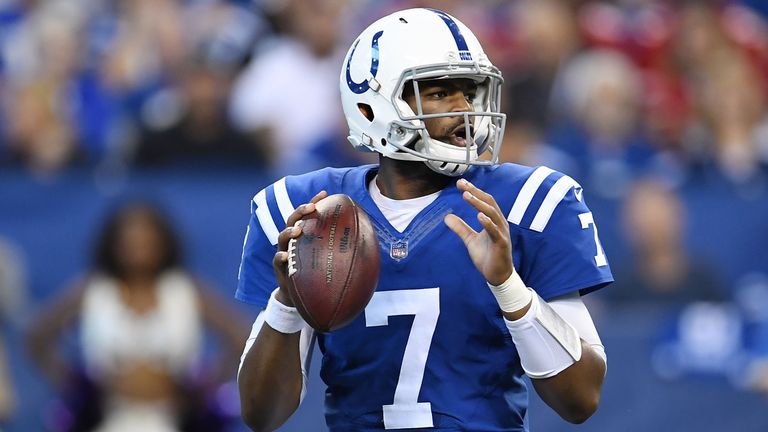 Indianapolis lose another close game but they could, and maybe should, have walked away with the W. Two 60+ yard touchdowns and holding Steelers wideout Antonio Brown to 47 yards would usually indicate a good day at the office. However, another fourth-quarter collapse saw Pittsburgh earn the victory. Grade C-
Houston Texans (L 7-33 @ Los Angeles Rams)
You've got to feel for Texans fans. And De'Andre Hopkins. And De'Andre Hopkins fantasy owners, come to think of it. This team lost its spark with the injury to rookie QB Deshaun Watson, who had seemingly put an end to the Texans' quarterback carousel.
Instead, Tom Savage lost four turnovers - two interceptions, two fumbles - as Houston crumbled at the Coliseum. It could have been worse too. Savage lost wideout Will Fuller to a rib injury which didn't help his cause, but this was a gift for the Rams which they gladly took. Grade E
AFC WEST
Los Angeles Chargers (L 17-20 @ Jacksonville) (OT)
Another one that got away for the Chargers. In a season of frustrating losses, the team continues to find new ways to lose and this was a road win they certainly could have done with. But, Anthony Lynn's side beat themselves, as they have tended to do this season. Cutting out the mistakes could make this side competitive. Grade D
Denver Broncos (L 16-41 v New England)
The Broncos made a tough job almost impossible, gifting New England early opportunities to establish a lead. Brock Osweiler played to the best of his ability, but it was an off-night for the Broncos D - talismanic defender Von Miller was marginalised - and a mistake-ridden performance from special teams cost Denver big against their old rivals as they stumbled to their fifth consecutive loss. Grade E
Kansas City Chiefs (Bye)
Oakland Raiders (Bye)
NFC EAST
Washington Redskins (L 30-38 v Minnesota)
You wouldn't expect to score 30 points against this Minnesota defense and still lose, but Washington managed it. A disastrous few minutes either side of the half - in which they conceded 21 points - was enough to scupper a solid offensive showing. The defense was poor though, allowing a touchdown on every Vikings trip to the redzone. Grade D+
Dallas Cowboys (L 7-27 @ Atlanta)
Between Jerry Jones' public feud with Roger Goodell and Ezekiel Elliott's suspension, it was no surprise that the Cowboys seemed distracted. It all started promisingly as Dak Prescott rushed in for an early TD for the lead, but they failed to score a single point thereafter. While Zeke's absence was a blow, it was the loss of All-Pro tackle Tyron Smith that was the biggest factor, as replacement Chaz Green was mauled by Atlanta's Adrian Clayborn. Grade E
New York Giants (L 21-31 @ San Francisco)
Eli Manning tied his brother Peyton with his 208th consecutive start, but he won't remember the milestone fondly. This is simply a horrible football team in every facet of the game, and when 49ers QB C.J. Beathard can torch your secondary for an 83-yard touchdown pass, you know something is wrong. Grade F
Philadelphia Eagles (Bye)
NFC NORTH
Minnesota Vikings (W 38-30 @ Washington)
It wasn't always easy, but this was an impressive victory for a Minnesota side that is a very quiet 7-2. They have hung their hat on defense the last few years but it was the offense that sparkled here with a season-high 38 points and four TDs for Case Keenum. Grade A
Green Bay Packers (W 23-16 @ Chicago)
Congratulations Brett Hundley! The young QB has won his first NFL game, and against the rival Bears no less. After a couple of nervy performances he finally found the confidence to air it downfield, which paid dividends on a couple of key plays. The offense is still stuttering rather than being back to its spectacular best, but it's important progress in this post-Aaron Rodgers era. Grade B+
Detroit Lions (38-24 v Cleveland)
It's hard to complain about a win but this was an ugly performance from Detroit. Down 10-0 early, without a couple of big plays in the fourth quarter - and some baffling offense from the Browns just before half-time - this could have been an entirely different story. Grade B-
Chicago Bears (L 16-23 v Green Bay)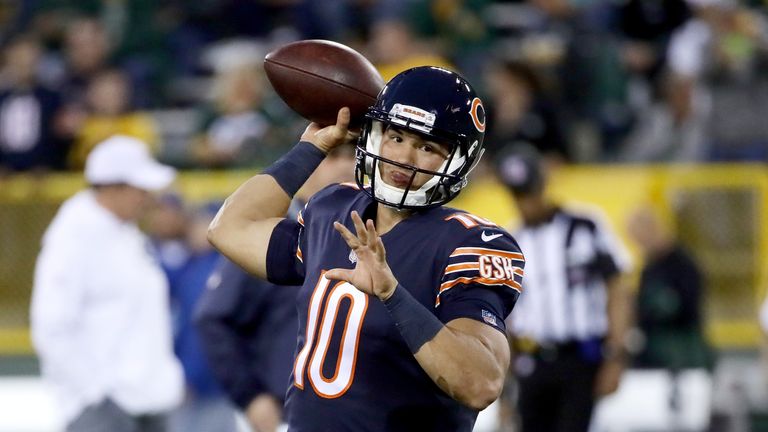 Coach John Fox certainly deserves an F this week after his challenge call on a Bears' 1st and goal that remarkably resulted in his own side turning the ball over. But, rookie Mitch Trubisky had a solid game with 297 yards and a beautiful TD pass in the fourth quarter, but ill-discipline and some poor defense ultimately proved fatal. Grade D-
NFC SOUTH
New Orleans Saints (W 47-10 @ Buffalo)
The Eagles aside, this is the hottest team in football right now. With Drew Brees under center they have always boasted a great passing attack, but with a running game and defense to match, this is now a truly formidable group. It was the ground game that did the damage here, as Mark Ingram bagged a hat-trick of scores and Brees himself ran - if that is the word - for one too. Grade A+
Atlanta Falcons (W 27-7 v Dallas)
Could this be the win that gets their season going? If it is, they have Adrian Clayborn to thank, as the defensive end had a historic day with a franchise record six sacks. Wow. He humbly described himself as having only one move on the pass rush - but what a move it is. Questions still linger over the state of the offense without Kyle Shanahan, but on the whole this was a great performance. Grade A
Carolina Panthers (W 45-21 v Miami)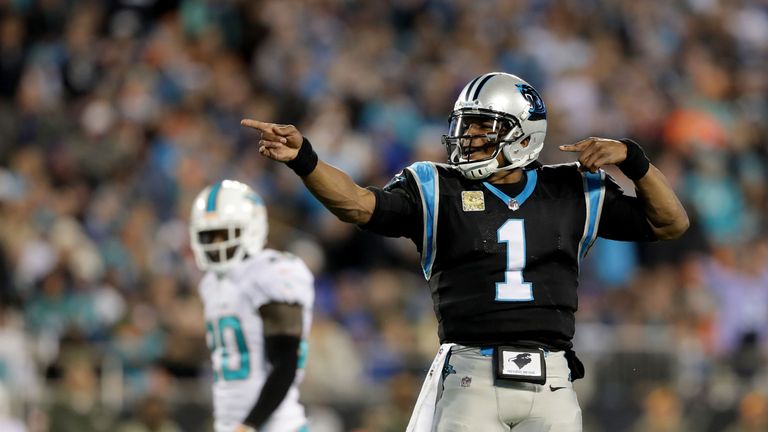 Cam Newton threw four touchdowns as the Panthers powered past the Dolphins on Monday Night Football. Carolina's 45 points were a season high and their 548 total yards marked a franchise record. Grade A
Tampa Bay Buccaneers (W 15-10 v New York Jets)
No Jameis Winston? No Mike Evans? No problem for Tampa Bay, who snapped a five-game losing skid on the season with a win against a tough Jets outfit. The defense led the way, shutting New York out of the end zone until the final minute of the game. Grade B+
NFC WEST
Los Angeles Rams (W 33-7 v Houston)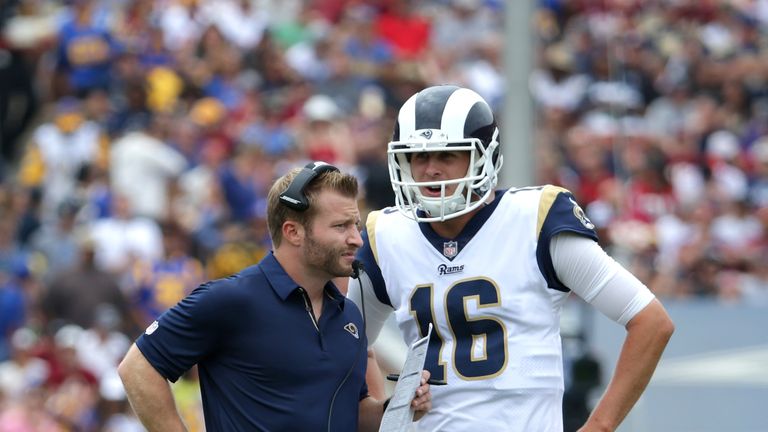 What a difference a year makes. Rookie head coach Sean McVay has taken the Rams from a bad and frankly boring team into one of the league's elite outfits. Not only are they winning, but they are winning big, and they barely broke sweat here as they swept Houston aside comfortably. Next up is a trip to Minnesota, in what should be an absolute firecracker. Grade A+
San Francisco 49ers (W 31-21 v New York Giants)
With a combined record of 1-16, this game didn't exactly stand out for the neutral. In actual fact, it proved to be a surprisingly entertaining contest, and the 49ers were good value for a win which they probably deserved earlier in the season. They can now breathe a sigh of relief knowing that they won't go 0-16 this year. Over to you Cleveland…Grade A
Seattle Seahawks (W 22-16 @ Arizona)
This was a much-needed win for Seattle as they try to keep pace with the Rams. Jimmy Graham continued to show his redzone pedigree as he caught a pair of TDs, while Russell Wilson again kept the offense ticking along smoothly. In less happy news, Richard Sherman joins the list of superstars out for the season, as he tore his Achilles on his 99th consecutive start. Grade A-
Arizona Cardinals (L 16-22 v Seattle)
This was a frustrating game for the Cardinals, not least for Adrian Peterson, whose production continues to yo-yo. After racking up 157 yards last week, he ran for just 29 here, accompanied by a fumble and a safety. Ouch. The stifled ground game forced Drew Stanton into throwing 47 times, and it wasn't a recipe for success. Grade D