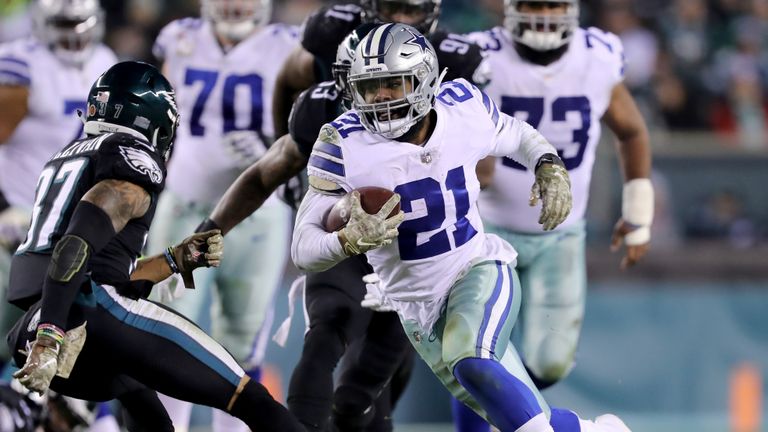 Fantasy analyst expert Adam Rank takes on the NFL Challenge, picking his team for Week 11...
Each week you get to pick a passing offense, rushing attack, defense and special teams unit to pick up points for your team while, on top of that, you can select a quarterback, running back and wide receiver to score additional points. Register to play by clicking here.
Adam Rank: Week 10 points
| | |
| --- | --- |
| Total points | 111 |
| Bears passing offense | 34 |
| Chargers rushing offense | 11 |
| Colts defense | 2 |
| Eagles special teams | 10 |
| Ryan Fitzpatrick, QB (Captain) | 26 |
| Kareem Hunt, RB | 9 |
| Odell Beckham Jr, WR | 19 |
We've made a deal in this space, that I would ignore the Los Angeles Rams and Kansas City Chiefs every week. Not because they are bad plays. Far from it. But mostly because they are the most obvious thing ever and we should try to move outside the obvious and offer some real advice.
All of that being said, if you have any opportunity to play any member of the Rams and Chiefs in your lineup, you need to do it. I don't care who. I don't care what position. You need to make sure they are in your lineup. The Monday night (Tuesday morning) contest between the two will be one of the most exciting of these games I can remember in quite some time.
You see, when I was a young lad, these type of barn-burners were the norm on Monday Night Football. It was the kind of thing you'd wait for all day for. One of the first MNF games I can remember was this epic Joe Montana vs. John Elway game that absolutely lived up to all of the hype. Of course, it was with the Chiefs-era Joe Montana though, which took a little bit away from the matchup. It's like if you're about to settle in for a Bond film and it's "The Living Daylights" instead of one of the good ones.
And I'll let you know, I say that in jest. In fact, one of the things I'll cape up for more than the Chicago Bears is Timothy Dalton as James Bond. He's unfairly criticised and a punchline, but he was the best Bond outside of the original. And the guy who most closely resembles the character in the books. But you didn't come here for that, so let's get on with the picks for this week.
New Orleans Saints passing offense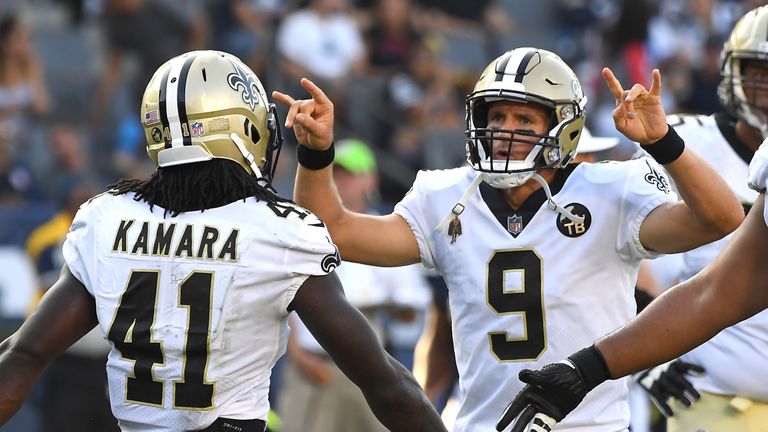 I know I spent quite a bit of capital on omitting the most obvious of plays, but I can't stress to you how important it might be to go with the Saints if you are not going with either the Rams or Chiefs. The Saints impressed me against the Cincinnati Bengals last week, which I suppose is easy to do.
But that had a classic Saints-letdown game feel to it - they just had a huge win over the Rams and were playing outside in temperatures that were around zero. And yet, the Saints went out there and dropped 'a Grant' on them. I realise that the reference of dropping a Grant - a nod to former U.S. President Grant, who is on our $50 bill - likely doesn't make much sense but, if you'll indulge me, I would appreciate it.
Also note how well the Saints ran the ball on Sunday. The Philadelphia Eagles have no answer for a strong rushing attack right now, as you saw the Dallas Cowboys use the run to set up the pass in their stunning upset of the world champions last Sunday. The Saints are your only option outside of Monday night.
New York Giants rushing offense
The Tampa Bay Buccaneers defense has been vulnerable this season. Most teams have taken advantage of them through the air, and while I would love to get Eli Manning into the mix at some point in our lineup this week, I'm going to roll with the Giants rushing offense. Saquon Barkley is coming off a huge game on Monday night and New York should continue to rely on him this week.
Baltimore Ravens defense
We would love to pick defenses that go up against the Buffalo Bills or New York Jets. Well, in most weeks. When did Matt Barkley become the second-coming of Jim Kelly? Because he did at least for a week against the aforementioned Jets. But here's the bad news; both of those teams are on a bye this week, so the easiest pick for me is to choose the squad going up against the Bengals. And the Ravens are already a good defense, so this is a much safer pick. But seriously, that Bengals offense without A.J. Green was gross. Cincinnati could be much better if Green returns, but not enough to talk me out of this pick.
Atlanta Falcons special teams
The secret for kickers is to take a high-scoring offense indoors. The Cowboys defense is actually kind of good, so I like the Falcons to move the ball with regularity but to have to settle for field goal attempts, which is kind of what we want.
Mitch Trubisky, QB, Chicago Bears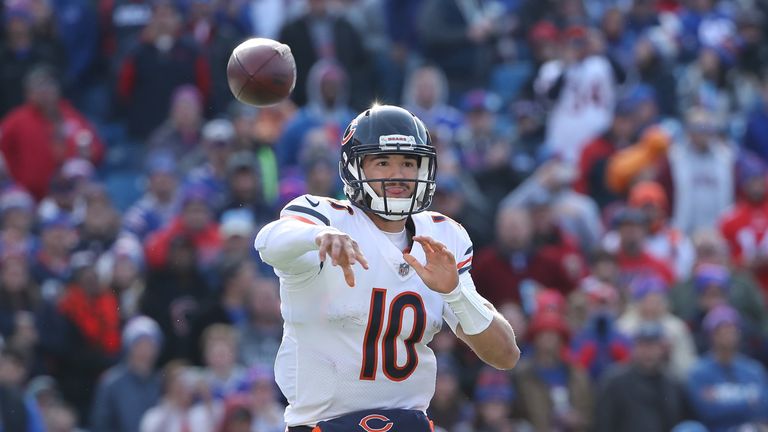 He's the one of the best quarterbacks in the league over the last month, and realise that comes with him taking a near backseat in Buffalo because the defense did much of the heavy lifting. But he has been incredible. He's still battling with some consistency issues, he'll make some throws where you are left wondering just exactly where he intended to go with the football, but he also does a nice job of stepping up in the pocket and making some big-boy throws. The touchdown pass to Allen Robinson (the other one) came on a third-and-long, which shows he's unafraid to let it rip. He's also been great running the football. He can really tuck it and get after it when he needs to.
Ezekiel Elliott, RB, Dallas Cowboys
Zeke is coming off a monster game where he made the Eagles stout defensive front look rather foolish. Philly walked into that Sunday night (Monday morning) matchup as the second-best against the run in the league. And then Zeke happened. A lot of times, in situations like these, I will warn people that it's fine to try to capture lightning in a bottle, just don't try to capture yesterday.
But I don't believe we are going to run that risk with Elliott, who is clearly at the top of his game right now. And when you look at the Falcons defense, and what it gave up to Nick Chubb last week, it's not too early to go back to the well there either. Atlanta has allowed the fifth-most fantasy points to running backs this season and the fifth-most rushing touchdowns this season (nine).
Odell Beckham Jr, WR, New York Giants
I have so many shares of Odell in my traditional fantasy leagues, so I'm thrilled he had a wonderful night against the San Francisco 49ers. I mean, it was amazing, but there were two more touchdowns available to him had Eli just made the right throws. The most troubling was the deep ball that was woefully underthrown. Beckham had blown by the coverage and would have cruised in for an easy touchdown if Eli could have given him the ball. That said, I'm happy to go with OBJ here against the Buccaneers. Sterling Shepard would also be a fun play too. But you've got to go with the king.
Click here to register to play NFL Challenge.