Super Bowl LI: New England Patriots 34-28 Atlanta Falcons
By Tom Julian, live from Houston
Last Updated: 06/02/17 3:23pm
The New England Patriots completed the greatest comeback in Super Bowl history to beat the Atlanta Falcons 34-28 in overtime.
Patriots quarterback Tom Brady threw for 466 yards and two touchdowns, to win his - and the organisation's - fifth championship.
The Falcons offence scored three first-half touchdowns to open a 21-point lead, including an 82-yard interception return from cornerback Robert Alford.
However, Patriots quarterback Tom Brady inspired a New England comeback, scoring 19 unanswered fourth-quarter points to force the first overtime in Super Bowl history.
New England won the toss to receive the ball and, after a 75-yard drive, James White scored from two yards, to secure the win.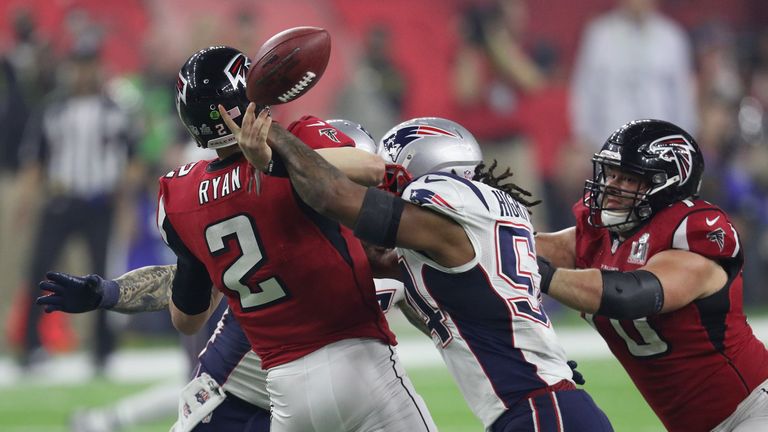 In 140 Characters…
An unbelievable fourth-quarter rally secures New England's fifth championship. Tom Brady's inspired performance makes him the most successful QB in history.
MVP
Brady set a Super Bowl record with 466 passing yards, completing one of the greatest comebacks in Super Bowl history. His fifth title, and by far the sweetest.
Game-changer
A huge forced fumble by Dont'a Hightower set up New England for a fourth-quarter touchdown, and gave Patriots fans belief that the comeback was on.
Stat of the night
14 - No team has ever come back from 14 points down to win a Super Bowl. Brady did it from 25 behind, the fourth time in his career that he has brought the Patriots back from three scores down.
Scoring Summary
| | | |
| --- | --- | --- |
| 1st Quarter | | |
| 2nd Quarter | | |
| NE 0-7 ATL | TD - D. Freeman 5 yd rush | Extra Point - M. Bryant |
| NE 0-14 ATL | TD - A. Hooper 19 yd pass - M. Ryan | Extra Point - M. Bryant |
| NE 0-21 ATL | TD - R. Alford 82 yd INT return | Extra Point - M. Bryant |
| NE 3-21 ATL | FG - S. Gostkowski 41 yd | |
| 3rd Quarter | | |
| NE 3-28 ATL | TD - T. Coleman 6 yd pass - M. Ryan | Extra Point - M. Bryant |
| NE 9-28 ATL | TD - J. White 5 yd pass - T. Brady | Extra Point Missed |
| 4th Quarter | | |
| NE 12-28 ATL | FG - S. Gostkowski 41 yd | |
| NE 20-28 ATL | TD - D. Amendola 14 yd pass - T. Brady | Two Point Conversion - J. White |
| NE 28-28 ATL | TD - J. White 1 yd rush | Two Point Conversion - D. Amendola |
| Overtime | | |
| NE 34-28 ATL | TD - J. White 2 yd rush | |
The game
Defences were on top early as both quarterbacks were sacked and passes broken up. It looked as though New England might capitalise on a 27-yard pass to Julian Edelman early in the second quarter, but on the very next play, Deion Jones forced a fumble and Atlanta pounced on the loose ball.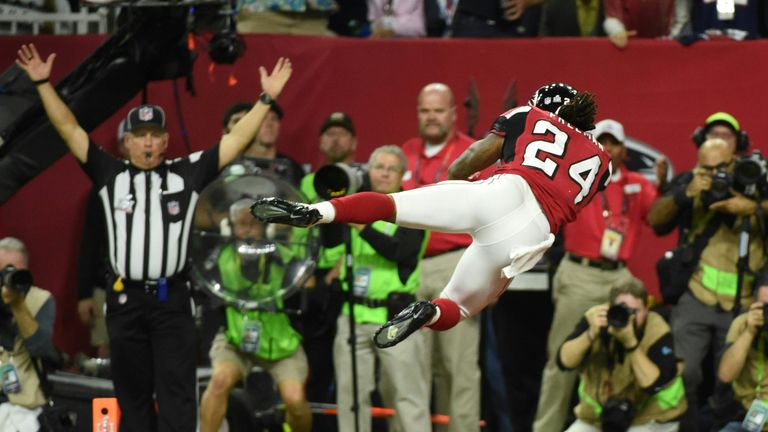 Ryan took full advantage, finding Julio Jones on two successive throws for a total of 42 yards, before Devonta Freeman carried the ball five yards untouched into the end zone for a five-yard score.
Atlanta then scored again, after forcing New England into another three-and-out. With good starting field position, the Falcons took just five snaps to find the end zone. On third and nine, Ryan found rookie tight end Austin Hooper, for the 19-yard score.
Three holding penalties could have proved costly for the Falcons on New England's next drive, gifting Brady first downs, two of which came on third down. However, the tide turned when cornerback Robert Alford picked off Brady's pass, returning it 82 yards to the house.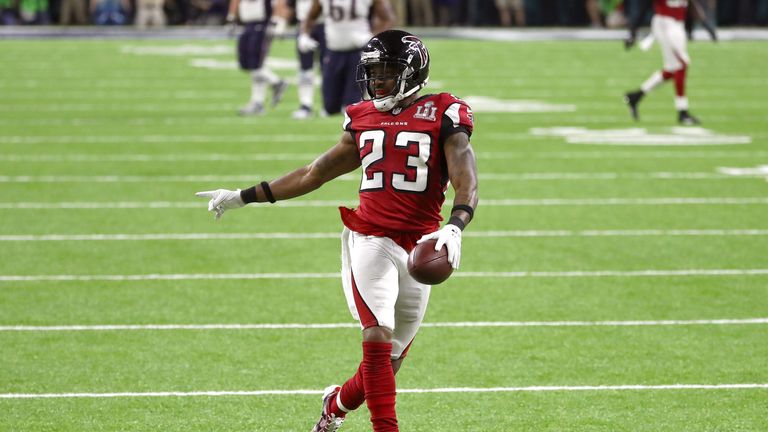 New England got on the board in the last minute of the half, Steven Gostkowski slotting a 41-yard field goal.
After a dazzling half-time performance by Lady Gaga, Atlanta scored early in the second half, as a wide-open Tevin Coleman caught a six-yard pass, to complete an 85-yard drive. Chants of 'MVP' echoed around the NRG Stadium, as Falcons fans stood to praise quarterback Ryan.
The Patriots then scored their first touchdown of the night, with two minutes to play in the third quarter. However, Gostkowski sent the extra point wide, leaving New England down 28-9.
It wasn't until early in the fourth quarter that the AFC Champions began to rally. Gostkowski slotted a 33- yard field goal, before Hightower sacked Ryan, forcing a fumble, which was recovered by the Patriots at Atlanta's 25-yard line.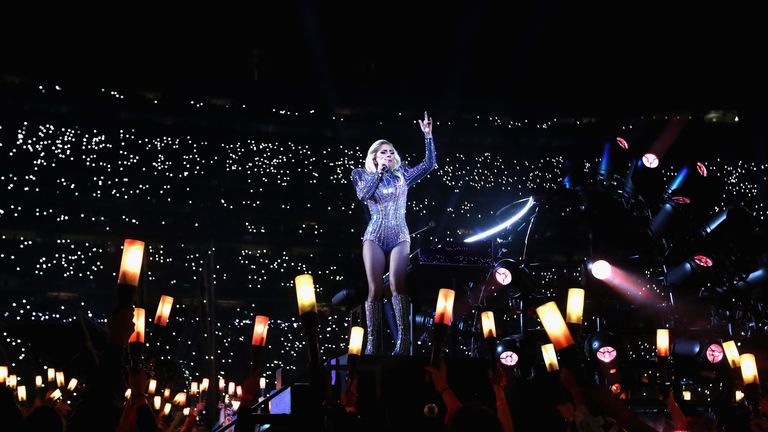 Danny Amendola caught the six-yard touchdown pass, before James White ran in for the two-point conversion, to reduce the deficit to eight. Another big defensive play handed possession back to the Patriots, with the New England fans now roaring Brady's name.
The four-time Super Bowl champion didn't disappoint, passing to five different receivers, including a phenomenal catch from Julian Edelman, who somehow managed to keep the ball off the ground.
Inside the two-minute warning, Brady threw twice to White, before allowing the running back to drive in from a yard out. The Patriots then converted the two-point conversion, Amendola getting over the goal line, to level the score and send the Super Bowl into overtime, for the first time in NFL history.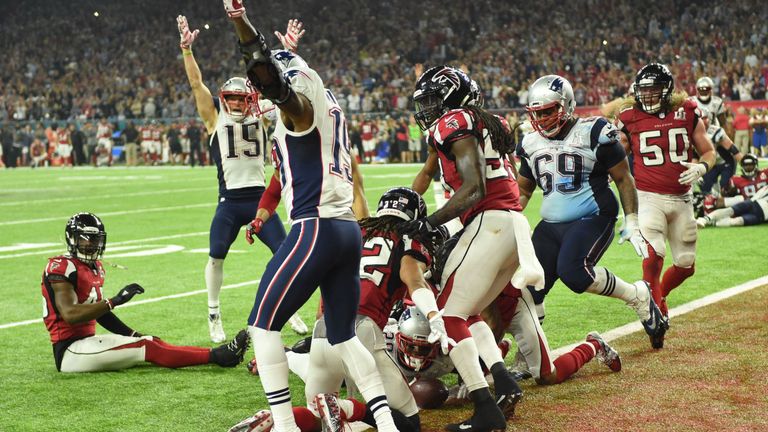 New England won the toss to receive the ball, and Brady once again drove down the field, 75 yards, before handing off to White for a two-yard rushing score to clinch a fifth Patriots Super Bowl.
"I told our fans that the fourth Super bowl was the sweetest", said Patriots owner Robert Kraft. "But a lot has transpired since then. This is unequivocally the sweetest.
"I'm proud to say, for the fifth time, the Patriots are world champions."