Bill Belichick says Julian Edelman in mould of one of the great versatile New England Patriots
Last Updated: 04/02/19 4:09pm
Julian Edelman is the embodiment of New England Patriots after the wide receiver's influential performance in Super Bowl LIII, says head coach Bill Belichick.
The 32-year-old completed a remarkable comeback from missing the entirety of last season through a serious knee injury and missing the opening four games of this term with a drug ban, to winning Super Bowl's MVP award in the Patriots' 13-3 win against the Los Angeles Rams.
Edelman ended the Atlanta showpiece with ten receptions for 141 yards and Belichick, who sealed his sixth Super Bowl triumph on Sunday, was full of praise.
"I just can't say enough about our football team," Belichick said on Monday.
"Certainly Julian epitomises the work ethic, toughness - mental and physical - determination and will and his extraordinary ability to perform under pressure.
"We have so many guys who do that well in so many different ways. He's truly in the mould of one of the great versatile Patriots.
"I'm personally happy for Julian. It's rewarding for me to see the success that he's achieved."
Despite paying credit to Edelman, Belichick was also determined to highlight the work achieved by the whole franchise throughout the season as his most satisfying factor of the Patriots' victory at the Mercedes-Benz Stadium.
"For me it is about what the team accomplishes," he added. "The most important thing for me is for the team to be able to hold up that Lombardi trophy up and say we were champions.
"It took the entire team, organisation to put forward this superior and supreme effort to achieve that and that is really what it is all about.
"Julian did a really great job for us but there were 45 other guys out there battling as well as the coaching staff. It is what we were able to accomplish as a team that makes me the most proud."
Edelman now has 115 post-season receptions, second in NFL history to Jerry Rice, who had 151.
Much of the pre-Super Bowl focus had surrounded the sustained success enjoyed by Tom Brady and Belichick as a partnership for the Patriots, and Edelman was keen to pay tribute to his team mates - in particular the 41-year-old Patriots quarterback.
"I'm just so proud of the group of guys that we had this year, with the ups and downs we all had, the ebbs and flows of a season," Edelman said.
"When you play a whole year you see how the team shapes up. To see how this team grinded and worked each week, when things weren't at its best, to constantly go out and improve.
"Just shows what kind of group of guys it was this year - 2018 Patriots. A resilient group and one you're never going to forget. It was unbelievable."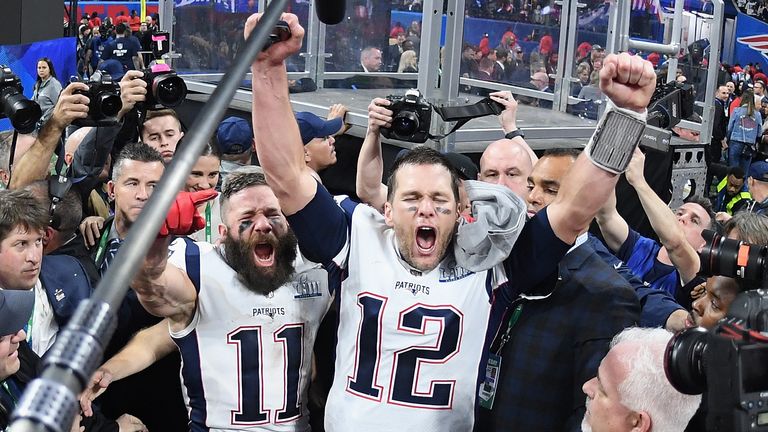 With reference to the influence of four-time Super Bowl MVP, Edelman added: "He just said he was proud of me. That was big.
"He's been an unbelievable guy to learn from, as a football player, as a professional, as a family man, the guy's all in.
"That trickles down, when you see leaders of your team do that."