Huddersfield Giants are ready to fulfil their promise in Super League
Stevo is backing Huddersfield to claim the Leaders' Shield and reach the Grand Final.
Last Updated: 15/08/13 5:28pm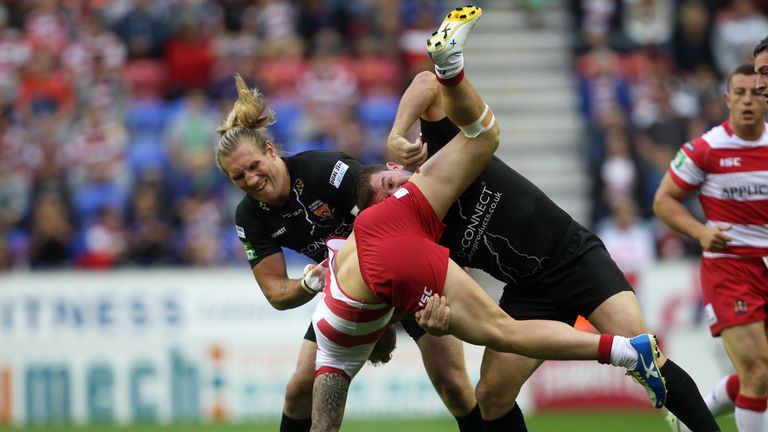 From there I think they will not only get to the Super League Grand Final but that they have a damn good chance of winning it.
I am pretty confident that they can sustain their current form, and I'm sure the players are and I know the coach is. All they have to do is win three games.
It won't be simple and they will probably have to dig deep, but if you were a gambling man you would say that their last three fixtures are far easier than Warrington's.
One of their biggest obstacles was to overcome Wigan last week. They were very nervous in the opening 15-20 minutes, but once that confidence started to filter through, they took Wigan apart.
They had a lot to prove against Wigan and they showed they can handle the pressure.
Transformation
It has been a bit of a struggle for Huddersfield over the past two seasons.
Under Nathan Brown, who left them to go to St Helens, they always seemed to have a dip and lose form towards the end of the season - but that has not happened under Paul Anderson.
In 2011, Brown was umming and erring about whether he wanted to go back to Australia. That certainly didn't help.
And then it became even worse in 2012, when midway through the season not only did Brown confirm that he would be going to St Helens it was also confirmed that captain Kevin Brown was going to Widnes. That can disturb any side in any sport.
The security of knowing the coach is going nowhere and Anderson's attitude to his style of coaching, has certainly given Huddersfield that momentum to keep going.
He is a straight shooter, doesn't mess around and knows how to win games and what tactics to utilise. In many ways a lot of people would call him an old-fashioned coach.
Best halfbacks
They dig deep in defence, the forwards play it tough, without much finesse, and the three-quarter line is very good.
And when you have people who can orchestrate the attack with the likes of Luke Robinson and Danny Brough - who are one of the best halfback combinations in Super League - then you are talking about a pretty solid team.
It is no fluke that they are now at the top of the table - although it will change briefly because I am confident Warrington will overtake them, albeit for only 24 hours, with victory over Widnes on Thursday night.
Make no mistake how massive winning the League Leaders' Shield would be for the Giants.
For the likes of St Helens, Wigan and Warrington, who have experienced it before, perhaps the players and the coach will think that it really does not matter if you finish first or second. Either way you play your first play-off game at home.
But for Huddersfield it is an opportunity to win their first silverware in 50 years. It is a great incentive - not only for the players, but also for the fans.