Rugby League World Cup: Tonga hoping Scotland slip up as Cook Islands exit event
Tonga captain Brent Kite is hoping the United States can do his side a favour against Scotland on Thursday night.
Last Updated: 06/11/13 4:45am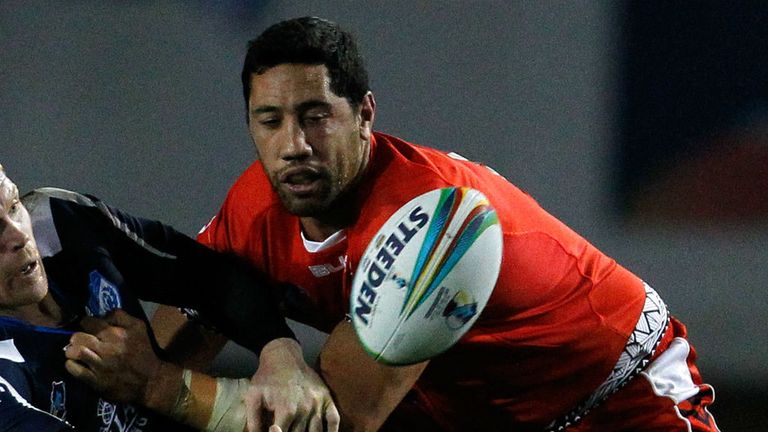 A 22-16 victory over the Cook Islands at Leigh Sports Village on Tuesday night kept alive Tonga's hopes of topping Group C.
As well as the result eliminating the Cook Islanders, it also means the United States are certain to finish as winners of Group D.
The Tomahawks face Scotland on Thursday at the Salford City Stadium, with a victory for the latter meaning they, and not Tonga, would also go through.
"We definitely need a favour," Kite said. "I'm not sure what they're thinking. They've played well to get themselves in the position they're in.
"I'm just hoping they're not going to take this one easy and rest too many.
"I'm not too proud to beg. Get out there USA and give us a win. We'd much appreciate it and we'd owe you one."
If the United States do triumph, it would set up a group decider between Tonga and Italy at Halifax on Sunday.
"I'm pretty impressed with the competition so far," Kite added. "I think everyone, especially the emerging nations, seem to be able to beat anyone else on their given day.
"I've been surprised at some of the quality. Scotland obviously knocked us off and the Cook Islands gave us a good run.
"It's been well supported up here in the north and credit to the organisers who are packing out the little stadiums. There's good atmosphere and good results to go along with it."
Exit
A second consecutive defeat means the Cook Islands follow Wales in exiting the competition but coach David Fairleigh was delighted with their battling display.
"We're obviously disappointed but it was a great game of rugby league and I can't question our players efforts," Fairleigh said.
"We were there at the end to give ourselves a chance to win the game and I couldn't be more proud of them."
The result was cruel on Cook Islands winger Chris Taripo, who scored all his side's points with a superb hat-trick of tries and two conversions.
"He's a bit of an unsung hero for us," Fairleigh said. "He got a chance tonight.
"He's in the lower grade for the Roosters but he's a good talent and he certainly put himself on display tonight."