England 41-5 Australia: Sarah Hunter wins record 138th cap as England earn World Cup semi-final spot against Canada
Marlie Packer scores three tries as England beat Australia 41-5 in quarter-finals of Rugby World Cup; captain Sarah Hunter notches opening try on day she picks up record 138th cap; Red Roses to face Canada in next Saturday's first semi-final at Eden Park
Last Updated: 31/10/22 6:09am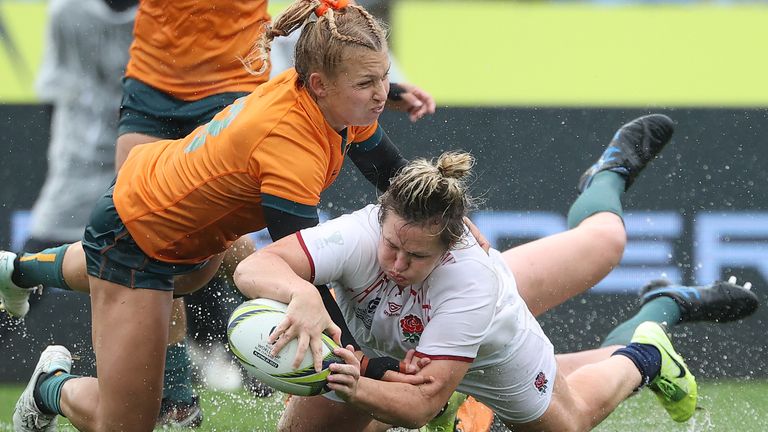 England booked a semi-final against Canada at the Women's Rugby World Cup with a 41-5 victory over Australia at a rain-hit Auckland.
There were errors from both sides amid the horrendous conditions in Sunday's quarter-final but England ultimately controlled the game to extend their wining streak to 29 matches.
The Red Roses' first try came from captain Sarah Hunter on the day she picked up a record-breaking 138th cap, while they managed seven tries in all, with flanker Marlie Packer completing a hat-trick and Abbie Ward, Amy Cokayne and Alex Matthews also scoring.
Former England centre Rachael Burford told Sky Sports News: "It was really challenging, it was some of the worst conditions I have ever seen, but England came through really convincingly in the end and it was another impressive performance.
"[Packer] was unbelievable, on form from minute one until she scored her third try on 79 minutes. She was everywhere on the park.
"I was commentating and used her name a lot because of her work rate and attitude. She really leads from the front."
It's a wonderful achievement for Sarah, there is nobody more dedicated than she is to wearing the red rose, right from her first cap all the way up to now. It's remarkable what she's done. She has lived some glorious times in that shirt but also had some big lows so her determination and commitment to the game sums up who she is. She is a wonderful servant for our sport.
Rachael Burford on Sarah Hunter
Canada were confirmed as England's last-four opponents when they beat USA 32-11 later in the day, with McKinley Hunt, Karen Paquin, Paige Farries and Alex Tessier all scoring tries in a comprehensive victory.
England's semi-final with Canada (3.30am UK time) will be a repeat of the 2014 final, which the Red Roses won 21-9 in Paris.
Hosts New Zealand, the last team to defeat England back in 2019, will take on France in the second semi-final next Saturday (6.30am UK time), with this year's final to take place on Saturday, November 12 (6.30am UK time).
England too strong for Australia in Auckland rain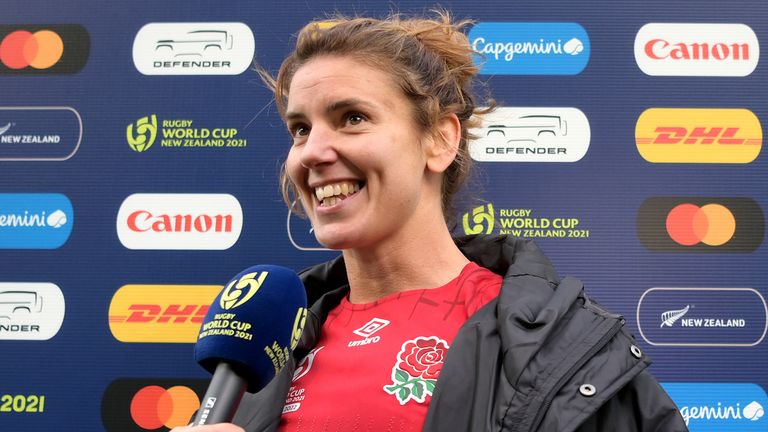 In a first half when England's Zoe Aldcroft and Australia captain Shannon Parry were sin-binned, Hunter's side managed the conditions better and kept themselves ahead on the scoreboard throughout.
England set up a driving maul that saw Packer touch down for her team's second try of the game and the flanker carved out further breathing room when she scythed through Australia's line for another try.
Australia struck back just before half-time when Emily Chancellor slid over the line at speed to finished a well-worked try but the Wallaroos were unable to make any further inroads.
Instead tries from Ward, Cokayne and Matthews extended England's lead before Packer grabbed her third try of the match when another maul drove over the line in the final minute of the game.
Hunter: Winning makes cap record 'even sweeter'
Hunter, who received a standing ovation from both sides when she came off in the 54th minute, said of her milestone and the team's victory on ITV: "I think the thing that tops it all off has been the win.
"That is the focus, we are in knockout rugby. Winning in this means the record-cap number is even sweeter. It has been so surreal, I have had the most amazing support.
"I just wanted one cap. I just wanted to play for England. I kept hanging on, it is like an addiction - the feeling to play for your country. Hopefully there is more to come."
Hunter added to Stan Sport: "It's a really special day and now I can sit back and enjoy it.
"I just want to say thank you to my amazing team-mates and everyone who's supported me throughout my career, from the age of nine to now. You know who you are.
"You've been immensely amazing for me and have made me the person and player I am today, I couldn't have achieved the 138 caps without you, so thank you everyone."
On the game, Hunter said: "We've spoken all week about trying to get a good start and we are used to these conditions back out in England, and it showed. We can adapt and still play rugby.
"I'm really proud of the way the girls attacked this game. It's easy when you see it pouring down to shy away but the whole group fronted up. We're in knockout rugby and that's the sort of performance you want."
Canada overpower United States for second straight week
Canada's win over neighbours USA - a week after they had beaten them 29-14 in the pool stage - propelled them into a fifth World Cup semi-final.
Canada skipper Sophie de Goede said: "I'm so proud of our group. [We have] so much belief. All our fans and our families all believe in us and now it's just time to go out and perform."
USA, the inaugural World Cup winners in 1991, took the lead in the ninth minute through hooker JoJo Kitlinski but Canada hit back with two tries in four minutes as McKinley Hunt and Karen Paquin touched down.
American prop Hope Rogers had a try disallowed for a knock-on in the 29th minute but team-mate Alev Kelter cut the deficit to 12-8 with a penalty just before half time.
Second-half tries from Paige Farries and Alex Tessier helped Canada swell their lead in a game in which Sophie de Goede scored two penalties and three conversions.
Can Canada threaten England?
Burford added on Sky Sports News: "I think it will be a big challenge for Canada but they have some threats. They have incredible attacking play and we know how threatening their lineout is.
"But this England side has so much strength in depth and they are coming through unscathed. They haven't lost any big players. It will be a big ask for Canada to do it."