Novak Djokovic has lost his spark after winning French Open, says Boris Becker
"The locker room doesn't sleep," says tennis legend, Boris Becker
By Raz Mirza
Last Updated: 22/04/17 5:28pm
Novak Djokovic's "mindset has changed" since he won his maiden French Open title last year, says former coach Boris Becker.
Djokovic's preparations for defending his Roland Garros title suffered another setback when he was defeated by Belgium's David Goffin in the Monte Carlo Masters quarter-finals on Friday.
He is desperately searching for the key to lifting his game on clay and has already said that he will not add to his schedule.
The Serb is scheduled to play at the Madrid and Rome Masters events in May to complete his Grand Slam preparations for Paris.
Becker, who coached Djokovic from 2013 to 2016, feels the 29-year-old needs to continue playing and it will be a matter of time before he reaches his peak again.
"You cannot lose your forehand or your serve overnight, but I think it's his mindset," former Wimbledon champion Becker told Sky Sports.
"I think a lot has changed for him winning the Grand Slam last year at the French - it was his lifelong dream, and then you pop the balloon and the air went out and he hasn't got the air back.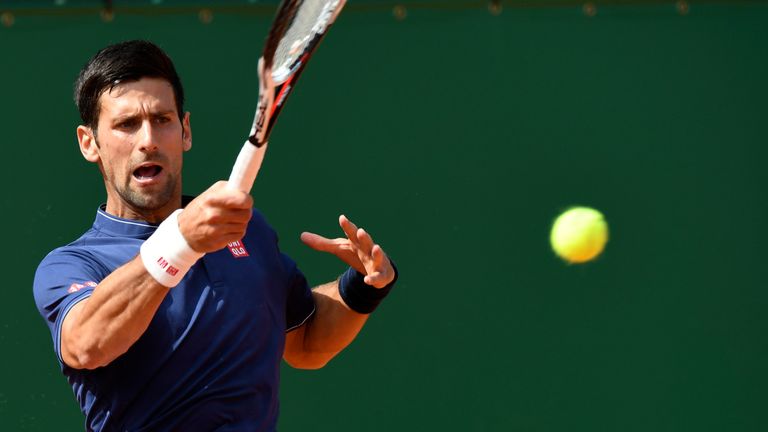 "The locker room doesn't sleep. You see a weakness from a top guy and they want his scalp. They're reading his body language, and also getting smarter in how to play him so that's another problem. Once you've been dominating for so long and won so many times, eventually the tide will turn.
"He's still 29 so he has time to rearrange the ship and get in the right direction, but he has to do it soon.
"For some reason at the moment when he gets emotional the gets down on himself and the shoulders go down.
"When he's in sync you don't actually think that he's actually thinking about a point, but he does. It's just when the ball doesn't hit the line, and the overrule gives him a time violation, so when those things happen they can rattle you emotionally and whatever worked in his benefit last year works against him now."
For those on the move, we will have coverage from Barcelona, Madrid, Rome and the French Open via our website skysports.com/tennis, our app for mobile devices and iPad, or follow our Twitter account @skysportstennis for news, reports, live blogs and expert analysis with updates on Sky Sports News HQ.