Will Novak Djokovic finish as the greatest of all time following Career Golden Masters?
Rusedski and Croft analyse impact of Cincinnati final and preview chances of both Djokovic and Federer ahead of US Open next week
Last Updated: 22/08/18 1:29pm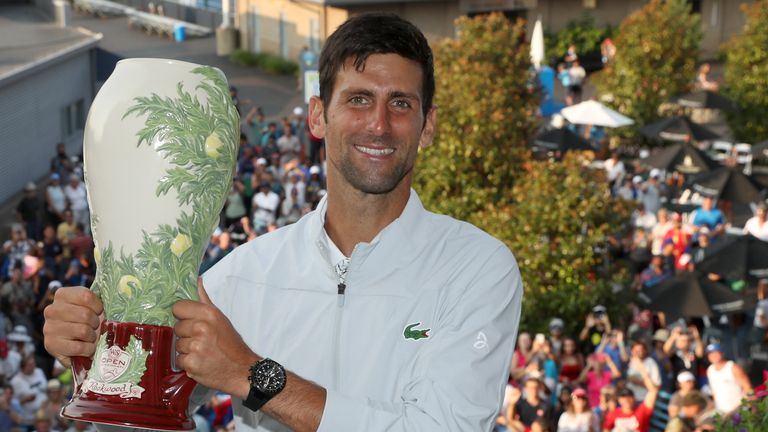 Will Novak Djokovic finish his career as the greatest tennis player of all time? Sky Sports analysts Greg Rusedski and Annabel Croft reflect on the former world No 1 becoming the first winner of the Career Golden Masters.
The 31-year-old continued his rise back to the top echelons of the sport with a dominant 6-4 6-4 victory over Roger Federer in the Cincinnati Masters final on Sunday.
Djokovic, who won his first Grand Slam title in over two years at Wimbledon last month, finally completed the sweep of all nine Masters 1000 titles, having lost in five previous finals in Ohio.
Victory over Federer saw him move to a total of 31 career Masters titles, two behind leader Rafael Nadal, and extend his head-to-head record over the Swiss player to 24-22.
When asked whether Djokovic, who holds 13 Grand Slam crowns, could finish as the best in the game, Rusedski believes that is a distinct possibility.
"I think the US Open will be very key because if he wins that then he is up to 14 and that is the record Pete Sampras had before Federer and Nadal came along," Rusedski told Sky Sports.
"All of a sudden if he goes on that streak where he wins two or three next year that gets him to 16 or 17 and then he is back in the mix.
"At the end of 2016 when he had won that French Open everyone was talking about him becoming the greatest and breaking every record.
"They were asking whether Roger and Rafa would win any more Grand Slams and then everything just turned on its head.
"It's exciting times again for men's tennis because we have three guys definitely in the mix and then on top we have the next generation also starting to knock on the door.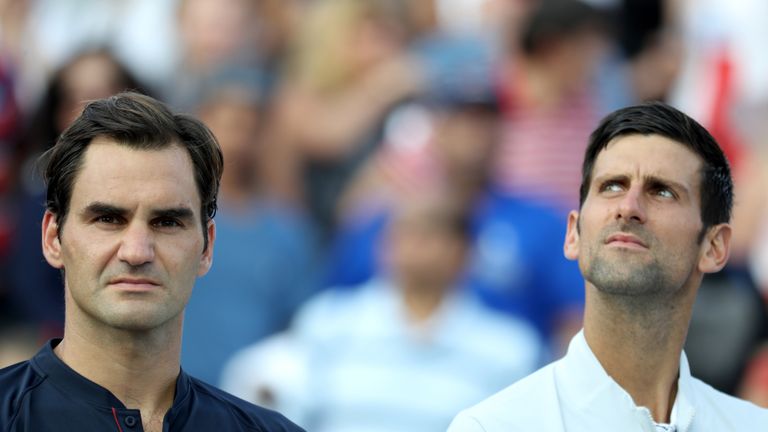 "They will probably have one, maybe two years of winning Slams and then there has to be somebody new coming to the party!"
Djokovic's 'incredible feat'
Djokovic's Golden Masters
| | |
| --- | --- |
| Indian Wells | 5 (2008,2011, 2014, 2015, 2016) |
| Miami | 6 (2007, 2011, 2012, 2014, 2015, 2016) |
| Monte Carlo | 2 (2013, 2015) |
| Madrid | 2 (2011, 2016) |
| Rome | 4 (2008, 2011, 2014, 2015) |
| Canada | 4 (2007, 2011, 2012, 2018) |
| Cincinnati | 1 (2018) |
| Shanghai | 3 (2012, 2013, 2015) |
| Paris | 4 (2009, 2013, 2014, 2015) |
| Total | 31 |
Having struggled initially following elbow surgery, suffering unexpected early defeats in Indian Wells and Miami, Djokovic has appeared rejuvenated and re-energised since hitting the grass at Queen's Club.
Djokovic responded to a disappointing defeat against Stefanos Tsitsipas in Toronto with a focused run through the draw in Cincinnati, which included three-set wins over Marin Cilic, Milos Raonic and Grigor Dimitrov.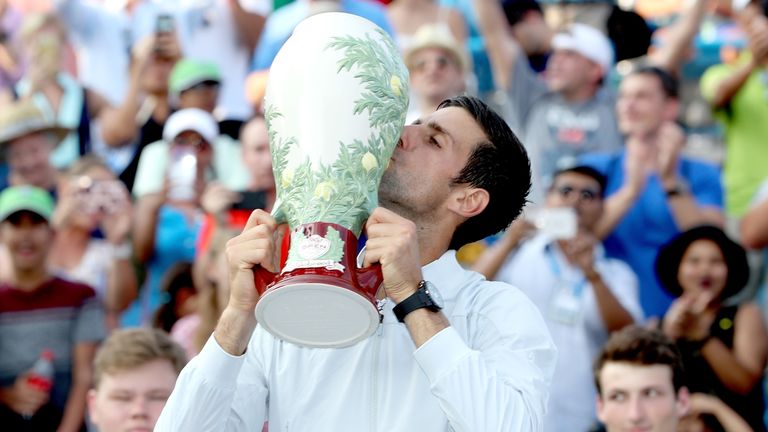 [Djokovic] has shown us a lot of determination and you could see by the celebrations what it meant to him to hold all nine Masters Series titles - what an incredible feat
Greg Rusedski
"He had to do it the hard way getting to the final as well as playing one extra match," Rusedski said.
"He has shown us a lot of determination and you could see by the celebrations what it meant to him to hold all nine Masters Series title - what an incredible feat.
"It is not Nadal or Federer but Djokovic. He was my pick for the US Open and it makes me even more convinced he is going to win his second major this year.
"He looks like he has got his mojo back. He did everything right - what a performance."
Croft added: "It was a very composed, controlled [performance]. You could feel the tension between the two players and I don't believe Federer ever felt relaxed.
"It almost felt like he was shackled and that is purely brought about by the pressure his opponent was putting on him and potentially nerves."
Match analysis
Djokovic, who rose to world No 6 in the rankings on Monday, broke in the seventh game of the first set to take the initiative and despite being broken in his opening service game of the second, he hit back immediately before holding firm after his third break of the match.
"The second serve points won for Djokovic (78 per cent) is phenomenal. Usually you always win more behind your first serve (he won 66 per cent).
"For Federer it was only 47 per cent for the second serve points won. Those are statistics that are very favourable for Novak Djokovic.
"Usually for Federer in the big matches he serves 70 per cent plus so obviously the pressure and the return got to him."
Croft said: "There were also four double faults which came at key moments and they were horrible double faults.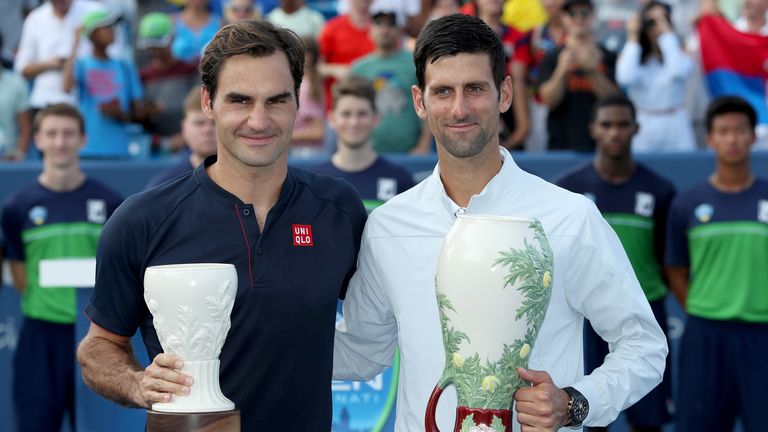 "That was brought about by the great returning by Novak Djokovic so there was a real weight coming at him from the other end of the court.
"You play as well as you are allowed to play but also with that respect level. With Novak it just looked like he had many more gears to go through if he needed."
Most Career Masters Titles
| 33 | Rafael Nadal |
| --- | --- |
| 31 | Novak Djokovic |
| 27 | Roger Federer |
| 17 | Andre Agassi |
| 14 | Andy Murray |
Djokovic's 'resurrection'
Croft believes Djokovic has returned to somewhere near his best while Rusedski feels the Cincinnati champion has found a "new level" ahead of the final Grand Slam of the season.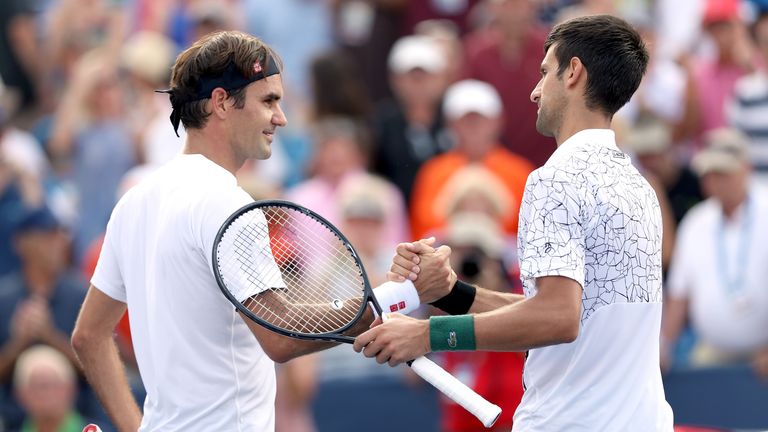 "He couldn't be coming into it with any more confidence," Croft said of his chances at the US Open.
"It is just a resurrection of his entire career and motivation. He was beaten by Taro Daniel, ranked world No 109, in Indian Wells and look at where his tennis is now. Phenomenal transformation for Novak Djokovic."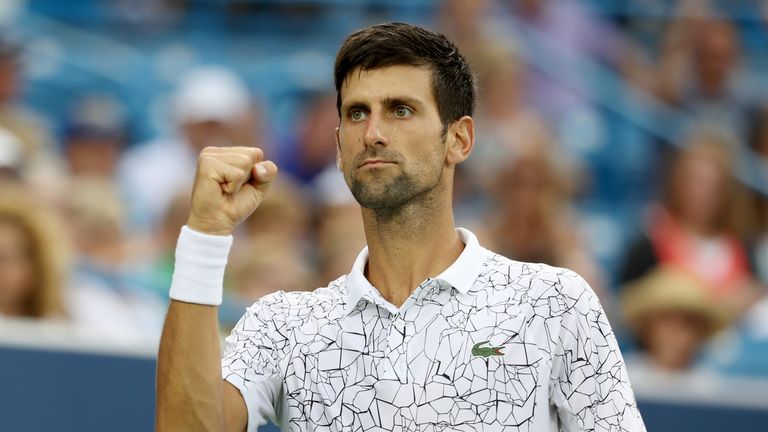 Rusedski said: "It just reminds me that [Djokovic] lifts his game when it really matters. We saw that in the semi-finals of Wimbledon where he beat Rafael Nadal.
"Here, having played Federer for the first time in over two and a half years, the great champions find a way to lift [themselves].
"I think Djokovic having won Wimbledon announced himself back to the world and now winning a Masters Series title [Cincinnati] again, a long time coming, has taken him to a new level."
What next for Federer?
Federer missed out on having the chance to win his 100th career title at Wimbledon by suffering defeat to Borna Coric in the Halle final.
Will Federer chase Connors' Open Era titles record?
Roger Federer needs 12 more titles to overtake Jimmy Connors' 109 titles in the Open Era.
Rusedski sees the Swiss player as the third favourite for the title under the New York lights.
"I'd go Djokovic, Nadal and then Federer. I do still think he has got a shot to win it.
"At the Grand Slams he finds a way to lift his level so don't discount him. He is probably going to get better (prior to the tournament). Yes he hasn't won the US Open in many years (since 2008) but he is healthy.
"Last year everybody thought he had a chance to win the US Open and his back went out in Montreal and he wasn't really the same. This year he at least comes in healthy."
Open Era Titles leaders
| | |
| --- | --- |
| Jimmy Connors | 109 |
| Roger Federer | 98 |
| Ivan Lendl | 94 |
| Rafael Nadal | 80 |
| John McEnroe | 77 |
We have the US hard courts covered from all angles via our website skysports.com/tennis. On the move? Head to our app for mobile devices and iPad, or follow our Twitter account @SkySportsTennis to join in the conversation.
Tennis is back on you Sky Sports screens with the Laver Cup in September while we will also be across the final major of the year in New York as the US Open gets underway on August 27, right through to the final with our live blogs, reports, features and reaction.