Andy Murray declares himself a feminist after criticism of coach Amelie Mauresmo
Last Updated: 05/06/15 8:55am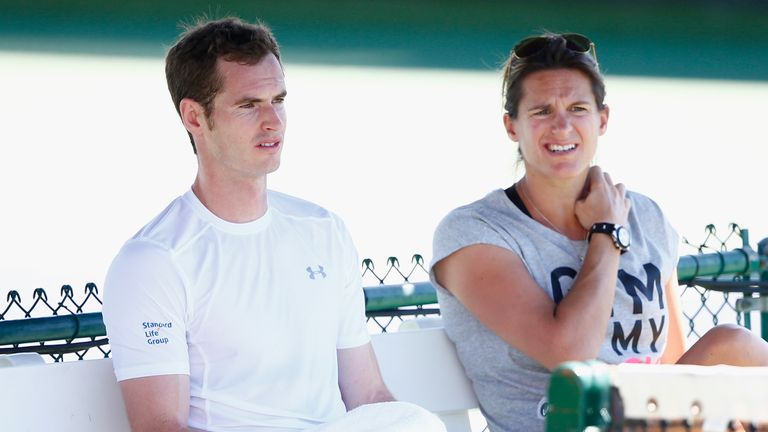 Andy Murray has declared himself a feminist after hitting out at the criticism directed at Amelie Mauresmo since the pair began working together.
After splitting with former coach Ivan Lendl, Murray made an unprecedented move in appointing a female coach in Mauresmo.
The Scot has been in fantastic form during 2015, reaching the Australian Open final and faces Novak Djokovic in the French Open semi-finals on Friday. However, fittingly during Women's Sports Week, Murray revealed he felt 'embarrassed' that when things were not going so well it was not him but his coach who took the brunt of the blame.
"They say I was plucky choosing Amelie, but truth be told, if anyone was plucky it was Amelie – she's the one who's taken the heat," he wrote in his column for French newspaper L'Equipe.
"Her competence was always under fire. I felt embarrassed. That's why I made a point of repeatedly saying she was doing an excellent job.
"The real low point hit at the Masters when I lost 6-0, 6-1 against Roger (Federer, in London). Rather than blaming me, they pointed the finger at Amelie. I still remember what some players and coaches said about her – I wasn't impressed and I shan't forget in a hurry."
Indeed, the world No 3 believes that the sport needs to be far more open-minded in its approach and stated that role models such as his mother had led him to becoming a feminist.
"Have I become a feminist? Well, if being a feminist is about fighting so that a woman is treated like a man then yes, I suppose I have," added Murray.
"My upbringing means that I'm quite attuned to the whole thing. I came to tennis thanks to my mother. I always had a very close relationship with my grandmothers. I've always been surrounded by women. I find it easier to talk to them. I find it easier to open up to them.
"It's a crying shame there aren't more female coaches. I hope this changes even if this isn't the reason I chose Amelie. Whilst a female coach might not gel so well with others, it wouldn't hurt for everyone to be a little more open-minded."