Rafael Nadal reaches Stuttgart Open final after straight sets win over Gael Monfils
Last Updated: 15/06/15 4:10pm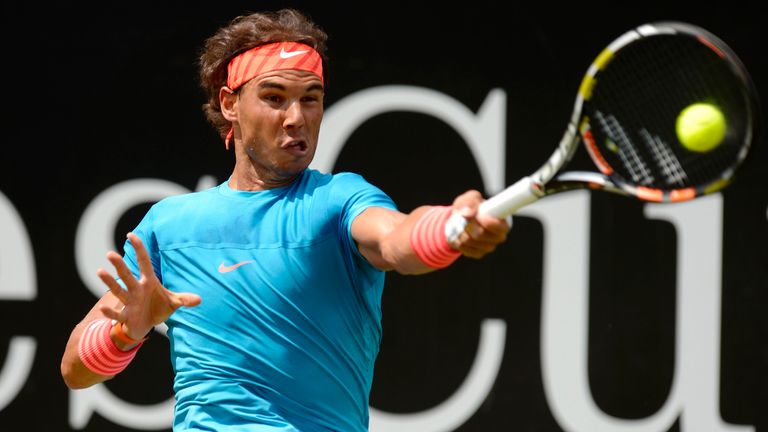 Top seed Rafael Nadal booked his place in the Stuttgart Open final with a ruthless win over Gael Monfils.
The Spaniard, targeting only his second title of the year, produced an assured performance on the grass as he sealed a 6-3 6-4 win over Monfils.
After conceding the first set, the Frenchman stubbornly held serve in the second until a wayward backhand volley into the net handed Nadal the break he needed.
Serving for the match, Nadal did not drop a point and an over-hit forehand from Monfils sent the world No 10 into the final.
Nadal's dominant reign at the French Open was finally ended by this month's quarter-final defeat by Novak Djokovic, but he is much happier with his recent form as he approaches Wimbledon. 
"I'm playing with the right intensity and waiting for my moment," said Nadal, who is hoping to win the trophy for a third time. "I'm very, very happy to be in a final again.
"I think I'm playing well. It's important for me after losing at Roland Garros to keep going and have the right attitude, the right level of tennis in the next couple of weeks and that is what I am trying.
"I'm practising every day with a very positive attitude, working a lot of hours on court. I had a tough first three months and a half - very bad for me – but I felt that the last month and a half was better.
"I'm enjoying again the tennis and every victory is important and being in the final is great news."
In Sunday's final, Nadal will face the No 8 seed Viktor Troicki of Serbia who beat reigning US Open champion Marin Cilic of Croatia 6-3 6-7 (1-7) 7-6 (7-2).