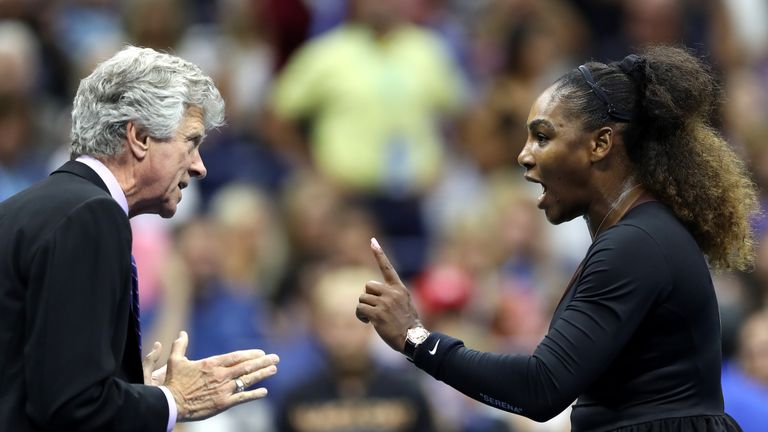 The United States Tennis Association (USTA) is to undertake a review of communication policies following a string of umpiring controversies at the US Open.
Swedish umpire Mohamed Lahyani was reprimanded by US Open organisers for going "beyond protocol" when he climbed down from his chair to give Nick Kyrgios a mid-match pep talk during his second-round match against Pierre-Hugues Herbert.
Umpire Christian Rask then came in for criticism after he handed a code violation to French player Alize Cornet after she removed her shirt on court after realising it was on backwards.
The tournament subsequently released a statement saying it regretted that she was given a violation.
On Saturday, Serena Williams was handed three penalties during the second set of her championship match against Naomi Osaka, sparking a firestorm of debate.
"Some of these incidents, you know, have prompted us to reflect on the clarity of our own communication to the chair umps," USTA spokesman Chris Widmaier said.
"These incidents will prompt us to analyse ways of perhaps instituting some change. We certainly do not want inconsistencies.
"I think it could potentially help everybody if there was some more consistency to this."
The Women's Tennis Association (WTA) have expressed their disappointment over the handling of the match between Williams and Osaka.
"[The WTA] is committed to working with the sport to ensure that all players are treated the same. We do not believe that this was done last night," WTA chief executive Steve Simon said.
Simon also called for coaching, one of the offences for which Williams received a violation, to be permitted, a topic the USTA plans to review.
WTA backs Williams' sexism claim
Serena's US Open controversies
Widmaier said that the extremely hot temperatures and high humidity, which led officials to introduce a heat rule for both men and women, may have contributed to the confusion.
"The Alize Cornet thing kind of was triggered by the heat but it also brought to the forefront nothing that had ever happened before," he said.
"It prompted us to say, 'hey, maybe we're not being clear here.'"
Mark Kovacs, executive director of the International Tennis Performance Association, said that the officiating controversies at this year's tournament "brought attention to areas of the sport that need to be addressed" going forward.
"Consistency in the application of the rules is clearly needed," Kovacs said. "Currently the umpires have a lot of discretion and many times the same offence does not have the same punishment."
We have every major tennis event covered from all angles via our website skysports.com/tennis. On the move? Head to our app for mobile devices and iPad, or follow our Twitter account @SkySportsTennis to join in the conversation.
Tennis is back on Sky Sports screens with the Laver Cup in September while we will also have coverage of the ATP Finals in November with every match live on Sky Sports.