Manager Pep Guardiola has confirmed that Manchester City failed in their bid to obtain a work permit for Brazilian midfielder Douglas Luiz this week.
The 20-year-old Luiz - a £10m signing in 2017 - was loaned out to Girona last season and is now likely to be sent out again for the coming season.
Guardiola had hoped Luiz would give him an extra option in midfield but City did not get endorsement from the Football Association for their work permit application.
"He's not allowed," Guardiola said. "We are going to try to help him to go on loan again and try to get the work permit. It's so difficult for me to understand.
"One guy who doesn't see the player or any training sessions every day has to judge if [Douglas] has the ability and
quality to play.
"I accept the rules but I don't understand. I am so sad and disappointed for Douglas, because he could help us."
Guardiola hinted that the club may have tried harder to sign additional players before Thursday's transfer deadline had the decision been communicated earlier.
He said: "I would have preferred it, if it wasn't announced yesterday.
"If they decide the rules are the rules, let me know 15 days ago, and maybe we can decide what we can do."
Asked on what criteria the application had failed, Guardiola added: "I don't know - not tall enough, doesn't play enough, games in the past or something like that."
One of the more unlikely stories of the summer has seen Guardiola linked with the Argentina national side - who have a vacancy following Jorge Sampaoli's departure after the World Cup.
Argentinian Football Association president Claudio Tapia claimed an approach was made but Guardiola was too expensive - a comment which has irked the City boss.
"I'm a little bit disappointed because he cannot say," he said. "To know that, he has to know my salary.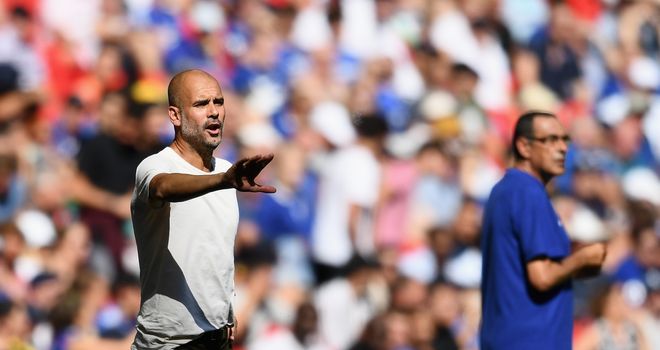 "Nobody contacted me, because of course I have a contract and I want to stay here until the end.
"It was not correct to say the reason why."
He added: "The Argentina national team has to have an Argentinian manager. There are many, and they are really good, so I'm not going to train Argentina.
"I don't know what happens in the future but don't say, 'I don't go with Pep, because of the salary', because for that he has to talk to me and know everything, that he doesn't know.
"Next time he will do better."