WWE superstar Drew McIntyre 'wanted NXT route' rather than direct call-up
By Matty Paddock
Last Updated: 27/09/18 1:56pm
Drew McIntyre has told Sky Sports that he hand-picked his return to WWE via NXT - rather than go directly to the main roster.
The towering Scot made a memorable return to the company in 2017 over the course of Wrestlemania weekend in Orlando.
He was pictured at NXT: Takeover and defeated Bobby Roode for the brand's championship. After an injury-enforced absence, he then returned to the main roster four years after leaving.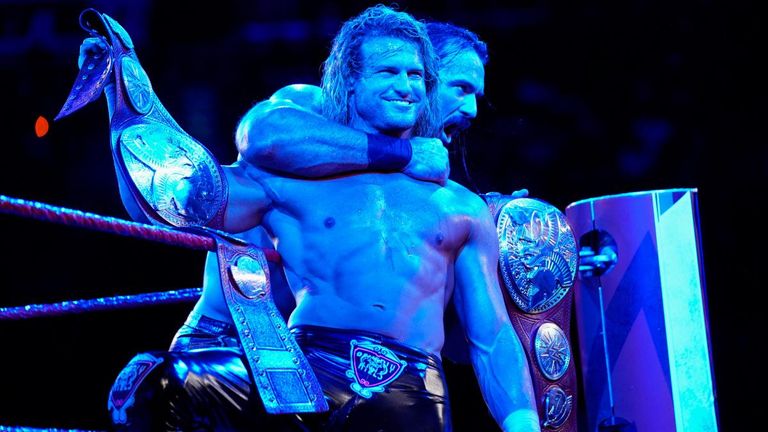 In the interim, he went on to forge an impressive career for himself on the independent scene to the point that WWE once again came calling.
But, speaking exclusively to Sky Sports, McIntyre admitted he himself wanted to make that return on the company's developmental brand rather than on either Raw or Smackdown.
It was a choice he stands by, too, insisting that the spell he spent feuding with the likes of Roode played a huge part in forming the current career path, which has taken him right to the business end of Monday Night Raw alongside Dolph Ziggler.
"I didn't see any other avenue than going to NXT first," he said.
"I was doing a lot of work for different companies outside of WWE and my (contracts) would lapse and I was trying to decide what the next move should be.
"My wife and I were talking about the possibilities of Japan and being a free agent, and during this period I had a conversation with Triple H and I let him know my feelings - I said 'If I come back I feel like I should go to NXT first.'
"He agreed to introduce the audience to who I am now rather than who I was prior as it is a similar audience, a very educated audience.
"I felt as though I could make a difference to NXT as one individual can make a difference there, as I had done for so many different companies when I wasn't with WWE.
"So I didn't see any other route than through NXT and being a leader there and, when was the time was right, moving on to Monday Night Raw."