Seth Rollins interview: WWE Raw star wants revenge on Triple H
Architect on Triple H, recovering from injury, and The Shield's 'magic'
By David Ruse
Last Updated: 24/01/17 11:46am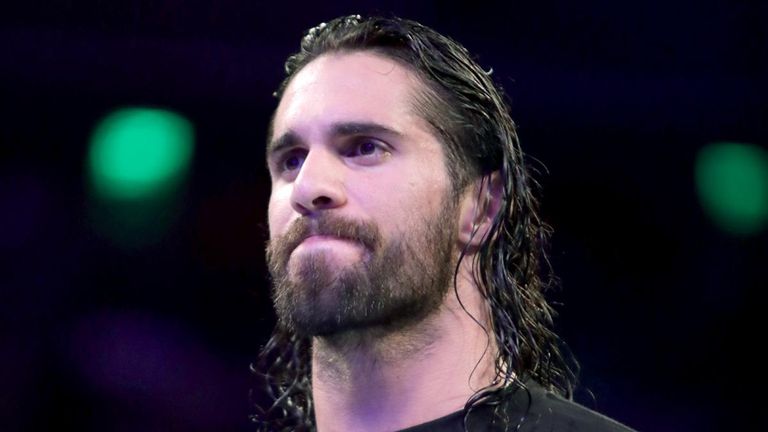 Seth Rollins cannot wait for Triple H to return to WWE television - so that he can "put his foot in his mouth".
Rollins and his former mentor have seemed on a collision course since Triple H dashed The Architect's Universal Title hopes in August - The Game's Pedigree on Rollins allowing Kevin Owens to bag the belt instead.
Triple H has not appeared on Raw since but a clash with Rollins could be edging closer, with the 14-time world champion's entrance music ringing out on Monday night and costing Rollins his spot in Sunday's Royal Rumble, which you can watch live on Sky Sports Box Office.
Speaking before his Rumble hopes eroded, Rollins goaded The Game - and said the two could meet at WWE's biggest show, WrestleMania, in April.
"I've been trying to find [Triple H] for two or three months now and if he shows up it will give me the opportunity to put my foot in his mouth!" said the 30-year-old on a conference call.
"I have been calling him out on television and social media and can't seem to get anything from him, so maybe he is comfortable in his suit and sitting in his penthouse.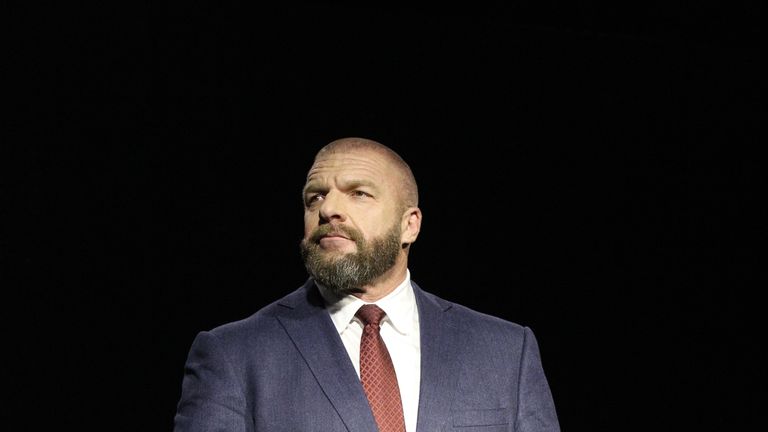 Maybe The Game, The Cerebral Assassin, the guy that wielded the sledgehammer is done and gone. We'll see if he has the cojones to answer me.
Seth Rollins on Triple H
"Maybe The Game, The Cerebral Assassin, the guy that wielded the sledgehammer is done and gone - we'll see if he is the man and if he has the cojones to answer me and protect his legacy.
"One way or another I am going to get my hands on him - whether it's in the ring, backstage or at WWE headquarters. I am going to find a way to make him pay for what he did to me.
"He deserves everything that comes to him and more and I would like a no disqualification match because I don't want anyone telling me what I can and can't do when it comes to getting revenge.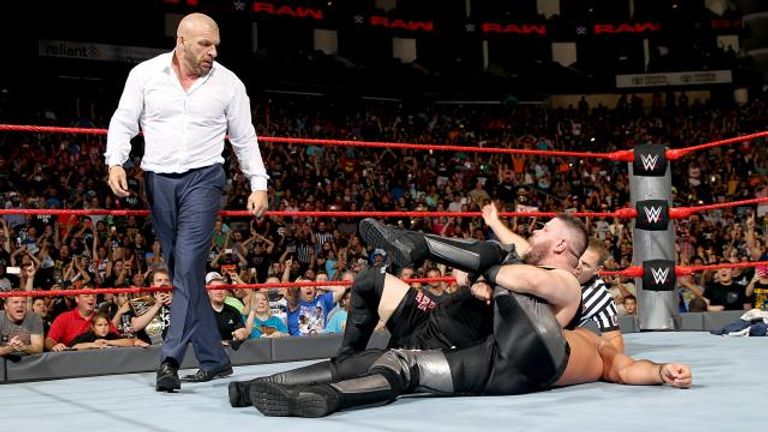 "There is some unfinished business and sooner or later we are going to get around to it - whether it's at WrestleMania, before or after."
Rollins returned to action last May, having spent six months on the sidelines with a torn ACL, MCL and medial meniscus that he suffered while wrestling at a house show in Dublin in November 2015.
The former Ring of Honor star was WWE World Heavyweight Champion at the time of his injury - and he admits he wondered whether he would be able to reach the same level on his comeback.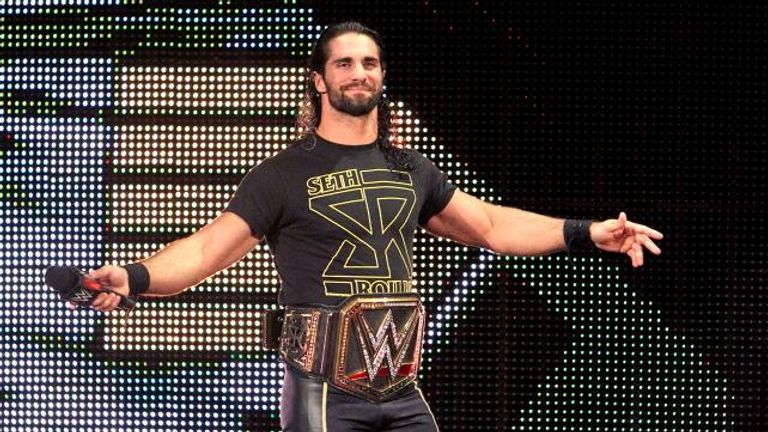 Rollins beat Roman Reigns to win the WWE Title in June, only for Dean Ambrose to pinch the strap minutes later after cashing in the Money in the Bank contract he had claimed earlier in the night.
The Architect has since been unable to nab Raw's Universal Championship, losing to Finn Balor and Kevin Owens, but is determined to earn the belt and, eventually, become a WWE great.
"It was more than just a physical struggle, because getting to the gym and rehabbing is easy," Rollins - who also held the United States Title in 2015 - said of his knee injury.
"It's the mental part of trusting the surgery and the rehab and wondering where I would fit in and whether I could maintain the in-ring work that I had before.
"There were a lot of questions going in, so it was a very challenging, difficult process. It was nice to get back in the flow - but I am not yet back at the top of the mountain.
"There is still a little climb to go and that's exciting. I want to be remembered as the greatest of all time and mentioned in the same company as Ric Flair, Shawn Michaels and Triple H.
"I have got a long way to go - a lot of titles to win and WrestleManias to main event - but I feel like I have a purpose and a reason to wake up every single day."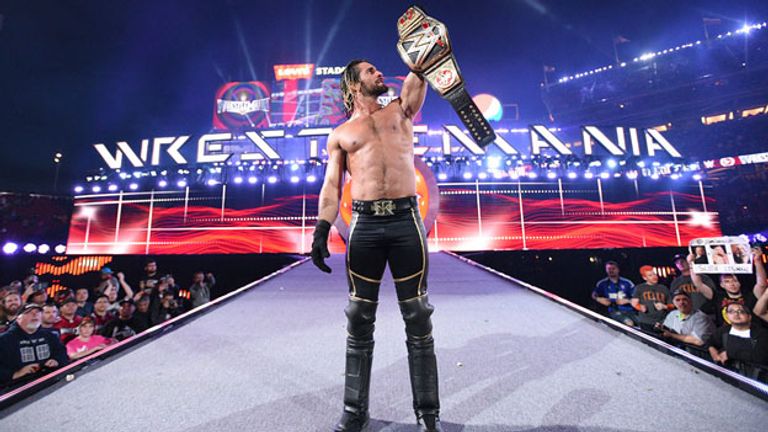 Rollins made his main-roster debut at Survivor Series in 2012, joining forces with Reigns and Ambrose to smash Ryback through the announce desk and help CM Punk retain the WWE Title.
The Shield would become a dominant faction over the following year and a half, culminating in defeating Evolution (Triple H, Randy Orton and Batista) at successive pay-per-views, Extreme Rules and Payback, in 2014, before Rollins turned on his team-mates and sided with The Authority.
"From Ambrose, I learnt about unpredictability and letting loose a little bit," added Rollins, who united, albeit briefly, with Ambrose and Reigns at Survivor Series in November to thunder WWE Champion AJ Styles through the broadcast table.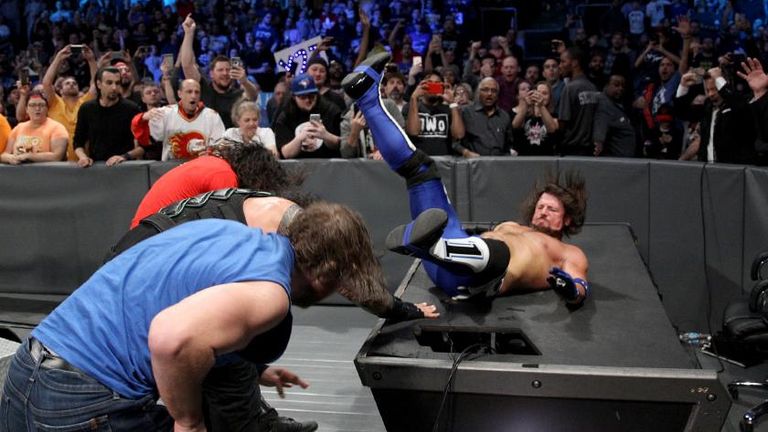 "I am a reserved person but Ambrose is the opposite - very whimsical and wild. Being around him brought out some of that in me, which I needed.
"From Roman, I learnt about presence and how to carry myself. He walks around with a ton of confidence and people sense that and take note of it. That helps with the way they perceive you.
"We have very different personalities but we meshed well together, complemented each other and established a relationship with the WWE Universe.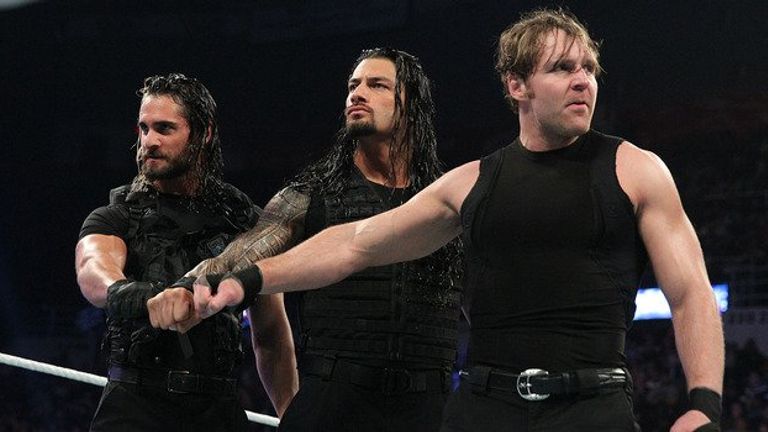 "Whenever all three of us were together at the same time it was just magic - but I don't think any of us realised just how much impact and how much noise we had made as a group until it was over.
"Over the last couple of years, the question I get asked more than any other is 'when are the Shield going to get back together?' That's pretty powerful."
What role will Rollins play at the Royal Rumble? Find out by watching the show live on Sky Sports Box Office from midnight on Sunday (Monday morning).
WWE Royal Rumble booking details
WWE Royal Rumble will be shown live on Sky Sports Box Office (channel 491) and Sky Sports HD Box Office (channel 492) from midnight Monday, January 30.
The pay-per-view will cost £19.95 for viewers in the United Kingdom and €24.95 for customers in the Republic of Ireland.
WWE Royal Rumble will repeated on Sky Sports Box Office (channel 491) BUT NOT Sky Sports HD Box Office (channel 492) between 10am on Monday, January 30 and 8pm on Thursday, February 2 - 8pm is the start of the final playout.
A live blog of WWE Royal Rumble will run on skysports.com and the Sky Sports app during the event, featuring text commentary, social media and short highlight clips.
You can order the show by visiting this link: https://my.sky.com/orderboxoffice/?DCMP=WWERoyalRumble
You can also book the event over the phone: UK viewers should call 03442 410 888, while customers in the Republic of Ireland should call 0818 220 225. (There may be an additional charge for telephone bookings).
You will also be able to order the show via your Sky remote nearer the event:
Sky+: Press the box office button on your remote, then click the sports tab followed by WWE Royal Rumble.
Sky Q: Press Home on your Sky Q remote, select TV guide, then Box Office and then WWE Royal Rumble. Enter your TV Pin if prompted. (Only bookings via Sky TV remote are recordable using Sky Plus).
Sky TV residential customers only. Commercial customers contact Sky for price and to order. Sky Box Office terms apply. Cable customers should contact their local cable operator.