Stef Reid tells My Icon about Paralympics highs and lows, and challenging assumptions
Watch Stef Reid in the new series of My Icon, showing on Wednesday at 6.15pm on Sky Sports Mix (Sky channel 121). All episodes of My Icon are available On Demand
By Gemma Louise Stevenson
Last Updated: 26/09/18 2:33pm
Stef Reid tells My Icon about her Paralympics highs and lows, and how she has set about trying to change people's mindsets.
Reid is a two-time Paralympics silver medallist for Team GB, and a five-time world record holder and current T44 long jump world champion. She has challenged attitudes by competing against both disabled and able-bodied athletes.
Speaking to Sky Sports' My Icon - returning for National Inclusion Week - she says: "I remember being six and having a first school sports day.
"It was kind of the first time I'd been involved in an organised competitive environment, and I loved it.
"I think I was lucky that was a really positive experience and I did well - and I just thought, 'you know what, this is for me and I want more of this'."
As a teenager born to British parents and living in Toronto, competing in "pretty much everything her school offered", Reid made the decision to focus on rugby union, after being introduced to the sport at 13.
At the time, she thought that was where her future lay and had ambitions to play internationally and see how far she could go.
But after a boating accident two years later, her goals changed, and her journey towards becoming a star of Paralympic track and field began.
"It took a while to get back involved in track," she says. "My accident was in August of 2000 and my first big goal was to be able to walk on my own with my prosthetic leg by December. I think that was kind of my first athletic goal, and I did it."
Changing Mindsets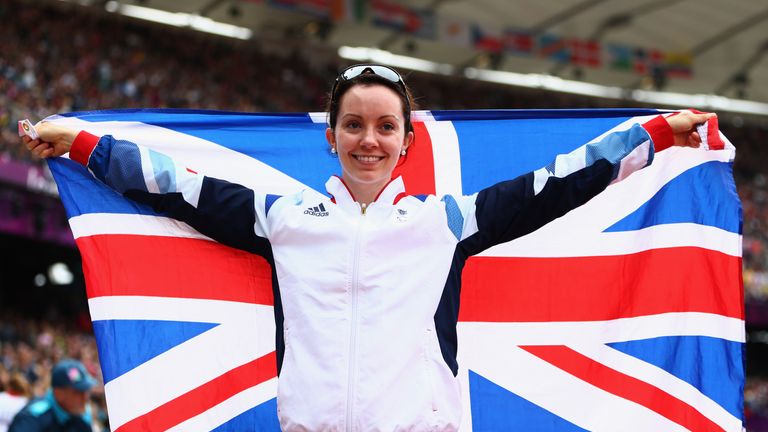 Embarking on a new sporting pathway wasn't just about switching goals for Reid, though. She's also been an athlete who throughout her career has set about changing another thing - mindsets.
Whether it be finding ways to turn her own around and bounce back when a result hasn't quite gone her way, changing attitudes by competing in meets against both disabled and able-bodied athletes, or even challenging people's definition of what a pie is on 'Masterchef', Reid has done it.
And her ability to do so was evident from the very first time she stepped onto the Paralympic stage in Beijing in 2008, representing Canada.
Going in, it was assumed her best chance of a medal would be in the long jump - but it didn't quite go to plan.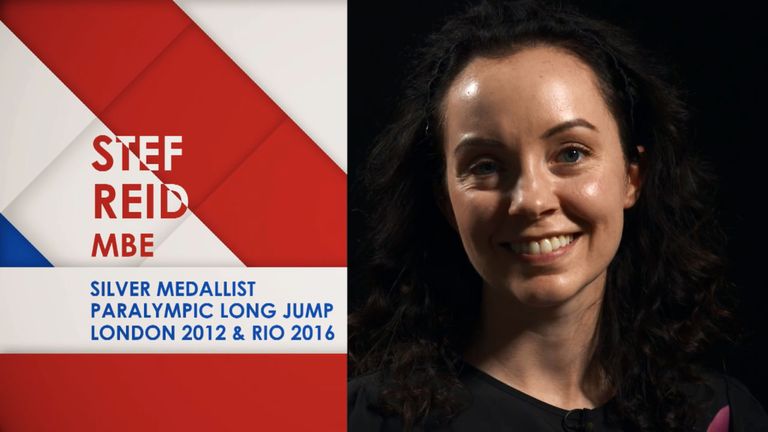 I finished last [in the long jump], I was devastated... that same evening, I had the 200m final... I ended up getting a personal best by almost a second, and the bronze medal.
Stef Reid, on her first Paralympics in 2008
"I walked into this massive stadium and I had never experienced anything like that before. It was overwhelming," she says. "You know in the long jump you have to jump from behind the white board, and if you don't jump from behind the white board, it doesn't matter how far you go - that jump doesn't count. I fouled pretty much everything before I finally got a safe jump in, and I finished last. I was devastated - you just feel like you let everyone down, it's awful.
"But that same evening, I had the 200m final and I went back to the athletes village, I had something to eat, I probably cried for a good two hours and then that was it. I had to go and compete."
She had no expectations of winning the 200m and had been put in the outside lane "where the slow people go", but Reid turned it around and won her first Paralympic medal, a bronze.
"I just had this steely resolve of 'I don't know where I'm going to finish, but I'm going to do the best that I possibly can, I'm going to enjoy it this time and I'm not going to be overwhelmed'," Reid continues. "As it turned out, I ended up getting a personal best by almost a second, and the bronze medal.
"I was really proud of myself for turning it around in a short space of time - for me, it's moments like that that you just can't beat."
Changing Attitudes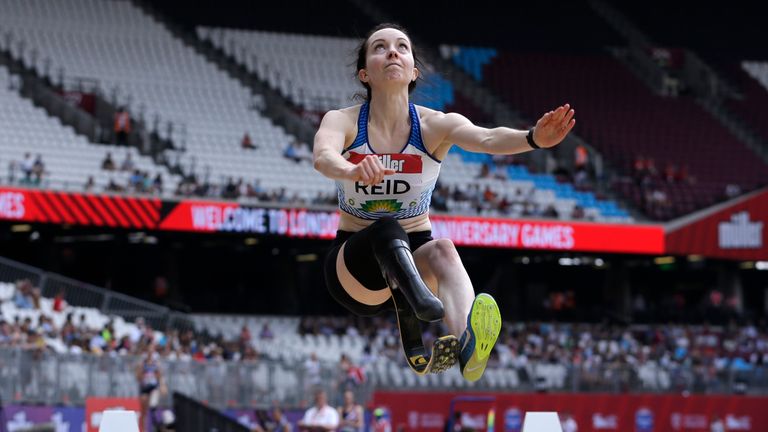 Reid's next Paralympics appearance in 2012 was as a British athlete - she won long jump silver in London, and again in Rio. Now aged 33, she believes there is a special something about the Games, and a really different tone to them compared with the Olympics.
"You have this group of athletes that by and large, we kind of come from this sense of underdogs - we were the people that never fit, we were the people that no one wanted to coach, people didn't think you could do anything. You had to fight, you had to fight really hard."
But she has definitely seen attitudes changing towards her and other athletes over this time, and remembers one moment in particular when she came third in long jump at an able-bodied meet in Dallas.
"I was walking out afterwards, and one of the mums of one of the other girls comes up to me - it later came out her daughter came fourth - and she said, 'oh you know well done, how lucky for you to have this artificial leg to jump on'... the undertone being 'you're kind of cheating, and my daughter should have come third'," Reid recalled.
"I mean, all I could do in that moment was smile, because I just thought, 'what a change', to go from 'oh, that's really sad' to actually 'you're so able-bodied, this is an advantage and you're cheating'."
Changing with the World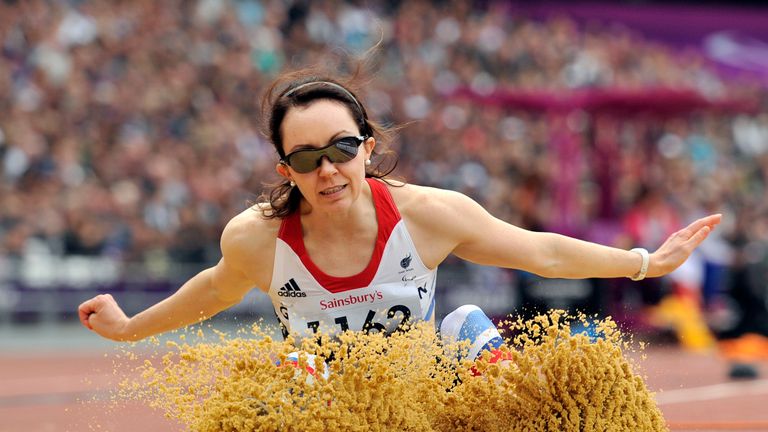 As para-sport progresses, one conversation Reid has described as being "so bored of it even being a talking point" is that of congratulating mainstream events for including disabled athletes and competition in them.
"You know, we've seen a lot of the stats in the UK that go out that 20% of the population would identify as having a disability, so why on earth would it even be a question that you were involving para-athletes and para-sport in a mainstream sporting event?" she says.
"It would be like congratulating an event and saying, 'oh well done, you've included women's events'."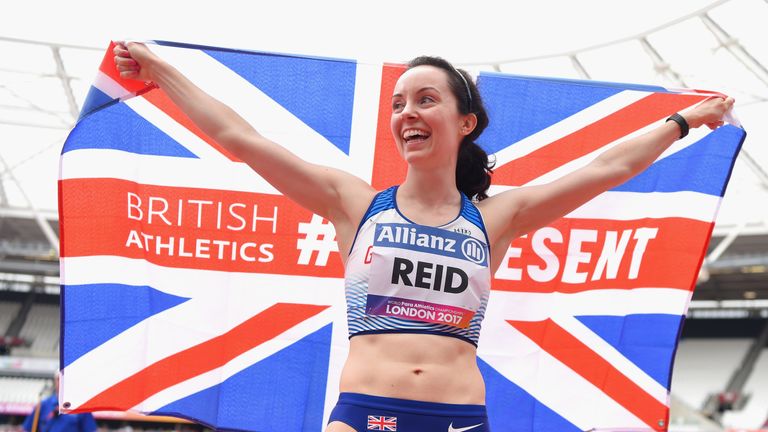 But this trend and narrative seems to be changing already, and Reid is excited about that prospect as well as how much the younger generations who are "bored of the same, the same, the same" are influencing things going forward.
"You see in business, it's no longer a case of hiring people with disabilities, or women, or whatever minority group you're trying to attract for the sake of ticking a box," she continued.
"The world is changing at a rapid rate because of the internet and social media and all of these things and if you aren't able to adapt, you're going to be left behind - and it's the same in sport.
"We need to stop clinging on to these static models of the past, and we just need to look at the world in front of us now and reflect that.
"And disability is a great way to do that, because it says actually we can all achieve great things and it might not look like how you think. We might have to dig deep and do some research and be a bit creative and find a way, but it's possible - don't give up."
Don't miss Stef Reid on the latest series of My Icon - All My Icon episodes are also available on Demand.