Clay-Liston revisited 50 years on
Cassius Clay's showdown with Sonny Liston saw him arrive on the boxing scene with more than the odd shout. But surely once that bell sounded, the huge favoruite would put the challenger in his place - and shut him up. We look back at the fight, 50 years ago...
By Adam Norman
Last Updated: 25/02/14 11:36am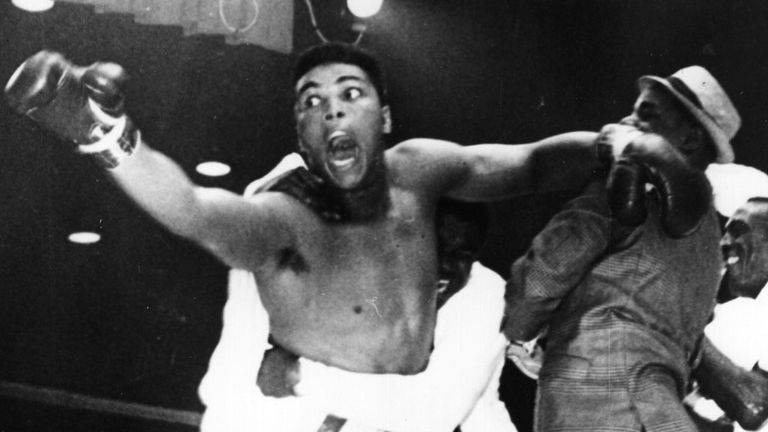 When the young upstart was finally finished, the heavyweight champion of the world provided a more succinct prediction of what was to come.
"My only worry is how I'm going to get my fist out of his mouth," said Liston. "It's going to go so far down his throat, it's going to take a week for me to pull it out again."
Few present were inclined to disbelieve him. Fifty years ago this month Sonny Liston looked like a heavyweight who could dominate the division in a way that few, if any, had done before him.
He had taken the title in September 1962 by becoming the first man to knock out a reigning heavyweight champion in the first round, after taking two minutes and five seconds to hammer the hapless Floyd Patterson in Chicago.
Laboured
By way of proving it was no fluke, Liston repeated the feat 10 months later in Las Vegas, this time flooring Patterson three times in the first round. His ogreish reputation only served to enhance the feeling that there was no one around who would be brave enough to touch him.
Henry Cooper's manager, Jim Wicks, had once freely admitted he wanted no part of Liston, insisting: "He won't lose his title until he goes to sleep one night and somebody nicks it."
Of all Liston's potential challengers, the one considered to have the least hope of dethroning him was a young contender named Cassius Clay.
While Liston had been casually dispatching a champion to the canvas, Clay had laboured badly in a supposedly routine showdown against Cooper in London, and narrowly escaped defeat after being floored by a big left hand towards the end of the fourth round.
No amount of ranting and raving from Clay in the pre-fight build-up could convince the experts that the so-called 'Louisville Lip' would be doing much talking in the ring. Of 46 ringside sports writers polled on the night of the fight on February 25 1964, 43 predicted an inside-the-distance win for Liston.
Clay lambasted Liston as a 'Big Ugly Bear', adding: "After the fight I'm going to build myself a pretty home and use him as a bearskin rug. I'm going to give him to the local zoo after I whup him."
Stomped
So wild had Clay's behaviour become by the weigh-in that his heart-beat was measured at almost double its usual rate and there were suggestions that rather than seeking to rile Liston, Clay's antics were those of a man almost literally scared out of his mind.
The expected slaughter was set to take place at the Convention Hall in Miami, Florida. Liston glowered at Clay across the ring and when the first bell sounded he stomped over the ring in search of knockout win to eclipse the pair he had achieved over Patterson.
Clay danced and swerved and made Liston miss wildly. He shrugged off a right hand to his stomach and responded with a quickfire combination that had the crowd on its feet, hardly daring to believe they might bear witness to a momentous upset.
Clay stood firm in round two and dominated the third, which left Liston cut under both eyes. But the bout threatened to swing back in Liston's favour at the end of the fourth when Clay returned to his corner complaining of something burning his eyes and imploring trainer Angelo Dundee to "cut off my gloves".
The exact nature of the substance, if any, which so threatened to assail Clay remains one of the great mysteries of boxing. There were rumours more than one of Liston's previous victims had suffered the same fate.
Dundee refused to accept Clay's surrender, rinsing his eyes and pushing him back out. He pawed his way through the fifth round and began to push home his advantage in the sixth.
When the bell sounded to start the seventh, Liston stayed slumped on his stool and Clay danced to the centre of the ring and raised his arms.Liston claimed a shoulder injury had forced his retirement from the fight, but few were listening.
Clay leaned over the ropes and urged the assorted sports writers to "eat your words!" before repeating the phrase which would ring true through the ages, and remain just as legitimate 50 years on: "I am the greatest!"