Floyd scoffs at Pacquiao talk
Floyd Mayweather has shrugged off renewed calls for a hotly-anticipated superfight with Manny Pacquiao.
Last Updated: 18/09/11 2:27pm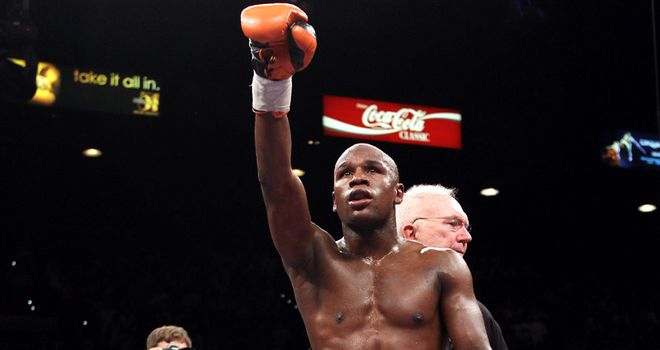 Floyd Mayweather has shrugged off renewed calls for a superfight with Manny Pacquiao - insisting the Filipino needs the hotly-anticipated bout more than he does.
Mayweather returned to the ring for the first time in 16 months to beat WBC welterweight champion Victor Ortiz with a controversial fourth round stoppage.
But afterwards the talk quickly turned to the possibility of a long-awaited pound-for-pound showdown with Pacquiao.
The failure of boxing's two leading fighters to go toe-to-toe is a long-running saga, with Mayweather insisting on extra stringent drug tests and Pacquiao seeming intent on pursuing other plans.
And it seems as far away as ever with Mayweather launching an extraordinary tirade against Pacquiao after knocking out Ortiz.
Greatest
Mayweather said: "Pacquiao is only famous because he is attached to my name.
"When they say Pacquiao they say 'that's the guy they are trying to get to fight Floyd Mayweather'. When they say Floyd Mayweather they say the greatest ever.
"How can Pacquiao offer me anything? I do the offering. I just want an even playing field. That's it. If you've got nothing to hide then take the test.
"With or without Pacquiao any time Floyd Mayweather goes out there he is going to make $70 million. I don't need him."
Unprepared
Mayweather extended his unbeaten career to 42 fights with victory over Ortiz in Las Vegas on Saturday night.
The fight burst into life in the fourth with Ortiz getting Mayweather on the ropes without being able to find a decisive blow.
Just before the bell Ortiz had Mayweather on the ropes for a third time - only to be penalised for a headbutt.
As the 24-year-old appeared to apologise, Mayweather landed the two punches which ended the fight with his opponent seemingly unprepared.
But Mayweather said: "Without the fourth round he was going to get knocked out anyway. I was fighting stronger.
"I was keeping my composure and sticking to the game plan."