Kenny Porter complains about Kell Brook's world title win over his son Shawn
Last Updated: 20/08/14 1:46pm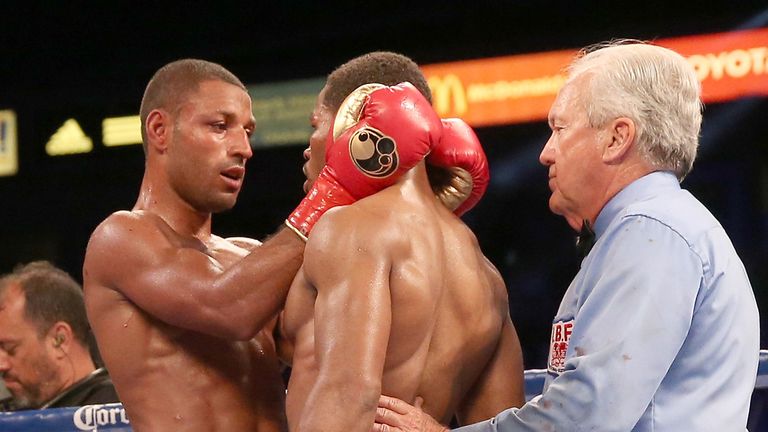 Shawn Porter's trainer has complained about the points verdict in Kell Brook's world title triumph at the weekend.
The Sheffield fighter was crowned as the new IBF welterweight champion after taking a majority decision win over Porter in Carson, California.
In his first fight at world title level, Brook handled the big-fight pressure, displaying superior skills in a gruelling and often ugly battle.
Both men were left with cuts amidst scrappy exchanges at close quarters and the 'Special One' often tied up Porter, who was attempting to drag him into a dogfight.
Brook's cleaner work at long range was recognised by two judges, with scores of 117-111 and 116-112, but Porter's trainer, his father Kenny, thought the challenger should have been penalised for holding.
"I can't agree about the decision. I'm a fighter. I know what it feels like to fight. I know what it feels like to hold," he told boxingscene.com. "I saw so much holding that my fighter wasn't able to really box.
"I told him to go to the inside and work and get body shots off on him. I saw him get a lot of that off, but I'm under the estimation that it's working and we were getting good credit for it.
Fighting
"I didn't see the effort on that guy's part to fight on the inside. If he's not doing a great job on the outside - okay he did a good job on the outside and on the inside he's holding - but my guy is really fighting and beating him on the inside. I was feeling good about what we were doing."
The Porter camp had been in confident mood ahead of the bout, but the beaten fighter showed his new-found respect for Brook in a message on twitter.
His father was less gracious, refusing to acknowledge that the British man had exceeded his expectations.
"I actually underestimated his skill level of being able to hold. I didn't think he could hold that good, so I underestimated him," he said.
"I really thought that in a level of one to 10 he was about a two in holding, but he showed me something totally different from that."
The American is hoping for an immediate rematch and would agree to a fight in Brook's home country.
"Absolutely, we haven't got no choice now," said the trainer. "The only thing I'm going to England for is to prepare for a knockout. I got to get a knockout because I'm not getting a decision."  
Porter is unlikely to receive a return bout as Brook is looking elsewhere in a star-filled division and a possible clash with British rival Amir Khan would appear the most likely option.
Khan's trainer Virgil Hunter is confident the fight will take place if there is major public demand.
"It's a business, but from what I understand it's a big fight in the UK, so I am sure at some time it will take place," he said.
"When it takes place, we'll be ready. Am sure it's going to take place at some point. I don't know when. I guess it's when it's in demand."