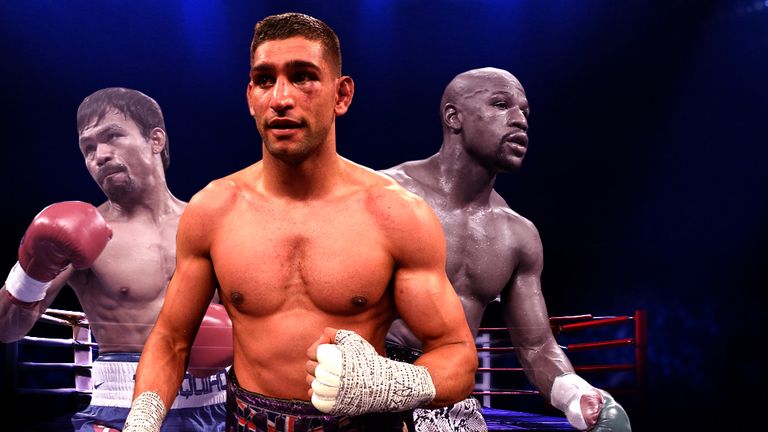 Amir Khan admits he wants Floyd Mayweather and Manny Pacquiao to fight each other - even if it means he misses out on his dream fight.
Khan had been hoping his superb performance against Devon Alexander was enough to earn a shot at unbeaten Mayweather - or alternatively, Pacquiao, if the fight could not be made.
But the pair, arguably the two best fighters of their generation, appear to be on collision course to meet in Las Vegas in May after avoiding each other for many years.
The fight has not been confirmed, but Khan admits that he will have no complaints if it is, because he – as a fight fan himself – wants to see it happen.
"I think they are hopefully fighting each other in May. I think I probably have missed that chance of fighting Floyd or Manny," he told Sky Sports News HQ.
"I was speaking to both parties. It was going to happen. But because I'm a huge boxing fan myself I can't really argue. It's a fight that everyone has been waiting for. I want to see it myself as well."
Khan wants a fight in May too, and an all-British clash with Kell Brook had been suggested as an alternative.
But Brook takes on Canadian Jo Jo Dan in the first defence of his IBF welterweight title on March 28, so Khan says the Sheffield boxer is unlikely to be his next opponent.
"Kell is fighting in March, and I want to be back in the ring in May. The turnaround for him will be quite difficult," he said.
"There's a few other names…there was talk of Miguel Cotto and maybe getting that fight done. There's Tim Bradley – there's some huge names in the 147 division.
"We are just taking our time at the moment. We are all waiting for that (Mayweather v Pacquiao) announcement. Anything can happen. Mayweather may not announce that he's fighting Pacquiao. It could be myself. We have to wait for that announcement and then see where we go."
Khan says he has not given up hope of eventually fighting one of the two men and says he would happily face either, regardless of who wins.
"Definitely – it's put me in a great position, that great performance in my last fight against Devon Alexander," he said.
"For the winner or the loser, it would be a massive fight. Manny and Mayweather are huge names in boxing. I think I am on their radar."