Tommy Coyle insists he can knockout Luke Campbell after battling back from the brink
Last Updated: 08/03/15 7:41am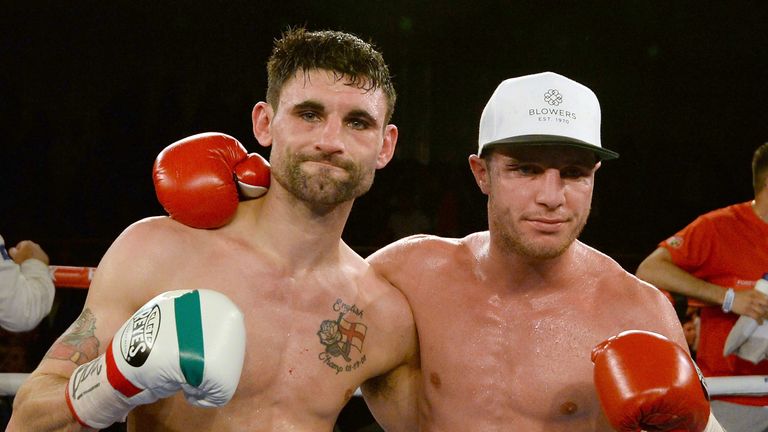 Tommy Coyle vowed to knockout fellow Hull lightweight Luke Campbell after climbing off the canvas to force a stoppage win over Martin Gethin.
Coyle's plans for a summer showdown with Campbell were in peril when he suffered a heavy knockdown in the second round, after his local rival had stopped Levis Morales in three one-sided rounds.
But 'Boom Boom' displayed his usual battling qualities, forcing Gethin onto the back foot with a determined fightback.
After the fifth round, Gethin pulled out with a damaged ear drum and Coyle was able to look ahead to his meeting with Campbell.     
He told Sky Sports "Listen Luke has got another stoppage there, but you know what? Luke's my pal, you all know that. We're from the same city, we have been all over the world together, but he has not been in with nobody yet and I think I'm going to knock him out, and he's my pal.
"Afterwards, we'll shake hands."
But Campbell brushed off his pre-fight prediction and admitted he spotted weaknesses in his hometown rival.
"Yeah I mean, best of luck to him. Tommy again showed his toughness and come through and got the win, so well done Tommy," he said.
"It's exciting, this is why I'm in the sport of boxing - to put on a great show, fill a stadium, and this is what it's all about. I'll be ready for it.
"Exploit and finish. No problem.
"We've known each other for about 14 years. We've done hundreds of rounds, sparring with each other as kids. But that's as kids, it means nothing.
"We haven't sparred for a fair few years now and what's in the past has been and gone. It's all about what's happening now and the future."
Campbell pointed to his dominant win over Daniel Brizuela after Coyle questioned the quality of his opponents.
"Well we boxed Brizuela. He boxed him and I boxed him," said the 27-year-old. "He had nightmares with Brizuela and I stopped him in five rounds, so he might have taken a few too many punches tonight and not realised that. Who knows?"
Asked if he could halt Coyle, Campbell simply replied: "I think so yeah. It will be a knockout win."