Porter v Brook: it's too big a step up for the Sheffield star, fears Jim Watt
Jim Watt sees this as the hardest fight of Brook's career
By Jim Watt
Last Updated: 15/08/14 12:33pm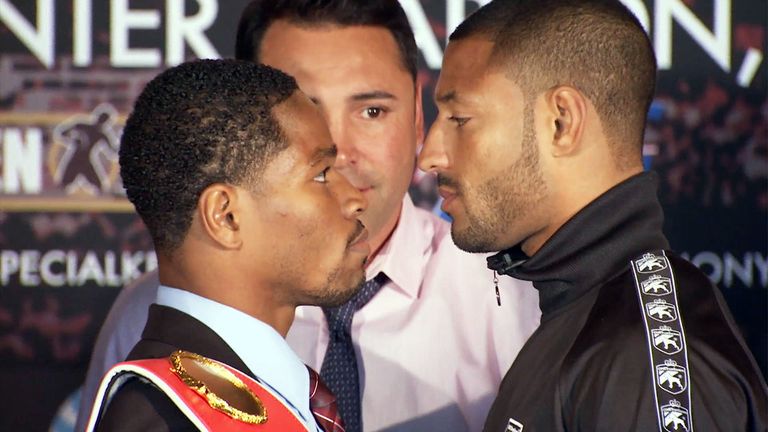 Quite simply this is a real close match-up, but the edge is in favour of Shawn Porter because he is at home, the world champion and is on a roll after two impressive wins.
Kell has waited for two years to get this shot, so let's hope it takes him to a new level - because I think he needs to find that to pull this off.
If we are honest, Kell has gone through his career beating people he is better than. That's a tribute to just how good he is but have we ever seen him going into the ring when we thought it could go either way?
He has always been considered to be better than the other guy and on all 32 occasions, has proved that he is. On top of that, whenever we have thought the other guy was going to give him a real problem, he was never been given the chance to, Kell was just too good.
But this to me is one of those that could go either way, it really could.
There is a lot against him going into this but he can do this, he is certainly good enough to win that world title. His technique, his speed, his precision and his combinations are, for a start, probably the best Porter has come up against in his career.
Of course I want Kell to win, I really do, and maybe I am being too cautious but I am a little concerned that there is more to the champion's game than we've seen. Kell has a lot to contend with, even before the bell sounds.
This is a change in opponent for Kell, really, because when he moved up to the mandatory, Devon Alexander was the champion - an awkward southpaw, a clever boxer, who can give people all sorts of problems.
That could've been really tricky for him but Porter beating Alexander and becoming the champion has me wondering if this suits Kell better. Porter is a different proposition; he has a simpler style but he is a real hard man.
Physically
He also has a very good amateur pedigree as well, so don't think for a minute he is just a slugger. That suggests to me that he is going to be tougher to beat than Alexander. He is a thinking fighter who goes at a slower pace because of it and that would suit Kell. He is a smooth, slick fighter himself with great ability, so Porter knows he has to get on him as soon as he can and as hard as he can.
Brook is quick enough and fast enough to win this in his usual way but while some people are saying the champion might be overrated, I would rather give him credit.
Jim Watt
Thanks to that first fight with Carson Jones, Brook knows he has got the bottle to dig deep if he has to. But he will do all he can to avoid doing that again, so he will not stand there and trade with Porter. His ability is second to none and we will see him trying to out-box this guy from the outside.
The trouble is when contrasting styles collide you have to somehow establish your style. Brook won't impose himself physically, but he has to make it his kind of fight, find space, some distance between them and a bit of time. I'd spend the first 30 seconds or so of each round making him miss and not worry about landing those counters early on - he needs to frustrate him first, then bring those shots into play.
The pressure is on Porter, though. He is fighting at home and although he might get the decision because of that, he is the one who has to impress. For Kell, any win will do and any quiet rounds when he is frustrating him and not getting involved, will not bother him, early on at least.
Special
Kell has to do it from distance for as long as he can because that will frustrate Porter and take his energy away. If Porter does get close, Kell needs to tie him up, rather than try and take him on inside. We have not really seen Kell have to do this when he is at his best because even against Jones, he just ran out of steam having completely dominated him for the first half.
Brook is quick enough and fast enough to win this in his usual way but while some people are saying the champion might be overrated, I would rather give him credit. He's not very tall but he has made that work in his favour and the one thing I noticed when he blew Paulie Malignaggi away, there were plenty of times when Paulie looked like he felt he was out of range - but wasn't.
That is one thing that is bothering me because I have no doubt about Kell Brook's ability. He can do it but Porter is my slight favourite. I can see it going the distance and these two really could produce something special. I just hope Kell can prove me wrong.
Watch Kell Brook take on Shawn Porter, one of three world titles you can see live. Coverage begins at 2am on Sky Sports 1 on August 17.