Anthony Joshua confident fight with Wladimir Klitschko will happen
By Andrew Dickson
Last Updated: 06/10/16 1:34pm
Anthony Joshua believes a world title fight between him and Wladimir Klitschko "will get people's hairs off their skin" and is confident it will happen.
Promoter Eddie Hearn said on Wednesday he is now 70 per cent sure he can set up a bout between the current IBF world heavyweight title holder and former champion Klitschko.
Joshua won the belt against Charles Martin in April then defended it successfully against Dominic Breazeale in June but admits a contest against the Ukrainian would be on a different level.
He told Sky Sports News HQ: "It would be amazing for boxing in general, for British boxing, for the people that have wanted to see a general step up in class.
"It's an interesting fight. It's definitely one people have got interested in just by mentioning it. It ticks all the boxes for me at this present time. I think there's a few fights the world of boxing wants.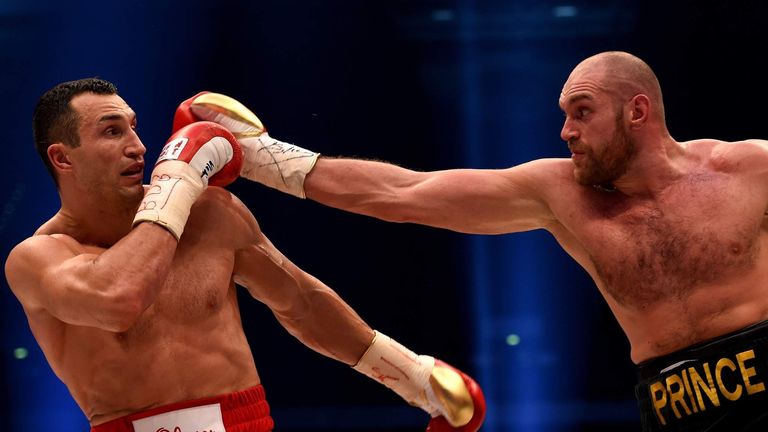 "A heavyweight fight with a former champion and a current champion is a fight that definitely ticks that box that will get people's hairs off their skin.
"There's a lot of stuff going on behind the scenes. We're dealing with a legendary sportsman in Klitschko and a current champion so there's egos on the table.
"We've got to put that aside and hopefully we can definitely get this deal done. Eddie does a good job and he's a fantastic promoter.
"I've got to look at my team, my team are guiding me and they've got to be happy with everything as well.
"I'm confident Eddie's sending over the right messages and getting the right things in place for this fight to take place."
The parties are looking at a date of November 26, although Hearn has conceded it could be December before the two boxers get in the ring together.
Klitschko had been due to face Tyson Fury in a repeat of their fight last year but it has been cancelled after the Brit was declared 'medically unfit' to take part.
Joshua, 26, added: "I'm hoping for November because it has been mentioned. There's been people booking hotels and changing schedules around.
"If it means that we push it back another two weeks to December, it's no problem with me because the fight will come, the fight will go. As long as the fight happens, it will be one I'll be happy about.
"You have to do a lot of learning in the gym, of course, but when I fight someone like Klitschko, I have to make sure everything I've learned over the years comes into play.
"I have to use stuff I've learned on the night. I can't go in there thinking because I'm a heavyweight I can go out there and out-strengthen and out-power Klitschko. He's a tactician. "
You can watch England's tour of Bangladesh, plus Premier League football and the Japan Grand Prix on Sky Sports. Upgrade now and enjoy three months at half price!