Crolla vs Burns: Anthony Crolla and Ricky Burns made the lightweight limit at weigh-in for Saturday's fight
Last Updated: 07/10/17 6:38pm
Anthony Crolla and Ricky Burns maintained their mutual respect as they made the lightweight limit at the weigh-in for their British battle in Manchester.
Hometown hero Crolla tipped the scales at 9st 8lbs 9oz, while Scotsman Burns came in lighter at 9st 8lbs 5oz, despite having to step down a division for Saturday's fight, live on Sky Sports Action.
There were smiles and handshakes after both fighters posed for photos, although Crolla insists friendship will be set aside this weekend as defeat could end their world title ambitions.
"This fight doesn't need to be shoving about. It was never going to get that anyway," Crolla told Sky Sports News. "But anyone who knows their boxing, knows this is a proper fight tomorrow.
"You've just mentioned then what is on the line tomorrow. Winning is so important. The winner goes straight back into fighting for world titles, the loser has to rebuild, maybe drop down a level, and neither of us want to do that.
"It's so important for us both to get the win, and I cannot wait for it."
Burns is not even contemplating defeat as the 34-year-old fully expects to pull off his 42nd victory.
"A lot of people have been saying the winner possibly goes on to fight for a world title and there has been a lot of talk about where does the loser go from here," said Burns.
"I've not been looking at it that way. I'm 100 per cent confident about getting in here and getting the win."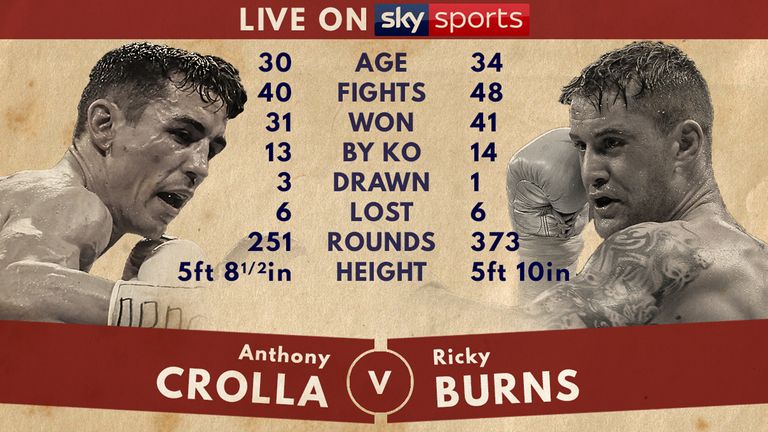 Watch Anthony Crolla against Ricky Burns, Sam Eggington faces Mohamed Mimoune, Robbie Barrett battles Lewis Ritson and Conor Benn against Nathan Clarke from 7pm on Sky Sports Action.