Whyte vs Chisora 2: Dillian Whyte and Derek Chisora trade more insults on 'The Gloves Are Off'
By Richard Damerell
Last Updated: 16/11/18 6:27pm
Dillian Whyte and Derek Chisora traded heated words as they filmed another 'The Gloves Are Off', two years after their explosive first confrontation in front of the cameras.
The British heavyweights went face-to-face again across the table, with Sky Sports' Johnny Nelson asking the bitter rivals about their upcoming rematch at The O2 on December 22, live on Sky Sports Box Office.
Tensions nearly boiled over as both fighters swapped insults, and they even continued an angry exchange after filming had been concluded, with security poised to step in.
After the bad-tempered build-up to the first fight, Whyte claimed a split-decision victory following a brutal 12-round battle at Manchester Arena in December 2016.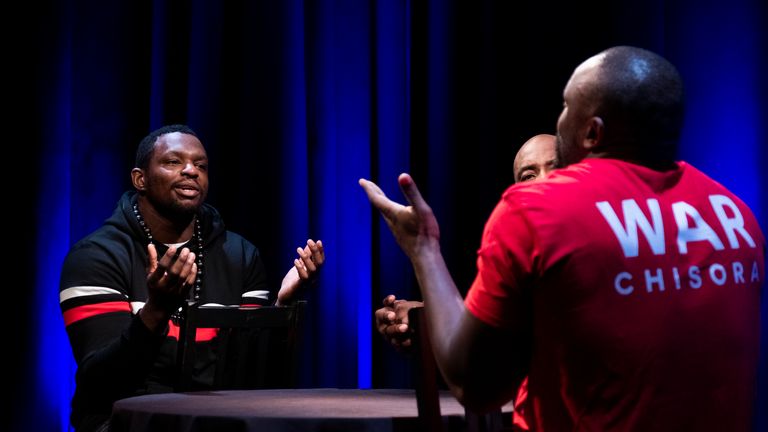 I'm in control. I make the choice whether I go off, or not, or respond to things.
Dillian Whyte
"He chucked a table at me at the press conference. Derek Chisora is a bit of a hostile, volatile character," Whyte told Sky Sports News.
"This time around, I just think, I'm in control. I make the choice whether I go off, or not, or respond to things."
Asked about controlling his aggression, Whyte added: "When it's time to go, it's time to go. I'm a warrior all through, 100 per cent. I'm probably 99 per cent fight and one per cent flight.
"For me, it's not a switch. I just control it and just distribute it in the right amount. When I was younger, it was all over the place, but now I understand myself better and I deal with myself better."
Chisora has linked up with new manager David Haye and is predicting a more dramatic encounter.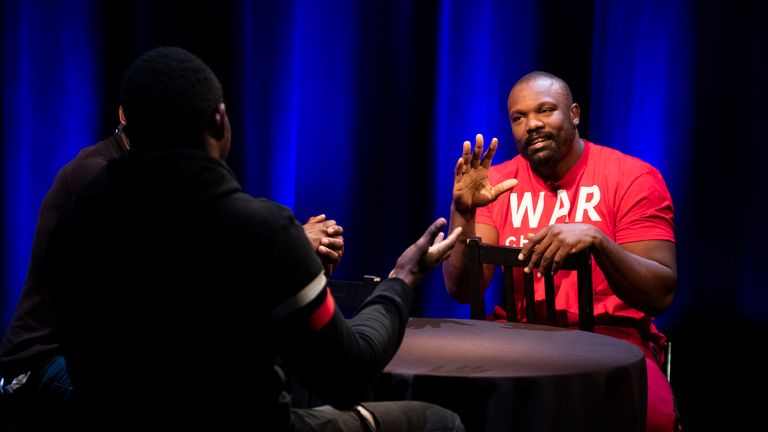 This time it's going to be a moving train.
Derek Chisora
"It's going to be explosive, and it's going to be better than the first one, I believe," Chisora told Sky Sports News.
"Everything was happening. You would get tired, you would come back but this time, we will not get tired.
"This time it's going to be a moving train."
Due to their long-running feud, Chisora admits he completely lost composure before he first faced Whyte, but with Haye helping his preparations, the 34-year-old has vowed to channel his anger.
"For the first one, there was a game plan, but by the time I got in the ring, it'd gone out already.
"I was already upset, charged and looking forward to the fight, but by the time the ring-walk song came on, I was gone.
"It's a different aggression now. It's like Picasso painting a canvas, so my aggression will still be there but it will be different.
"It won't he hatred aggression, it will be more [about] bringing happiness to the fans who bought tickets, or watched me fight."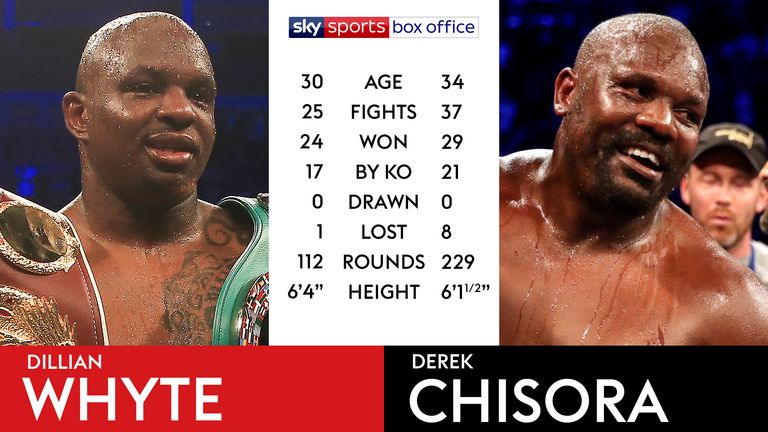 Watch Jarrell Miller against Bogdan Dinu, with Claressa Shields vs Hannah Rankin for the WBA, IBF and WBC titles, and Brandon Rios vs Ramon Alvarez, in Kansas, Sunday November 18, from 2am on Sky Sports Action.