Allen vs Browne: Live stream as David Allen, Derek Chisora, Josh Kelly and Conor Benn weigh in
This stream has now concluded
Last Updated: 19/04/19 1:46pm
David Allen hits the scales ahead of his battle against Lucas Browne, along with Derek Chisora, Josh Kelly, Conor Benn - and you can watch the weigh-in live stream here!
The 'White Rhino' faces a career-changing fight against former WBA champion Lucas Browne on Saturday night, live on Sky Sports, while fellow heavyweight Chisora takes on Senad Gashi, and the welterweight duo of Josh Kelly and Conor Benn are also in action at The O2.
Watch a live stream of the weigh-in on the Sky Sports website and the Sky Sports app.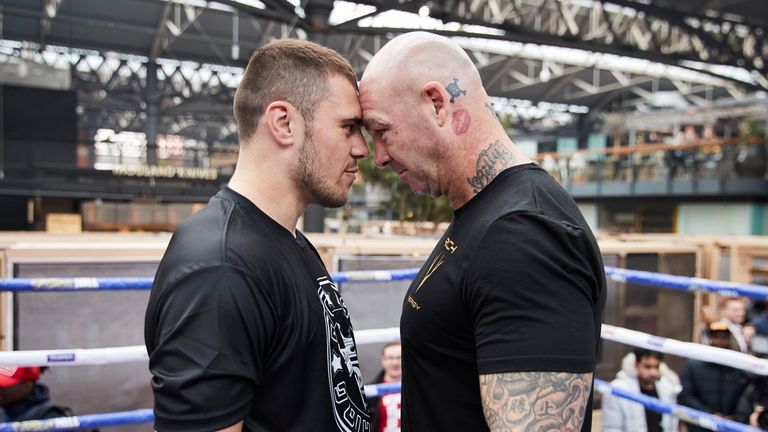 Allen has compared himself to cartoon character 'Homer Simpson' as he joked about the game-plan for his crucial clash with Browne.
"If it's working, fantastic, we'll stick to it, if not, I'm going to 'Homer Simpson' him," said Allen.
"The game-plan is there. Game plan B is punch him in the face, and let him punch me in the face, and see who is the last man standing.
"We're going to try a new look, and if that doesn't work, we're going to get at it. I want to feel his power, if I feel his power and it's like, that hurt a bit, we'll stick to the game-plan.
"If not, we're going to get at it straight away."
Watch David Allen against Lucas Browne on the O2 bill, including Derek Chisora versus Senad Gashi, Josh Kelly and Joe Cordina on Saturday, from 7pm on Sky Sports Action.