Prizefighter: Audley Harrison won international heavyweights at York Hall
Audley Harrison became the first two-time Prizefighter champion when he cruised to victory in Bethnal Green.
Last Updated: 26/02/13 4:55pm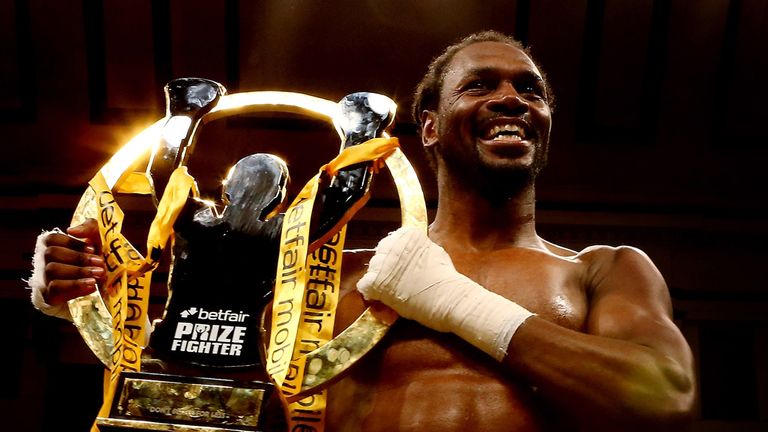 Harrison, not for the first time entering the ring with his career on the line, looked sharp from the outset and stopped his first opponent Claus Bertino in 33 seconds.
A rematch with Martin Rogan followed but it was easy pickings for the taller Harrison, who kept the bustling Northern Irishman at bay for a shutout win.
The final saw him come up against American Derric Rossy, who was exhausted after two wars that went the distance, and a heavy left hand ended things in the second round.
It means, with two bonus wins, Harrison takes away £36,000 and another Prizefighter trophy, as well as a future in the sport.
Bertino had walked onto a short left hand as Harrison set up a semi-final with Rogan after his fellow veteran had stopped Albert Sosnowski - the Pole waved off in the third on legs of jelly after a composed performance from the first ever Prizefighter champion.
Very different
But Harrison dominated Rogan, the right jab working well and the left counter catching Rogan as he charged forward in a bid to land his shots.
In reality, the Belfast brawler was unable to make any impression on Audley, who had gifted Rogan victory in their 10-rounder in 2008 through a lack of willpower.
But it was a very different Harrison that turned up at York Hall and he oozed confidence as he quickly claimed the middle of the ring in the final against New York journeyman Rossy.
The American began the fight battle-worn and as he soaked up several sharp jabs early it was soon clear he wouldn't last the distance.
He went down in the opener and although he made it to his feet, a straight left hand saw him crumple in the corner in the next session and the bout was called off with the corner and referee in acquiesence.
Rossy had just done enough to beat a very disappointing pre-tournament favourite Travis Walker in his opener, and then earned another split decision over local hope Ian Lewison.
The Londoner had made it three stoppages in the quarters by beating the tough Timo Hoffman, although the German was unfortunate to be halted when seemingly in perfectly good health despite being dropped by a right hand.
But it was Audley's night. And on this showing we could finally be seeing the best of the enigmatic Olympic champion.