Kell Brook draws up three-man hitlist after impressive win over Vyacheslav Senchenko
Kell Brook has drawn up a three-man hitlist after halting Vyacheslav Senchenko on Saturday night.
Last Updated: 27/10/13 2:39pm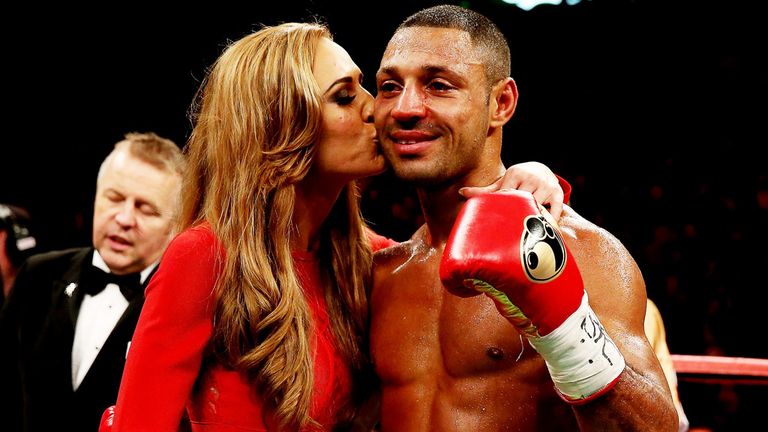 Brook set up a possible shot at the IBF welterweight title with a ruthless knockout of Senchenko on Saturday night in his hometown of Sheffield.
Devon Alexander will defend the belt against Shawn Porter in November and 'The Special One' hopes to land a fight against the winner.
A world title challenge against Alexander fell through earlier this year after Brook suffered an injury, but he is determined to finally face the American.
British rival Amir Khan has been mentioned as a future foe for Brook, who has also set his sights on rising star Adrien Broner.
"I've arrived," said Brook. "I want Broner. I want Khan. I want the massive fights. I don't want to leave boxing without being in with the top guys in my division.
Statement
"I'm excited about all the possible opponents. We have history with Devon. The Khan talk has been going on a while and this new kid, Broner, who talks trash and pretends to be something he isn't; he can also get it."
Brook floored Senchenko in the third round, but was briefly hurt in the fourth before finishing the fight in style with a destructive assault.
The Ukrainian had never been halted in that manner before and Brook believes his career has hit new heights.
"It has to be my best win," he said. "He's a former world champion with a great pedigree. No-one has done that to him. I think I made a statement here. I'm a force to be reckoned with.
"I want to be in those big fights. After that performance I belong at the top level. I am happy now and injury free. I've had some bad times and I hated boxing with my injuries. I couldn't train. The opportunity was there and (because of injury) I was heart broken. I'm on to another chapter now though and I've come back with a bang."
Ricky Hatton was sent into retirement by Senchenko last November and Brook was glad to gain revenge for one of his heroes.
"I'm better than ever," Brook said. "I haven't had a chance to speak to Ricky after the fight but we had a game plan and I listened to what he said before the fight.
"He was one of my idols and I've got a lot of time for him and I did what we planned on doing.
"The fans will love that. I got revenge on the guy who beat Hatton last time round. I'm happy all round. It was a great statement and revenge all rolled into one."