Vitali Klitschko vacates world heavyweight title as WBC elevates him to 'Champion Emeritus'
Vitali Klitschko has vacated his world heavyweight title after being reclassified as 'Champion Emeritus' by the WBC.
Last Updated: 16/12/13 8:20pm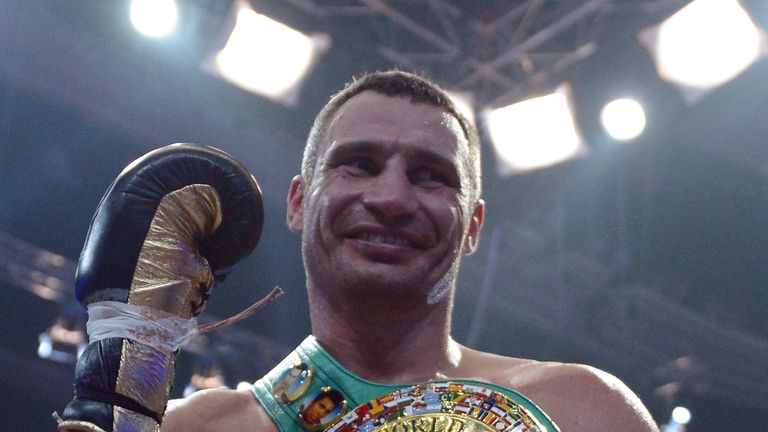 The WBC took the move after confirmation from Klitschko that he intended to focus on his career as a politician in Ukraine.
The WBC claim they are fully supportive of the 42-year-old and his new status would grant Klitschko the right to challenge the new champion should he wish to resume his boxing career.
However, Klitschko insists he is highly unlikely to box again given his new role as an opposition leader in his homeland.
"This offer makes it theoretically possible to return to the ring, which I cannot imagine at all happening as things stand now," Klitschko stated.
"I am now concentrating on the politics in Ukraine, I feel people need me there."
A WBC statement read: "With the current extreme and delicate political situation in the Ukraine, Vitali has answered his country's call to fight for human rights and equality. Accordingly, Vitali will not be able to provide the WBC with a predictable timeframe to return to the ring.
Distinction
"In light of those considerations, the WBC Supreme Council and the WBC Board of Governors have voted unanimously to name Vitali Klitschko WBC Heavyweight Champion Emeritus.
"Very few great fighters have received such an honorable distinction, which will entitle Vitali to fight for the WBC Heavyweight World Championship when he is ready to return to the ring."
It added: "Vitali Klitschko is fighting the fight of his life, this time outside the ring. Vitali is showing to the world what is the true heart of a champion by leading his countrymen to battle in the streets in their search of human equality, rights and peace for the great country of the Ukraine."
Klitschko has held the WBC strap since defeating Nigeria's Samuel Peter in 2008 and has a 45-2 career record.
His younger brother Wladimir currently holds the IBF, WBA and WBO heavyweight titles and Vitali insists he will continue to offer support to his sibling, adding: "My brother Wladimir will be responsible for further sporting successes."