Exciting heavyweight Anthony Joshua wants to see more kids take up boxing
Olympic champion Anthony Joshua would like to see boxing reintroduced in schools throughout the UK.
Last Updated: 11/02/14 6:23pm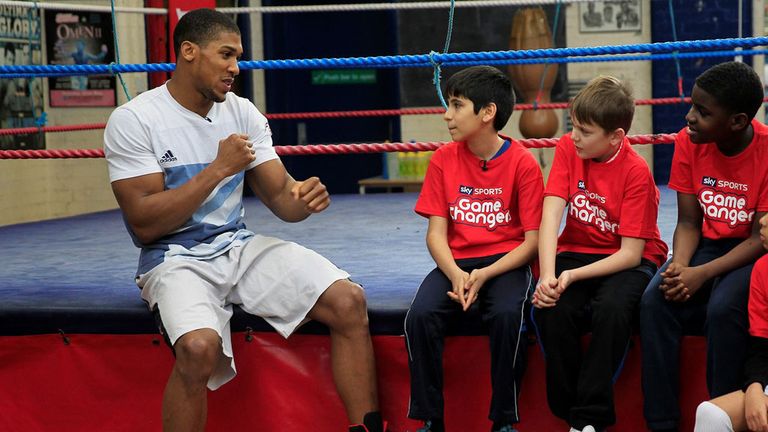 Joshua appeared on Sky Sports' Game Changers where he urged schools to use boxing to help pupils learn about discipline and staying fit.
The 24-year-old was late to the sport but freely admits it helped to keep him on the right track after he finished his formal education.
"Years ago there used to be boxing in schools which would help with discipline, self-defence and confidence," said Joshua, who returns to the ring live on Sky Sports on March 1 in Glasgow against Hector Avila.
"I'd love to see boxing brought back into schools in some form. It doesn't have to be sparring or full contact boxing. Pad work, skipping, drills, bag work - they're all good for encouraging better behaviour and better ways of living your life.
"Boxing has helped me with discipline. It has really shaped me and made me the man I am today. I left education at 18 and since then boxing has taught me to do my own research, both in books and online, and to generally keep sharp mentally.
"It teaches you right from wrong but also what hard work is really about. If you want something you have to work hard and put the hours in, not just expect it to happen. You get out what you put into life.
"The greatest thing about boxing is that you always hear stories about kids who came from nothing who make it and are successful at the top.
"It's not about who you know, it's about what you put in. Anyone can walk into a boxing club, you don't have to be affiliated with anyone or know anyone, especially if you're a young kid. There are so many different cultures and beliefs in a boxing gym; it makes it a really healthy place to be.
"I'd recommend for kids to follow what they want to do, but if they're looking to get into something new then I would definitely recommend boxing. There are so many heights that you can take it to, but mainly it's just a great education.
"There are so many great stories around the sport too, about all the great champions, it can be incredibly inspirational."
Anthony Joshua will be giving his masterclasses on Game Changers coming soon! Catch the show every Saturday morning from 9.00am on Sky Sports 1.