Amir Khan's promoters still believe he will eventually face Floyd Mayweather
Amir Khan's promoters still believe he will eventually land a fight with American star Floyd Mayweather.
Last Updated: 26/02/14 8:11am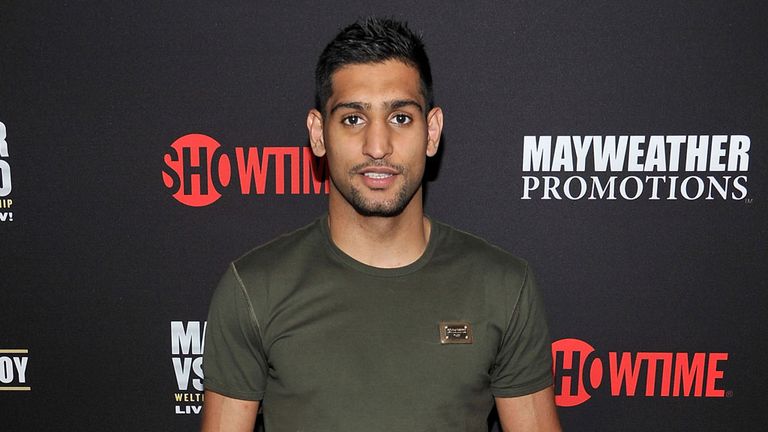 Khan had been hot favourite to challenge Mayweather, the sport's No 1 star, in a summer showdown which would have earned the British fighter his biggest ever payday.
The Bolton boxer even turned down a world title fight against Devon Alexander while he waited for Mayweather to pick his next foe, but was left bitterly disappointed when 'Money' decided he would rather battle the Argentine.
Maidana's upset win over Adrien Broner, a close friend of Mayweather, has raised interest in the match-up and he jumped ahead of Khan in the queue.
Khan has released a statement, expressing his frustration, but promoters Golden Boy are not ruling out a meeting with Mayweather.
Richard Schaefer, chief executive of Golden Boy, said: "What Maidana did to Broner really changed the dynamics. Mayweather and the fight fans in the US, and the US media felt that Maidana was the bigger fight, more dangerous fight at this particular point for Floyd.
"That doesn't mean that a fight between Amir Khan and Mayweather is never going to happen. I believed it then and I believe it now that Amir Khan has the skills and that one weapon - which I think is going to give Floyd Mayweather a lot of problems - and that is his handspeed.
"Amir's the fastest fighter in the world. He can clearly give trouble to Mayweather, so I believe that fight is going to happen. It's just not now."
Schaefer even revealed how Mayweather passed on a message to Khan, suggesting that he would fight him at some stage.
"I saw Floyd on Monday night at the Los Angeles Lakers basketball game and he was telling me, 'tell Amir that it's not going to happen now, but it will happen'," said Schaefer.
"So he's definitely open to eventually fighting Amir."
Khan insists he is still waiting for an explanation about why his career was left in limbo, but hopes to announce an alternative foe within the next couple of weeks.
His statement read: "Despite having signed my part of the agreement to fight Floyd in early December, I've been preparing myself for some time that the match up with him wasn't going to happen, as I announced on Twitter a few days ago. Therefore, this announcement did not come as a surprise.
"I am, however, very disappointed with Floyd and his team for not providing any explanation as to why he delayed the announcement for so long and ultimately avoided the fight with me.
"Clarification, if he was not fighting me, would have allowed me to look over my options and pursue another path, rather than the ultimate delay to my career this has caused.
"It has been a very frustrating period as I'd been due to fight in December against Devon Alexander, however, I was strongly advised to not take this fight as I would be facing Floyd this May - and therefore signed my side of the contract on this belief.
"I genuinely wish Marcos and Floyd all the best for their fight - two great fighters. As a team we have now moved on and are looking at different options.
"I've been training very hard since my last fight. I'm a fighter who wants to face the very best out there and have never ducked any opponent.
"I'm focused and ready for my next outing - we currently have a few options on the table at the moment and my team are working alongside Golden Boy Promotions to announce my next fight within the next 10 days."