Kell Brook will not allow Alvaro Robles to wreck his world title hopes
Kell Brook is determined not to let Alvaro Robles ruin another chance of a world title shot.
Last Updated: 12/03/14 4:54pm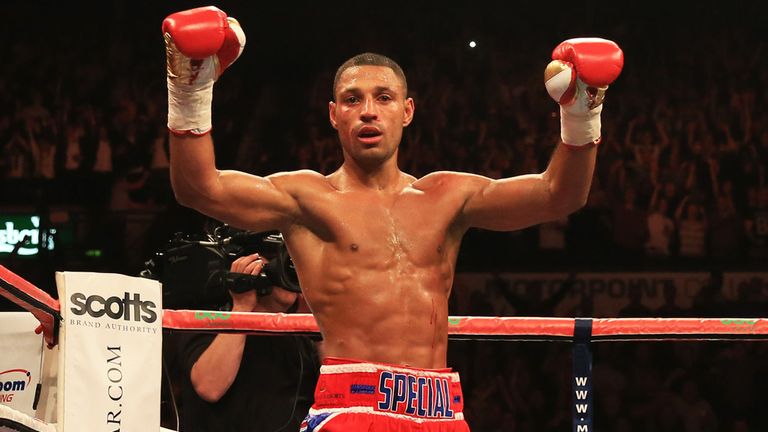 Brook is the mandatory challenger for the IBF welterweight title, but firstly must get past Mexican Robles on Saturday's big Liverpool bill, live on Sky Sports.
Injuries prevented Brook from battling Devon Alexander for the IBF belt last year and a world title shot was further delayed when the American lost his title to compatriot Shawn Porter in December.
Porter is likely to face Paul Malignaggi next month, with Brook waiting for the winner in the summer, and he cannot afford any slip-ups against Robles, who has 15 stoppages in 17 wins.
"Anybody Mexican who has earned the nickname Tyson can definitely have a fight," said Brook.
"This is his world title fight so he is going to be game, he will be very, very tough, and he will want to take my head off. I am looking forward to the opportunity to get in there and show what I do, and that is knock people out.
"It is a very important fight. It is a banana-skin fight, and it is important because if I don't win this there is no big one to follow.
"At the beginning of my training for this fight I thought it might be hard to get motivated but that hasn't been the case.
Motivated
"I have been very motivated for the fight and I think it is your instinct as an athlete, as a fighter, to beat your gym-mates in the gym and on runs, and get your personal best out of everything.
"I have found the willpower and determination and I will put on a great display on Saturday night."
Robles has been studying footage of Brook ahead of his trip to Merseyside and believes he has spotted some weaknesses in 'The Special One.'
"I don't know much about Brook, I've just been looking at some videos, but I understand he's quite a famous guy in England," said Robles.
"I've seen a few little things. He can be hit as he doesn't get out of the way of all the shots.
"We can work on the basis that he's going to be coming forward, as will I and neither will run, that'll make it easier to catch him with something in the exchanges.
"That's the type of fight I prefer as I don't have the biggest reach, so if my opponent comes to me I prefer that.
"I was in training since the beginning of February, but obviously when they called me for the fight I stepped things up and I've had some good sparring partners which has given me confidence for this fight. The good thing is this fight was sprung upon me when I was already in good shape."
Tony Bellew makes his cruiserweight debut on the bill against Valery Brudov, while fellow Liverpudlian Rocky Fielding defends his Commonwealth super-middleweight title against Charles Adamu.
Lightweight Kevin Mitchell can edge closer to a world title shot with a win over Mikheil Avakyan and another hometown hope, Neil Perkins, continues his hunt for a first title shot against Londoner Erick Ochieng.