Danny Garcia is proud to be fighting in Puerto Rico for the first time
Danny Garcia has vowed to retain his light-welterweight titles 'for the people of Puerto Rico' against Mauricio Herrera.
Last Updated: 14/03/14 2:03pm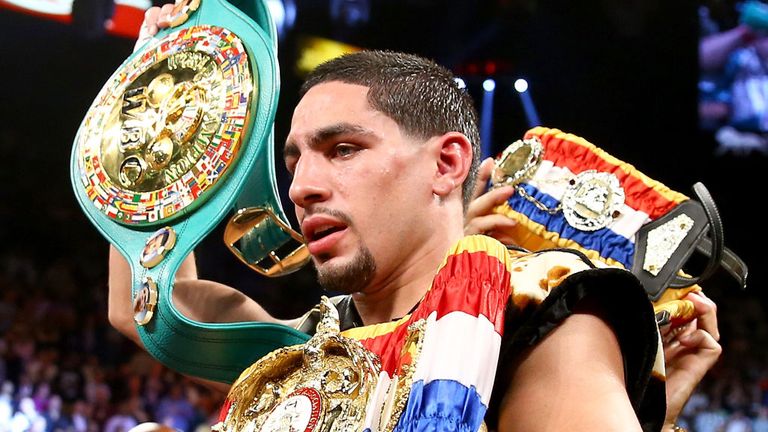 While the Philadelphian is, like the challenger, from America, his parents are both Puerto Rican and Garcia is honoured to be defending his WBC and WBA titles in Bayamon.
"I'm not coming here to lose my title," Garcia said. "I'm going to come and defend like always. I'm going to win for my people in Puerto Rico.
"It has always been a dream of mine to fight in Puerto Rico. I'm excited about it. They don't have a champion right now."
Garcia is in the form of his career after beating Lucas Matthysse last time, and a voluntary defence against Herrera (22-7) is not expected to cause many alarms.
The homecoming aspects have been played up for Garcia, whose out-spoken father and trainer Angel Garcia is excited to have his son fight in Puerto Rico for the first time.
"It's a great honor for me to bring my son, the world champion, in front of our own people where I was born and grew up," the elder Garcia said.
"We trained hard and we didn't change anything. The same winning combination and we don't expect any different results. It's going to be a win.
"This is a dream that I had when Danny was a child. Dreams aren't meant to be broken - not this one anyway."
Garcia's long-term goal is a big-money showdown with another unbeaten US fighter, welterweight king Floyd Mayweather, who fights Marcos Maidana in May.
"At the end of the day I like to fight the best," Garcia said. "Destiny is destiny. I'm OK with whatever happens.
"I don't question my manager's job and I think that's why we're in the position where people think I should be fighting him and people think I deserve to fight him. Hopefully the fight might happen one day."