Scott Quigg retained his world title with a second-round stoppage victory in Manchester
Scott Quigg defended his WBA super-bantamweight title with a brutal second-round stoppage victory over Tshifhiwa Munyai.
Last Updated: 19/04/14 10:48pm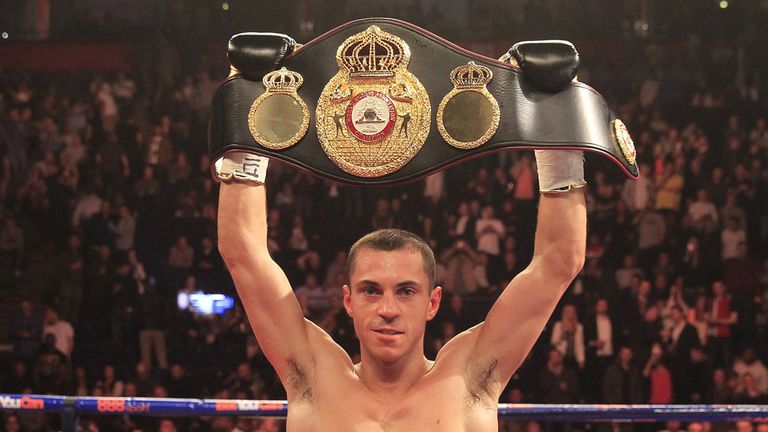 The Bury man, headlining at his local Phones 4U Arena for the first time in his third title defence, faced Munyai at late notice after Nehomar Cermeno had to pull out with visa issues.
But the switch made little difference to the 25-year-old, who impressed again with his power and accuracy.
The first round started in cagey fashion with Munyai pot-shotting from long range while Quigg stalked him without doing anything reckless.
However, late in the round Quigg stepped back from a clinch and let a left hook go that landed flush on the South African's jaw.
Munyai went down and looked groggy as he rose, but clung on to hear the bell under a torrent of blows.
His head had cleared at the start of the second but Quigg was far more aggressive, unloading a vicious straight right off a jab that stiffened the older man as he dropped for a second time.
Again he beat the count in weary fashion but Munyai, who had struggled to make the weight at a week's notice, was unable to defend another barrage and referee Howard Foster swiftly - and correctly - called the fight off.
Demolished
"I wanted to make a statement, I said I wanted to show the best of Scott Quigg and that's what I had to do and no-one's ever done that to Munyai," the champion told Sky Sports.
"I've gone in there and demolished him. It was a calculated start - but we nailed it down beforehand and did what we had to."
Trainer Joe Gallagher was full of praise for his fighter, adding: "We had a totally different gameplan for Cermeno, and he's shown world class punch power against a world-ranked top-10 fighter.
"There isn't enough credit given to this lad. He's dismantled a kid who people thought was going to give us an upset tonight.
"This is the real deal and people have got to get behind him - he's going to bring back those brilliant Ricky Hatton nights back to Manchester."