Boxing: Former Premier League star Leon McKenzie reveals Bernard Hopkins inspiration
Leon McKenzie says Bernard Hopkins' recent achievement further underlines his belief that he can win a title
By Dev Trehan
Last Updated: 27/04/14 10:37am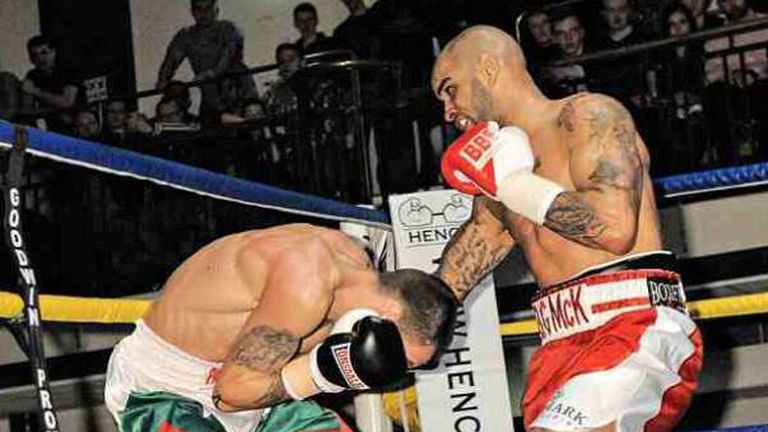 The former Premier League footballer turns 36 next month and remarkably, only turned professional as a boxer fighting at super-middleweight last year.
McKenzie remains unbeaten in his four contests to date and dazzled on his last outing, stopping Bulgarian Nikola Varbanov in brutal fashion in the second round of their contest at York Hall last month.
And the former Crystal Palace and Norwich City striker insists he is certain he will follow in the footsteps of his father Clinton and his uncle Duke and win a title in his new-found career.
"Hopkins is unbelievable. He's an amazing professional and he's someone I admire a lot," McKenzie told Sky Sports.
"When you look at what he is doing and the way that he conducted himself in that fight (against Beibut Shumenov) it's extraordinary really.
"I've got a lot of heart anyway but people like that act as an inspiration in what I'm trying to do.
"I'm a very driven person and I'm from a family of world-class boxers. Some people probably forget that because of my background in football but that's the school that I'm really from and it's just been bred in me.
"My uncle Duke is a former three-time world champion and my dad is a former British and European champion so what they've achieved in their own lives is extraordinary. I've also had 17 years of professional football and now I'm unbeaten so far in professional boxing.
"The way things are going I've got the ability to take things further. I'm not going to be in boxing for a long time but for the time that I am in it I can assure you that I will win something."
McKenzie began his football career with Crystal Palace before turning out for clubs including Norwich, Coventry and Peterborough.
His cousin - Duke's son Ellis - could follow in his footsteps having signed a two-year deal with Palace at the age of 12, while Leon's younger brother Chris is also now emerging as a talented amateur boxer.
"I definitely think there is something in our DNA," McKenzie said. "For me if Ellis is looked after properly he'll be better than me.
"He's got all the right attributes needed. He's little, he's fast, and he's good on the ball. He just needs to be coached properly and looked after properly.
"There is also obviously something in me, in my blood or in my DNA, because there aren't too many people at the age of 35 who can jump straight into a professional boxing ring at a good level.
"Being an athlete has been my life so it's nothing for me to get up at 5 o'clock in the morning and go for a run and do what I need to do.
"It's the motivation I've always had. I've always loved training and now I'm using that in boxing."