Anthony Joshua is hoping fellow unbeaten heavyweight Gary Cornish can push him to produce 'a boxing masterclass' when the pair meet on September 12 for the Commonwealth title.
The 25-year-old Olympic champion (13-0-KO13) takes on Cornish at The O2 – live on Sky Sports – and the Scot presents a completely different challenge to the experienced Kevin Johnson, whom Joshua halted in two rounds at the same venue on May 30.
Joshua said: "It doesn't change the preparation much. I'm just getting on in my career and time is passing so I'll change naturally, whether I'm fighting Kevin Johnson or Gary Cornish.
"If something's working, don't change it. That's how I'll be approaching Gary Cornish.
"The main thing is getting that win. If I was to go the 12 rounds and knock him out in the last 10 seconds, it's just about how I win. If I go out there and box him for 12 rounds and people say it was a masterclass then I'll be happy with that.
"I wanted to do that with Kevin Johnson. He came in as someone who can take a lot, been in with (Tyson) Fury and (Dereck) Chisora, who might be future opponents for me. He took them the distance. I thought I could go out there and box him but now I'm going to try and do it to Gary Cornish.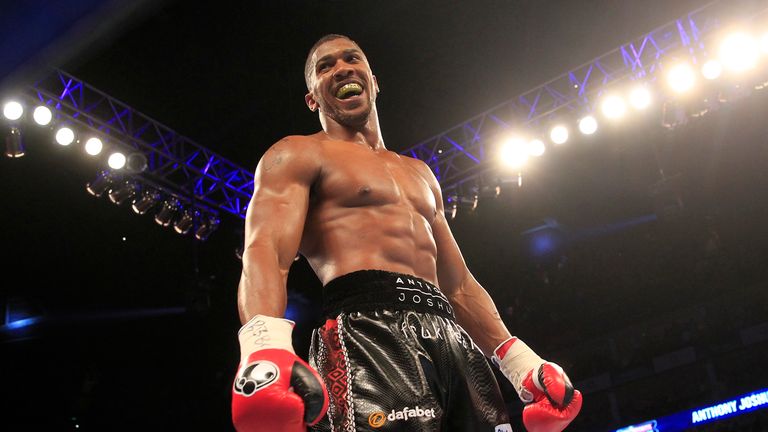 If I go out there and box him for 12 rounds and people say it was a masterclass then I'll be happy with that.
Anthony Joshua
"If I was to hold back, though, and getting battered on the ropes for six rounds, I'll end up regretting it for the rest of my life.
"Even though I'd love to go in there and box, I've got the same mentality as them and they're coming to knock me out. I don't want them to take away everything I'm working for.
"It's hard, because I want to go the rounds but I can't give them a chance to outbox me or get hit with a silly shot to the temple. It's a risky business at heavyweight.
"Me and the Scottish get along. We got along really well last time I went up there. There's definitely the fight competition but I have nothing against Cornish other than the fact that he's trying to ruin the empire I'm trying to build. I have to put a stop to that.
"He hasn't said anything reckless. He's just another fighter that's trying to stop me achieving what I'm destined to achieve."
Should he overcome Cornish, Joshua is scheduled to clash with amateur rival Dillian Whyte later in the year for the British title but he does not rule out facing another domestic rival, David Price, despite his second-round knockout defeat to Erkan Teper at the weekend.
Joshua said: "It could still happen. People would say it's not so much of a challenge but people have been dropped a few times and come back. He just needs to announce himself again and not go into a corner. He needs to get back and say that he wants these heavyweights.
"He'd have nothing to lose. That's what makes boxing so interesting. Some guys aren't even heavy-hitters but they are still 18 stone and every heavyweight will have knockouts on their records."