Anthony Joshua, Tyson Fury and Lennox Lewis looked different on the scales, so what is the perfect size of a heavyweight?
The size of heavyweights will always fluctuate, but is there a method to their madness?
By James Dielhenn
Last Updated: 17/01/18 1:51pm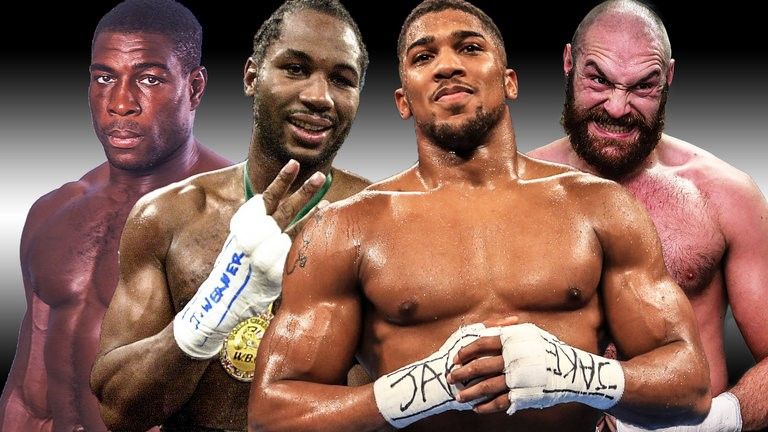 Anthony Joshua's latest fighting weight was heavier than Tyson Fury or Wladimir Klitschko when they fought, heavier than his fellow world champions, and heavier than Lennox Lewis in all-but-one of his fights. The talking point analysed, by James Dielhenn.
Anthony Joshua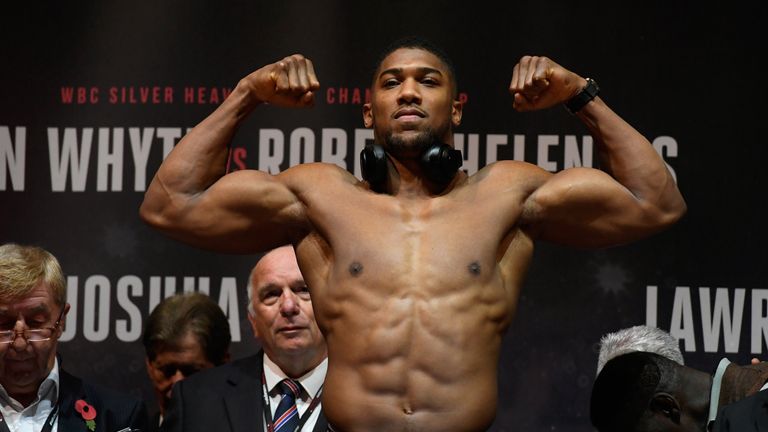 Anthony Joshua's key weigh-in results
Takam: 18st 2lbs
Klitschko: 17st 12lbs
Molina: 17st 11lbs
Breazeale: 17st 6lbs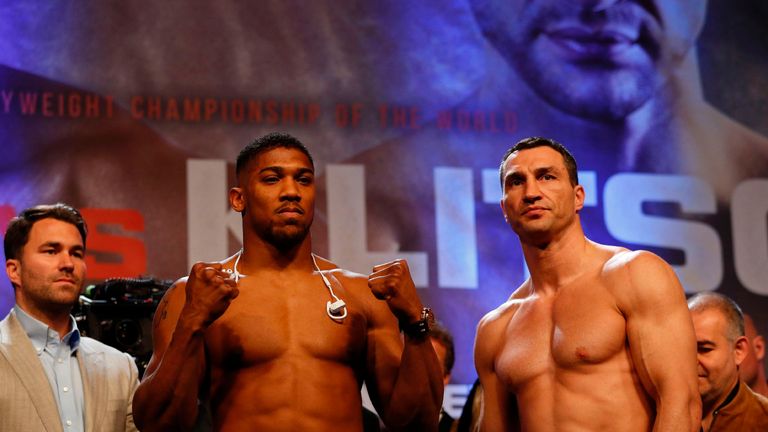 That's very heavy. That's a lot of muscle to move around for 12 rounds. He has to watch his stamina.
Lennox Lewis, before Joshua-Klitschko
The IBF and WBA 'super' champion has got progressively heavier through his last four fights, and his recent weight of 18st 2lbs came amid suggestions from promoter Eddie Hearn that he might actually be lighter. Joshua said: "I've done a lot more running. Maybe I'm starting to fill out and find my natural weight."
Lennox Lewis, an inch shorter than the 6'6'' Joshua, was worried about the younger champion's 17st 12lbs weight before he fought Wladimir Klitschko at Wembley. Joshua has since grown to a weight that Lewis exceeded just once, in his final fight, aged nearly 38.
Wladimir Klitschko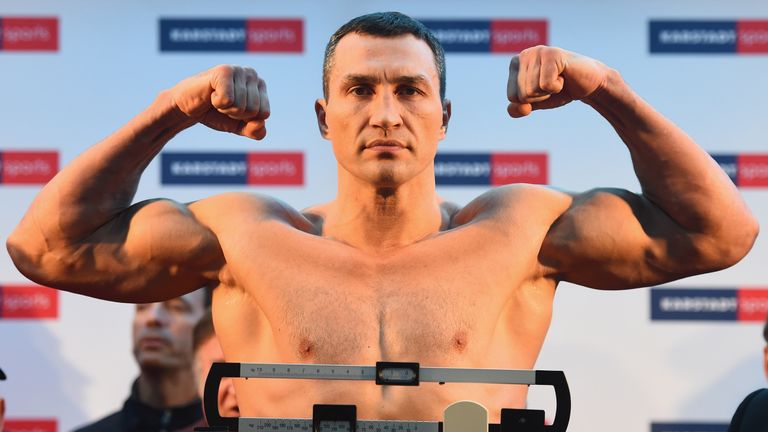 Wladimir Klitschko's key weigh-in results
Joshua: 17st 2lbs
Fury: 17st 7lbs
Thompson II: 17st 11lbs
Haye: 17st 4lbs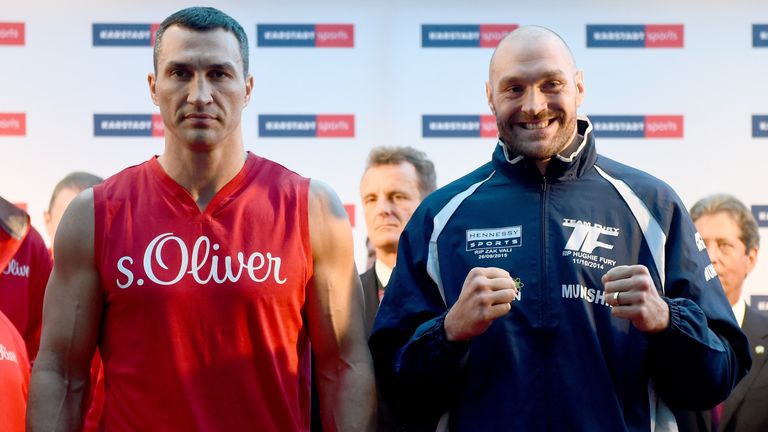 He's pumped a few weights, he looks good, but it's all glitter and mirrors.
Tyson Fury, before fighting Klitschko
There is a notable trend through Klitschko's nine-year divisional dominance that shows his better performances coming at a lighter weight. By way of comparison, he was 5lbs lighter in his impressive effort against Joshua than his lacklustre loss to Tyson Fury, made even more striking because he was aged 41 for his final fight.
Klitschko called Joshua a "body-builder" and a "cross-fit champion" before their fight but perhaps the veteran learned lessons from his own past. He shone against Alexander Povetkin at 17st 4lbs, his lowest weight for four years since another stand-out victory over David Haye. Against Joshua, he rediscovered his smaller weight, but it wasn't always there.
As well as his loss to Fury, some of Klitschko's most forgettable title defences came when he was above 17st 7lbs. His heaviest ever was 17st 11lbs in a rematch with Tony Thompson.
Tyson Fury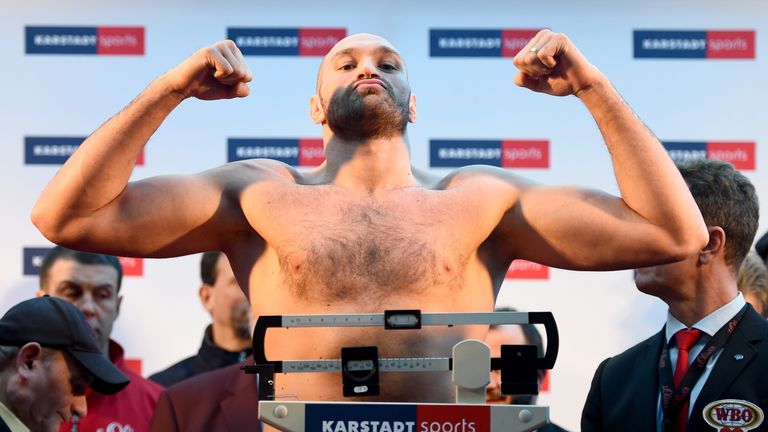 Tyson Fury's key weigh-in results
Klitschko: 17st 8lbs
Hammer: 18st 10lbs
Chisora: 18st 12lbs
Abell: 19st 8lbs
You can see I have done the work. I have come in light.
Tyson Fury, before facing Klitschko
The former world heavyweight champion's standout career victory, when he ended Klitschko's reign, came at a weight that he had only managed to hit twice before in 24 fights - lighter than Joshua's recent weight. The concern is that it also underlines the magnitude of the challenge for the 6'9'' fighter to shed his current mass, which he estimated last week to be 25st.
That weight against Klitschko demonstrated his discipline in preparing for that fight, now two years ago. He was over a stone heavier in each of his previous two bouts, and was over 19st when he beat Joey Abell (although he weighed in fully clothed).
Joseph Parker
Joseph Parker's key weigh-in results
Fury: 17st 7lbs
Cojanu: 17st 9lbs
Ruiz: 17st 9lbs
Dimitrenko: 17st 2lbs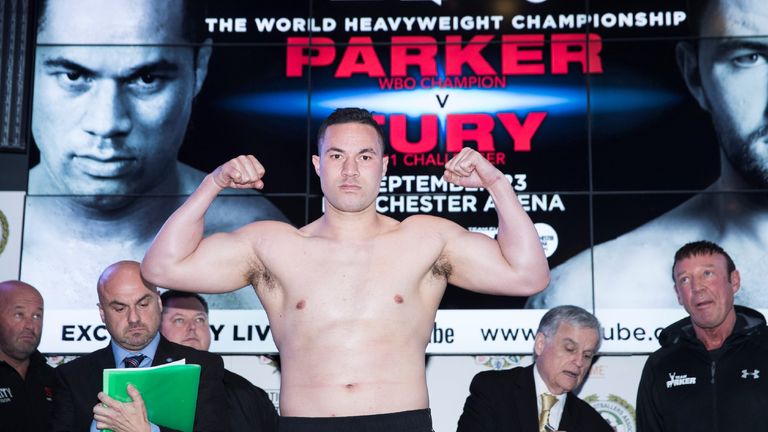 Now, instead of having him fight [around 17st 9lbs], I'll have him fight [around 17st]. I want to drop some weight.
Kevin Barry, Parker's trainer
The WBO champion is two inches shorter than Joshua, and at his heaviest was half-a-stone lighter than his fellow world champion's recent weight.
The speed in the New Zealander's hands and feet has always been his key asset though. Intense strength and conditioning training helped him overcome the naturally larger Alexander Dimitrenko and Razvan Cojanu.
Deontay Wilder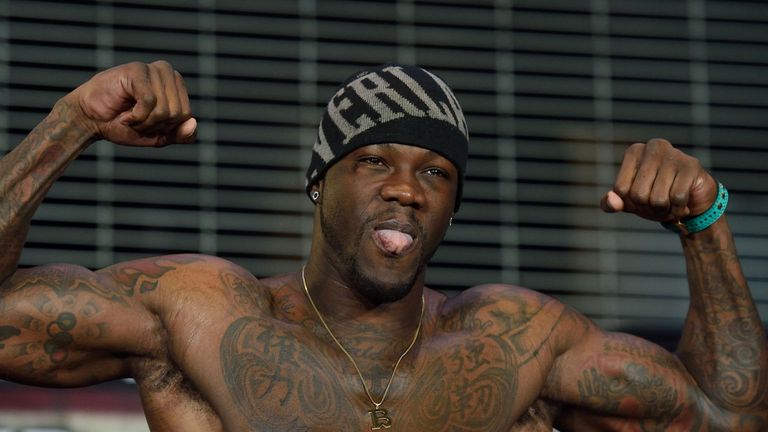 Deontay Wilder's key weigh-ins
Stiverne II: 15st 10lbs
Washington: 15st 12lbs
Arreola: 16st 2lbs
Szpilka: 16st 4lbs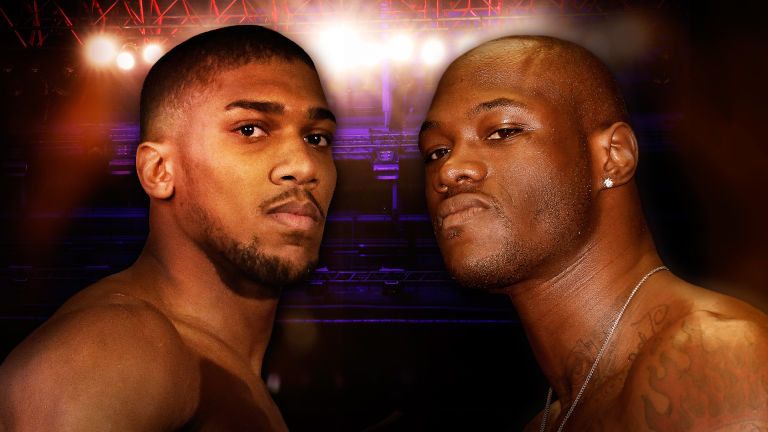 I was really interested to see the weight of Deontay Wilder on the scales, 15st 10. I texted that to [Anthony Joshua] today - Deontay Wilder, 15st 10. I shouldn't really tell you the reply, but it was "I'll eat him".
Eddie Hearn
The WBC champion stands at 6'7'', an inch taller than Joshua, yet there is a huge weight differential. Wilder, now unbeaten in 39 fights, last week weighed approximately two-and-a-half stone lighter than Joshua's latest measurements.
Lennox Lewis
Lennox Lewis' key weigh-in results
V Klitschko: 18st 4lbs
Rahman II: 17st 8lbs
Rahman I: 18st 2lbs
Tyson: 17st 11lbs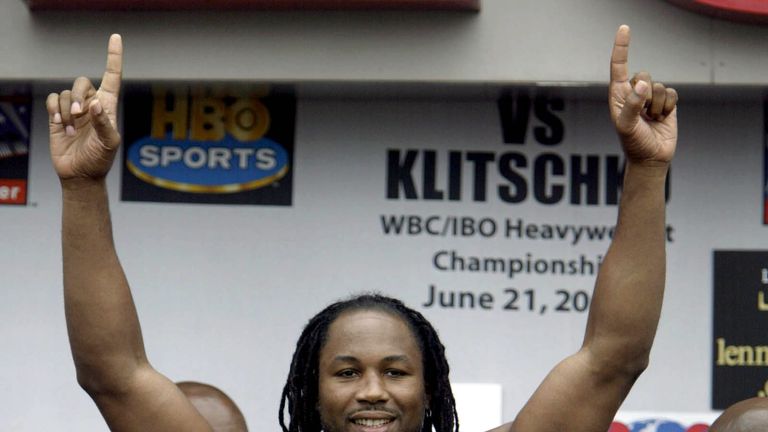 As you get older you become denser, that's a fact.
Emmanuel Steward, Lewis' then-trainer
The last undisputed world heavyweight champion only twice weighed as much as Joshua's most recent numbers, despite his dominance owing much to his size and reach. He ended his career two pounds heavier than Joshua, with a win over Vitali Klitschko, when his trainer Emmanuel Steward defended his increasing weight.
Two years earlier, in 2001, Lewis' notorious defeat to Hasim Rahman saw him weigh-in at 18st 2lbs (the same as Joshua against Carlos Takam). That loss, of course, came amid a lack of focus but it is notable that he shaved off 8lbs to beat Rahman in a rematch. Lewis traditionally weighed a few pounds short of 18st.
Mike Tyson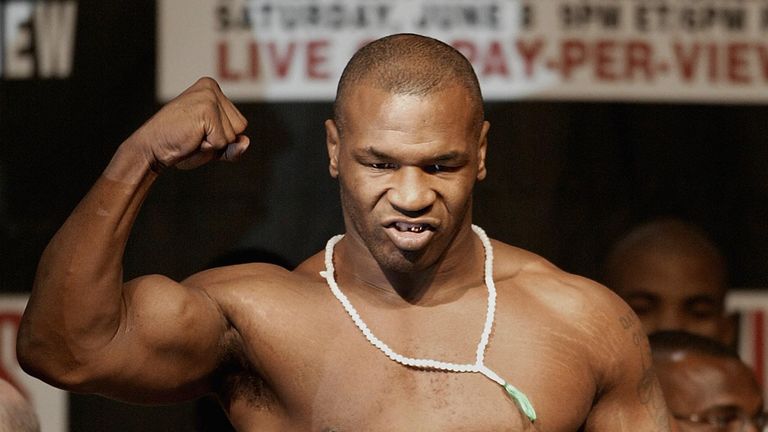 Mike Tyson's key weigh-in results
Lewis: 16st 11lbs
Holyfield I: 15st 12lbs
Douglas: 15st 10lbs
Berbick: 15st 11lbs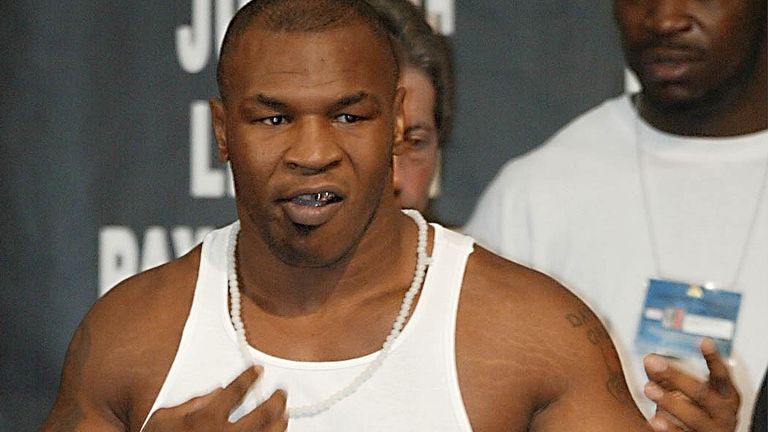 The only thing he can do is come at you. Based on his physical structure, he has no choice.
Emmanuel Steward, Lewis' then-trainer
The youngest ever world heavyweight champion stands at just 5'10'' and his fighting weight barely differed from when he won the belt, aged 20, for the next decade. Towards the end, as the wheels began to fall off, Tyson posted his heaviest ever weight (17st 1lbs) against Brian Nielsen then was a stone heavier than usual in defeat to Lewis (although their weigh-in was mired in confusion).
David Haye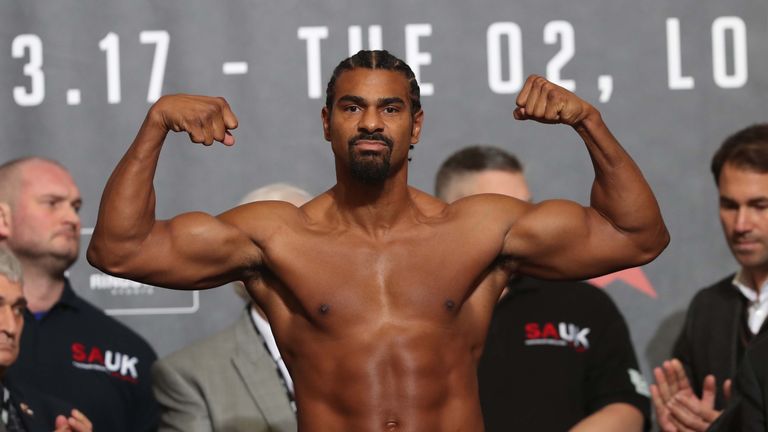 David Haye's key weigh-in results
Bellew: 16st 1lbs
De Mori: 16st 3lbs
Klitschko: 15st 2lbs
Valuev: 15st 8lbs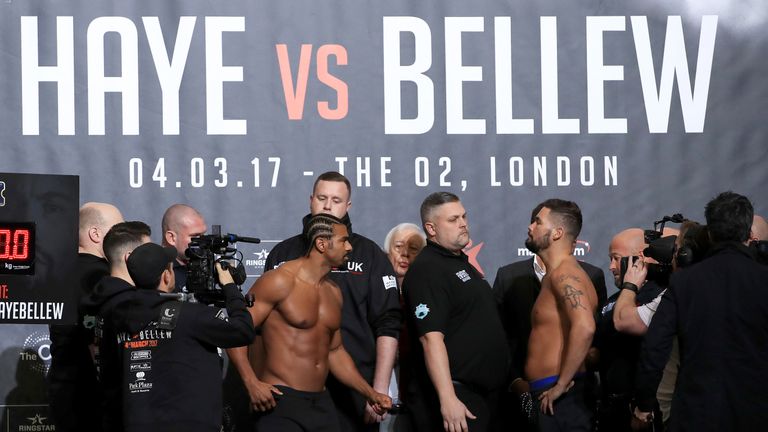 In the first fight with Tony, [Haye's] Achilles could not take the extra weight so he has to come in lighter.
Dave Coldwell, Bellew's trainer
Haye was at the third-heaviest weight of his career when he faced Bellew, all of which were recorded after his lengthy hiatus from the ring. He was almost a stone heavier against Bellew than he was when challenging Klitschko in 2011. He is expected to be slimmer for his rematch with Bellew, who was 15st 3lbs for the first fight.