Brian Rose has fought back from tragedy and retirement to earn world title shot
Brian Rose will challenge for a world title this weekend after battling back from retirement and tragedy.
By Richard Damerell
Last Updated: 12/06/14 11:33am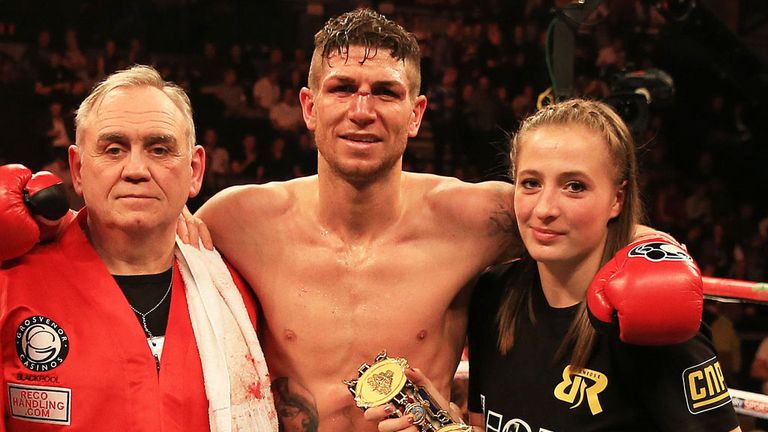 Rushton lay in a hospital bed. A brain injury suffered in defeat had altered his life forever.
The distraught Rose had been knocked out in shocking fashion by Max Maxwell and never wanted to lace up the gloves again.
His trainer, Bobby Rimmer, a man hardened by years in boxing, could not stifle his emotions any longer. It was over.
Describing the bleak night after Rose's defeat by Maxwell, Rimmer said: "He was absolutely devastated. That was it. I'm not doing this any more. He had finished."
Quiet
Rose's retirement did not last. He found his way back to boxing with Rimmer's guidance and will challenge Demetrius Andrade for the WBO light-middleweight title in New York on Saturday night.
The long hard road to boxing's biggest prize had started when Rimmer was introduced to Rose, a promising amateur who wanted to join the paid ranks.
Back then Rose was a sheepish figure, with a few extra pounds and garish dyed hair. Hardly the look of a champion, but Rimmer was drawn to the youngster.
"He had long hair, blond streaks at the front and was a little bit overweight," said the Mancunian. "There was just something about him.
"I knew how he was in the amateurs and just by looking at him in that corner, he didn't look like he was having a good time.
"He was quiet and all in on himself. From that moment on he came and lived with my family."
Rose's move to Openshaw, an unforgiving part of Manchester, toughened him and a few early wins filled Rimmer with fresh faith. But a close brush with defeat proved more about his pupil.
Winner
In only his eighth fight, Rose was badly hurt by the little known Manoocha Salari. Fighting through a bloody fog, the dazed Rose rescued a draw. Rimmer was taken aback by his reaction to the scorecards.
"The thing what did it for me was that afterwards he was broken hearted for about 30 minutes. He was inconsolable. That showed me he was a winner."
Rose responded with a string of wins, edging him closer to his first title shot. He was ready to become a champion, until that tragic meeting with Rushton changed everything.
There was little cause for concern when Rushton seemed to recover well from a 10th round stoppage. The two fighters talked briefly in the ring, with Rushton expressing regrets about the loss, but as Rose walked to the dressing room, his opponent suddenly collapsed.
Rimmer's voice trembles as he recalls how Rushton fought for life in front of them. He was rushed to hospital as Rose sat in the changing room, consumed by shock.
"Brian was beside me broken-hearted, so I had to usher him away," he said.
"I knew from that moment on, how badly it had affected Brian. I was taking his gloves off and he started to shake, he was trembling."
Rose later visited Rushton in hospital and was overcome with guilt at the sight of his badly injured opponent.
"I cared for him and I cared for his family, I couldn't believe that I could do that to someone," said Rose.
"I didn't realise boxing could be such a cruel sport."
Champion
Rose had reached breaking point by the time he faced Maxwell. He was a distant figure, paying little attention to Rimmer, and a big right hook left him helpless on the canvas.
This first defeat prompted a swift decision and Rimmer wanted to join him in retirement, but he made one last plea for Rose to reconsider.
"I told you I would make you into a champion a long time ago and I still believe that I can," said Rimmer.
Rose would return. His mental turmoil was eased by a sports psychologist and free from his burden, he outclassed Prince Arron to claim the British title. But his conqueror Maxwell still loomed in the background and Rose longed for a rematch.
Despite Rimmer's concerns, Rose agreed to face his old foe again. His trainer needn't have worried as Rose mastered Maxwell, repairing his record with a wide points win.
It was time for Rose to look beyond his British rivals, to face men who would test his title ambitions. Joachim Alcine, a former world champion, was halted in a draining struggle, but a torturous 12 rounds still lay ahead.
Javier Maciel, nicknamed 'The Beast', hauled Rose into a ferocious dogfight. Rimmer's hours of instruction were forgotten as Rose traded blows with the Argentine, his face would bear the marks of a brutal points win.
When asked to explain his victory, Rose simply replied: "I don't think he wanted it as much as me.
"For me, that's what won me that fight, my heart and my desire."
Prove
This inner steel must be shown again when Rose heads to America in search of a world title.
Andrade, a decorated amateur with dazzling hand speed is expected to retain his crown, but Rose doubts whether the American can match his appetite for battle.
"He's never had to dig deep. We're going to see how much he wants this," he said.
"I've done it three, four, five times. I've had to dig deep so many more times than him and I'm willing to do it again."
Watching from the corner in New York will be Rimmer, ready to offer his calm guidance. Fighter's dreams have fallen apart in front of him, but this night will be different. Rose is ready to repay his faith.
"It will prove to me, to Brian, to everybody else that I was right. What I said a long time ago, 'this kid can be a world champion', I'm right aren't I."