Isaac Chamberlain spent a month sparring Deontay Wilder before his pro debut
Londoner cruiserweight had unique Alabama experience
By James Dielhenn
Last Updated: 10/02/15 9:14am
Spending a month with Deontay Wilder in Alabama before his world title fight is not the usual preparation for a 20-year-old Londoner ahead of his pro debut.
The last day of sparring I wanted to get him. The last round of the last day I caught him with a six-punch combination and then he came at me so hard. You know how Wilder is.
Isaac Chamberlain
But Isaac Chamberlain, the Brixton cruiserweight, had the unique opportunity to share time and rounds with the new heavyweight champion in the United States and helped prepare Wilder to take Bermane Stiverne's WBC strap.
Chamberlain then won his first professional fight against Moses Matovu on Kevin Mitchell's undercard at the O2 Arena – and he credits his remarkable education from the Bronze Bomber.
Yet the youngster also passed on a few tips, by all accounts.
"I remember the first time I sparred him he underestimated me," Chamberlain told Sky Sports. "I had a feeling he didn't know how to fight on the inside because I YouTube'd him.
"I caught him with hooks to the body and uppercuts up the middle and that surprised everyone. His coaches were happy.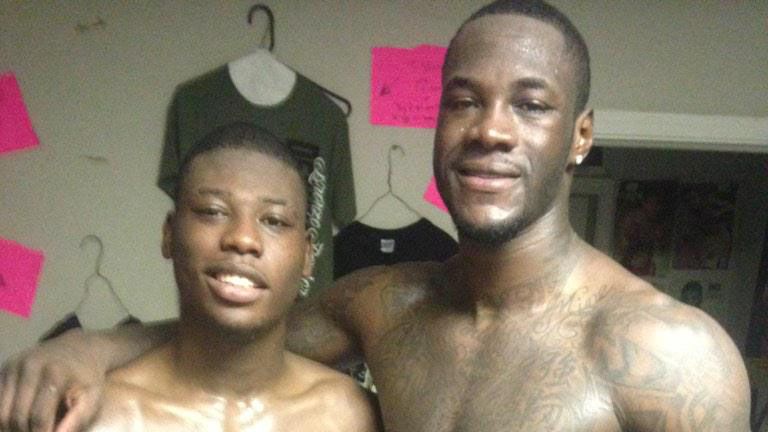 "But the next day they said 'only Isaac is sparring today' and Deontay's other sparring partners thanked me! I remember I couldn't get close to him so I know they studied me.
"He did one trick where he held out his palm to blind me and got me with an uppercut on the chin. I was surprised I didn't wobble, everyone was surprised I didn't drop.
"The last day of sparring I wanted to get him. The last round of the last day I caught him with a six-punch combination and then he came at me so hard. You know how Wilder is."
Mix
Isaac Chamberlain
Pro record: 1-0
DoB: 03/03/1994
Division: Cruiserweight
From: Brixton, London
Nickname: King
The Londoner's opportunity to head Stateside came about because his uncle Ted Bami, a former European champion and his current trainer, had contacts within Golden Boy who promoted Wilder.
And while Chamberlain is a mere cruiserweight, mixing it with one of the boxing's new big guns was as beneficial as it was surprsing.
"They really liked me, they liked my style, they said 'this guy would be good for Deontay'," Chamberlain said.
"They said 'we really need you for your speed'. They called me out of the blue, they actually private messaged me on Facebook. They said 'we want you to come to Alabama to help Deontay before his WBC title fight'.
Deontay Wilder
Pro record: 33-0 (32 KOs)
DoB: 22/10/1985
Division: Heavyweight
From: Tuscaloose, Alabama, USA
Nickname: The Bronze Bomber
Title: WBC heavyweight champion
"You don't know how big he is until you actually get into the ring with him. Then you realise 'wow, this is serious' because that guy is huge.
"I learned I can mix it at the big level because he wasn't going easy on me."
Chamberlain now counts the American champion as a friend.
And don't think the small matter of Wilder becoming the WBC world heavyweight chamion has stopped the Londonder staying in touch. Whether or not this pair will do battle in the ring again, it seems they are going to remain friends.
"Deontay is a funny character, he's a cool guy," said Chamberlain. "He's very exciting. You don't know what he's going to do next, he loves the spotlight, he loves the lights on him.
"He called me before my fight. We're close friends now. He said to enjoy it. If I need advice about boxing or life he said to message him, and I have. He calls me his little brother.
"When I started I had low self-esteem, no one told me I could be anything when I was younger. Now people say they believe in me. His coaches told me I can be a world champion because of the focus I have."
To hear more from Isaac Chamberlain and another new Matchroom pro, Charlie Edwards, download Toe 2 Toe podcast from Wednesday afternoon, right here at skysports.com/podcasts/toe-2-toe.