Adrien Broner was impressive in his defeated of Antonio DeMarco
Wayne McCullough says Adrien Broner is back on track to become boxing's next big star.
Last Updated: 22/11/12 9:46am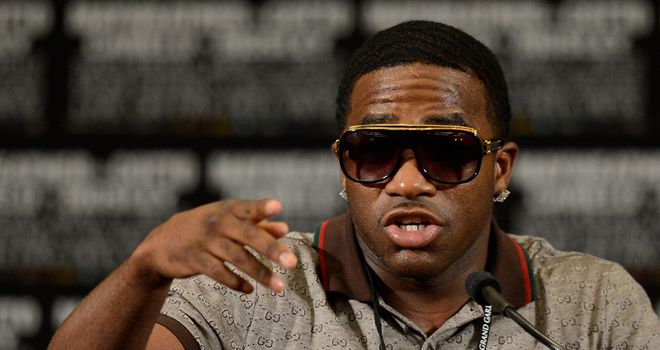 He had defeated Vicente Escobedo by stoppage in July but had no respect for failing to make the weight, stating: "I'm young, at 22, I'm still growing. I just feel like it's time for me to go up. After this fight there really wouldn't be a reason for me to stay. I'm just going to go up and give the lightweights hell."
However, if he'd had trouble in the build-up to the Escobedo fight he should have vacated his title instead of embarrassing himself on the scales. He should have informed the commission that he was overweight by 3.5lb. The fight was called off and was not officially back on until the day of the fight.
Broner now faced his first real lightweight opponent, even though he had fought at or around the 135lb limit a few times in his career, but Antonio DeMarco, who was the current WBC champion, wasn't a fight for him to move through his career.
DeMarco had been interim champ back in October 2009 but lost for the full WBC lightweight belt. His last defence was a surprising 44-second KO of John Molina in September so he was in great shape for third defence against Broner.
Broner probably received the majority of support coming from Cincinnati, Ohio, to DeMarco's Mexico since the fight took place in Atlantic City, New Jersey.
They both started cautiously in the opener but it wasn't long before Broner started showing the faster hand speed picking left hooks, straight jabs and rights to DeMarco's head at will. DeMarco got Broner into a brawl in the fourth but Broner connected more with his right uppercuts as he stood toe to toe.
He rocked DeMarco in the fifth with punches to the body and head then hurt him with a left hook to the body in the sixth round. DeMarco was tough and wanted to keep fighting even when his corner asked him if he wanted to stop.
Over the next few rounds, DeMarco took more punishment and still wanted more but he was getting hit cleaner and harder. He took a left hook, right uppercut, then a right to the body and left to the head in the eighth that put him down. His corner waved the towel to end the fight giving Broner another world title at 1:49 of the round.
Broner showed his skills with precision punching, hooks, uppercuts, body shots and straight left jabs. He had great defences, amazing hand speed and can fight in close or on the outside. I think he will be boxing's next big star.
Unification
On the same night, but on a different card in California, the first unification fight in the flyweight division in a long time took place. Brian Viloria, who had the WBO belt, took on Tyson Marquez, who held the WBA.
Viloria had been a WBC and IBF belt holder and had come back well since his last round KO loss to Carlos Tamara in January 2010. He had moved up in weight from light flyweight to flyweight and won five straight as well as a world title.
Marquez had more or less been a flyweight throughout his career, then moved up and got knocked out by Nonito Donaire in July 2010 in the eighth round. That was his second loss in a row but has since come back with seven wins adding the WBA world belt to his waist as well.
This was the third defence for both Marquez and Viloria. The Hawaiian Punch, Viloria, didn't disappoint as he scored a 10th round TKO. After dropping Marquez in the first round he took control early. Marquez fought back gamely in the fifth but Viloria had him down again that round although Marquez had been having a good round up to that point.
Marquez stayed aggressive in the next few rounds but got dropped again in the 10th from a left hook to the head and his corner threw in the towel to save him from any more punishment. It was a big win for Brian Viloria as he added the WBA strap to his current WBO belt.