Commonwealth Games: England women lose dramatic hockey final, men bow out in semi-finals
Last Updated: 02/08/14 11:28pm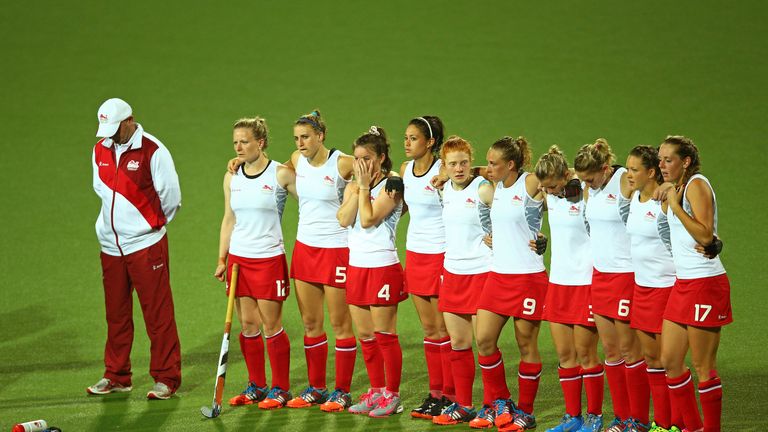 England's women's hockey team had to settle for silver after suffering an agonising shoot-out defeat to Australia in the final of the Commonwealth Games.
Lily Owsley had put England ahead midway through the second half but Jodie Kenny dramatically levelled the game at 1-1 with just 17 seconds remaining.
And the English, who beat New Zealand in a shoot-out in the semi-finals, could not repeat that feat as Alex Danson, Susie Gilbert and Nicola White all failed to beat Aussie keeper Madonna Blyth in a 3-1 loss.
"I'm devastated. Taking it that close and losing is heartbreaking. I've played enough games to know about bloody last-minute equalisers," England captain Kate Richardson-Walsh said.
"I have to go and take some time to consider what's best for me and the team."
But she added: "It has honestly been amazing. The fans have been great. It's one of the best pitches I've ever played on. Without a doubt before coming to the Games I knew Glasgow was going to be amazing."
Men lose out
There was also disappointment for England's men, who failed to make the final after losing out 4-1 to favourites Australia in the semi-final.
The Aussies have won every gold medal since the sport was introduced to the games in 1998 and made it five successive wins in the 2014 tournament, taking their goals tally to 26 for and only four against in the process.
England, meanwhile, are left to rue their group defeat to New Zealand, which meant that they had to line-up in this, rather than the other semi.
An early penalty corner gave Australia a soft lead when Tristan White fired past England goalkeeper George Pinner, before Dan Fox lost the ball on the edge of the England 'D' and allowed Simon Orchard to produce a superb finish to double the lead.
Despite being a man down to a green card offence, the Aussies almost got a third goal before the break and, although missing six men from their recent World Cup win, they still had far too much for England.
A superb run by England star Ashley Jackson set up the opportunity for Harry Martin to pull one back but they could not fashion an equaliser. Instead, Chris Ciriello extended the champions' lead from a penalty corner and with the clock running down, Eddie Ockenden added a fourth.