Commonwealth Games: Nicola Adams wins flyweight final as home nations dominate boxing medals
Last Updated: 02/08/14 10:14pm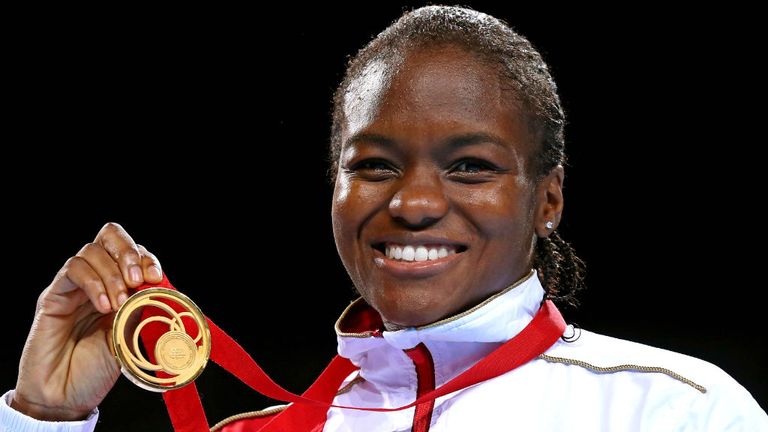 England's Nicola Adams claimed Commonwealth flyweight gold with a split-decision win over Michaela Walsh in the final in Glasgow.
The 31-year-old Olympic champion was simply too classy for her opponent from Belfast, who will go home with a richly deserved silver medal after a promising week of performances.
But remarkably the three ringside judges did not quite see the fight the same way with one scoring in favour of Walsh as Adams triumphed only via split decision.
Fearless Walsh went into the fight convinced of her ability to cause an upset and started well as she snaked home a right hand in the opening seconds.
But Adams stepped up a gear, landing a left and right combination which wobbled Walsh, and following up with a sharp right hand as she pursued the Northern Ireland fighter around the ring.
Adams never let go of her dominance, relying on all her considerable experience to keep Walsh at bay and land shots on the button almost at will.
After a tangle sent the pair rolling on the floor early in the third round, Walsh had some success with her left hand, but Adams responded with a good right and resumed command.
At the end of a more competitive fourth both fighters raised their arms in triumph, but the reality was that Adams had once again proved herself a class apart.
"I'm absolutely over the moon," said Adams. "Again, I've managed to create history.
"It was really tough. She was quite tricky and she was a real good talent. She'll definitely be one to watch for the future."
In other finals action, Northern Ireland light-flyweight Paddy Barnes retained his light-flyweight title by outpointing India's Devendro Laishram.
Barnes produced a controlled performance from the start to claim a clear points win and add to the title he won in Delhi four years ago.
Motherwell lightweight Charlie Flynn was crowned champion after a fiery win over Northern Ireland's Joe Fitzpatrick at the Hydro in Glasgow.
Accurate
Flynn's accurate, front-foot style enabled him to keep the rangier Fitzpatrick at bay and claim Scotland's first gold medal of the Games.
Josh Taylor survived a torrid final round to win a second gold medal for the host nation in the men's light-welterweight category.
Taylor's clever, back-foot boxing helped keep Namibia's Junias Jonas at bay for the first half of the contest but his opponent was to prove no pushover.
Taylor's cleaner work proved decisive but Jonas still succeeded in drawing the Scotsman into a fight and doggedly pursued him round the ring in the final round.
But there was no doubt Taylor deserved to win all three rounds on all the judges' cards, bringing the first finals session to an end in style.
Powerful England welterweight Scott Fitzgerald capped his first major international competition by blasting out India's Mandeep Jangra to take his nation's second gold.
The Preston man decked Jangra in the opening round and twice more in the second to secure the most emphatic of unanimous decision wins.
Savannah Marshall claimed a split decision victory over Ariane Fortin in the women's middleweight final, while Antony Fowler also won gold for England by beating India's Vijender Vijender in the men's middleweight final.
Northern Ireland's Michael Conlan also won gold in the men's bantamweight, while Joe Joyce won the men's super heavyweight class with a unanimous decision over Australia's Joe Goodall to give England their fifth and final gold medal of the Games.