Commonwealth Games: Lizzie Armitstead and Emma Pooley win road race gold and silver
By Matt Westby
Last Updated: 03/08/14 1:03pm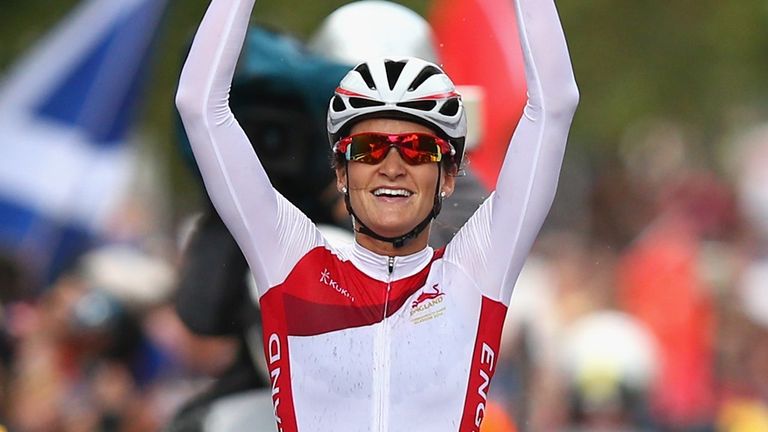 Lizzie Armitstead claimed gold and Emma Pooley took silver as England completed a superbly executed one-two in the Commonwealth Games women's road race.
The pair formed part of a lead group of seven with 38km to go and worked together brilliantly to exhaust their opponents into submission on a hilly circuit in Glasgow.
The medal-winning moves came when Pooley attacked with 11.5km remaining to open up a small gap, before Armitstead followed with an surge of her own 8km out, quickly passing her team-mate and eventually crossing the line 25 seconds ahead.
Pooley had expected to be swallowed up by the rest of the escape group in the closing kilometres, but with no one gaining ground behind, she kept driving on and finished 46 seconds ahead of third-placed Ashleigh Moolman Pasio, of South Africa.
The victory was redemption for Armitstead after she had been beaten into silver in sprint finishes at both the 2010 Commonwealth Games and 2012 Olympic Games, while Pooley collected her second silver of the week after finishing second in Thursday's time trial. It also gave her a glorious end to her cycling career, as she now retires from the sport to concentrate on competing in triathlons.
'Relief'
Armitstead said afterwards: "I just feel like I deserve it. I have trained so hard. I'm always on the podium, I don't win that many races. Once you have got a big title, you can call yourself a champion finally. The psychologists tell you it should never be a relief when you win a race, but to tell you the truth, it is.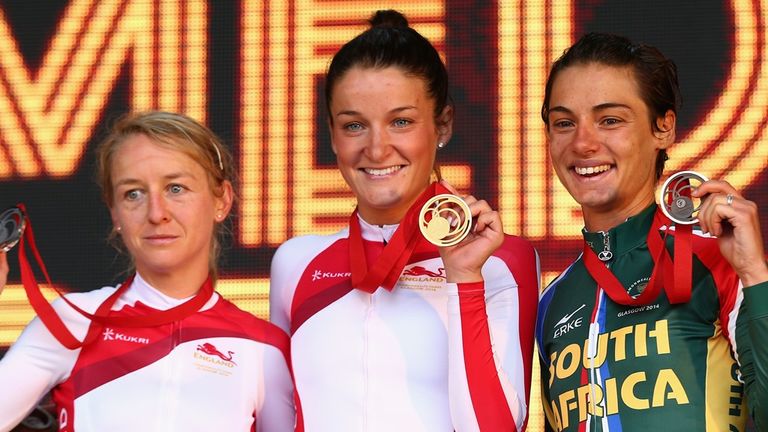 "I'm really grateful to her [Pooley] for sacrificing like she did. She has had quite a lot of stick over the years for some of her road-racing tactics, but she really got it right today. We rode a perfect race together."
The race comprised seven laps of the same 14km circuit on which Armitstead had won the British national road race championship last year, and she consequently started as the favourite.
The 25-year-old profited early on from the support of her England team-mates, with Laura Trott and Dani King both going on the attack to whittle the peloton down to just 21 riders by the halfway mark.
Teamwork
Pooley then launched the first of multiple attacks with 40km left to thin the lead bunch down to just seven, with herself and Armitstead being joined by Pasio, New Zealand's Linda Villumsen, Australian duo Tiffany Cromwell and Gracie Elvin, and Scotland's Katie Archibald.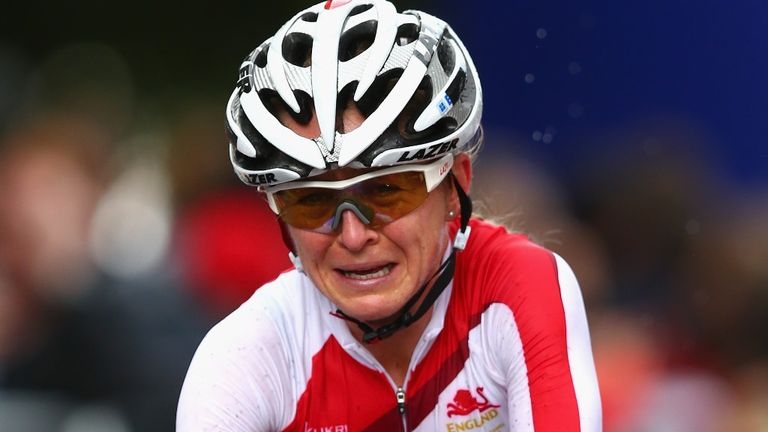 Pooley remained on the front and set a fierce pace for much of the next 25km, but she still had enough strength to blow the group apart once again with a stinging burst of speed early in the final lap.
Armitstead was happy to sit and let the Australians chase, but she then launched her own attack on the climb up Great George Street – the same spot on which she made her race-winning move at the British nationals a year earlier – and no one could follow.
She swiftly rode up to and past Pooley, and wasted little time in building up a race-winning lead. Pooley followed her over the line in tears as she waved goodbye to professional cycling in style.
Pooley said: "It's a nice way to finish, with a medal in your last race. I knew my family and friends were watching somewhere, and that means a lot to me. I was pretty sure Lizzie had the legs to win, but plans don't always go to plan. To hang on for silver was fantastic and unexpected."
Women's road race result
1 Lizzie Armitstead (Eng) 2:38:43
2 Emma Pooley (Eng) +25sec
3 Ashleigh Pasio (RSA) +1:11
4 Tiffany Cromwell (Aus) +same time
5 Linda Villumsen (NZ) +1:14
6 Gracie Elvin (Aus) +2:19
7 Katie Archibald (SCo) st
8 Leah Kirchmann (Can) +5:29