Commonwealth Games: Savannah Marshall takes split decision for middleweight gold
By Sam Drury
Last Updated: 02/08/14 8:03pm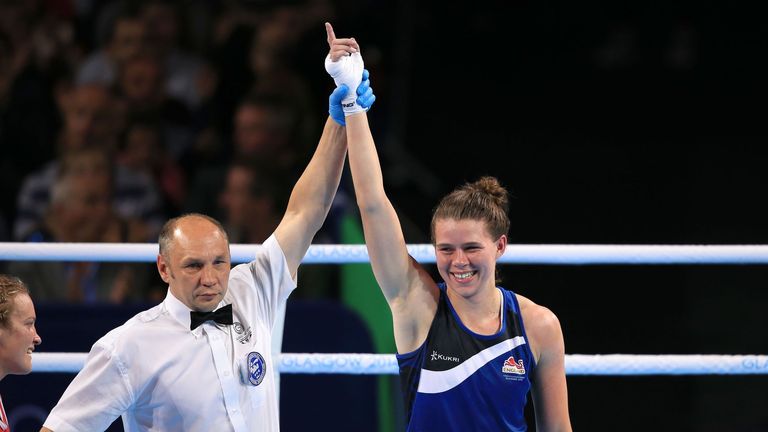 Savannah Marshall won Commonwealth gold after a split decision victory over Ariane Fortin.
In an incredibly competitive bout it was Marshall who just came out on top having survived a late onslaught from her Canadian opponent.
There was little to choose between the fighters from the first bell to the last but the reigning world champion did enough to take it on two of the three judges' cards, winning 36-40, 40-36, 39-37.
The medal tops a fantastic comeback for Marshall after eight months out with an injury that saw her miss the European Championships earlier this year.
It was an effort made even more impressive after Fortin looked to edge the first round, attempting to bring the fight to Marshall and landing some solid shots.
Marshall hit back in the second round to level things up on the scorecards at the halfway stage, a couple of left-right combinations working to perfection and forcing Fortin back.
The 23-year-old Hartlepool boxer was in the ascendancy once again in the penultimate round although, as throughout the bout, both women continued to land some stinging blows. However, Marshall was able to gain control by taking advantage of her superior reach and keep Fortin out of range for large spells.
It was a different story in the final two-minute round, Fortin came forward relentlessly as she tried to overcome the narrow defecit and was able to get through Marshall's defences a number of times early in the round.
Clean punches
The Canadian was leaving herself open to the counter though and Marshall took advantage, landing clean punches more and more frequently as the the clock ticked down.
There was a nervous wait after the final bell before the judges' decision was announced. However, when it came, it was the right decision as far as the Englishwoman was concerned, a broad smile spreading across her face.
Marshall said: "I think I'm far from my best and I've still got a long way to come back but I think it will just take time."
London had come too soon for the Hartlepool fighter just two months after being cast in the role of reluctant celebrity following her historic world title triumph.
But Marshall denied her Commonwealth Games gold medal was any sweeter due to the crushing disappointment she experienced in her home Games.
Marshall added: "London was two years ago and it's just like a bad dream. I think I'm used to these multi-sports events now and I've got a lot of good experience under my belt.
"Obviously I'm looking forward to the World Championships later this year but you're only as good as your last fight so I can't take anything for granted."