Cricket on Sky
Sky Sports has been awarded four more years of live cricket under a new deal with the ECB.
Last Updated: 31/01/12 8:15am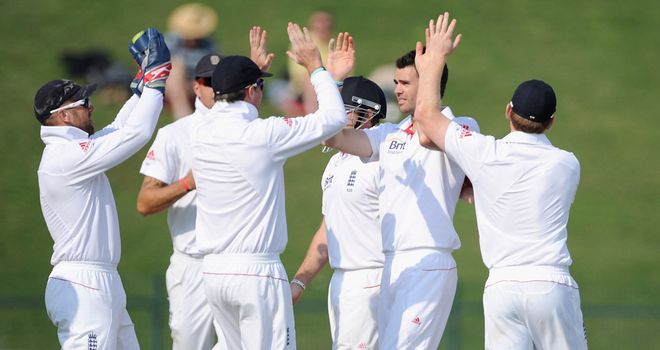 Sky Sports has been awarded four more years of live international and county cricket under a new deal with the ECB.
The England & Wales Cricket Board today announced a new agreement with Sky for coverage across TV, mobile and online. With the existing deal concluding at the end of 2013, the new deal begins in 2014 and continues until the end of the summer in 2017.
Sky Sports has been awarded exclusive live coverage of:
• TEST MATCHES - all of England's Test matches played at home, including series against India (2014), Australia (2015), Pakistan (2016) and South Africa (2017).
• INTERNATIONALS - all One-Day Internationals and T20 matches, plus selected fixtures including England Lions and women's matches.
• COUNTY MATCHES - at least 60 days of domestic cricket each summer covering each of the major competitions and including every county.
The new deal will take Sky's partnership with the ECB for exclusive live cricket in England and Wales into its 12th year and ensures Sky viewers continue to enjoy an extensive year-round schedule of live cricket from home and abroad. There is also an option for Sky to extend the deal for an additional two years to cover tours by India in 2018 and Australia in 2019.
Barney Francis, managing director of Sky Sports, said: "This is good news for cricket and good news for viewers. Our viewers will enjoy a breadth of live coverage, at domestic and international level, and the ECB extends a partnership that has proved good for the game.
Immense benefit
"Cricket is flourishing in England and Wales, with increased participation, record attendances and success for England's men and women. Through extending our partnership, the ECB can invest on and off the pitch and the game can continue to grow."
ECB chairman Giles Clarke said: "Sky Sports has raised the bar for all live television broadcasters with its innovative, informed and comprehensive coverage of cricket and we are very pleased to renew this agreement for a further four years.
"No-one should be in any doubt that our partnership with Sky has been of immense benefit to the wider game. World-class support structures for our successful England teams, major ground improvements at county level, a flourishing coach education programme and a five per increase in participation at our 'Focus' clubs are all by-products of this relationship."
Sky first showed live coverage of the England cricket team in 1990 with the tour of the Caribbean, the first ever live ball by ball coverage of an overseas series. The broadcaster has shown cricket every month over the last five years and in 2010 celebrated its 150th live England Test match.
Its commitment to cricket extends to Sky Sports News HD and skysports.com which both provide extensive news, reports and analysis all year round, plus various support programming including Club Life, Cricket AM and Cricket Writers on TV.
The broadcaster's partnership with the ECB's Coach Education Programme has seen 45,000 grass roots cricket coaches trained since the scheme's launch in 2006, exceeding all targets.
Sky Sports has also pioneered many broadcast innovations to enhance viewing at home and analysis in the commentary box. These include stump cameras, widescreen, HD, Hi Motion, Pitch Cam, player microphones and Hot Spot. Sky customers can also enjoy interactivity and 3D as well as being able to follow the action live on their PC, mobile and tablet devices at no extra cost.
This agreement is also another example of Sky investing in content and innovation for its customers. It follows the recent launch of Sky Atlantic and Sky 3D, Sky Go, Sky Anytime+ and the price freeze. In March, Sky will also launch Sky Sports F1 HD, a brand new dedicated channel providing live coverage of every Grand Prix from the 2012 Formula 1 season.