Cricket Expert & Columnist
Nasser Hussain says India must stop 'the wheels falling off' after England thrashing at Lord's
"India are No 1 in the world and it was meant to be a gun, tight series but at the moment it is men against boys."
Last Updated: 13/08/18 9:26am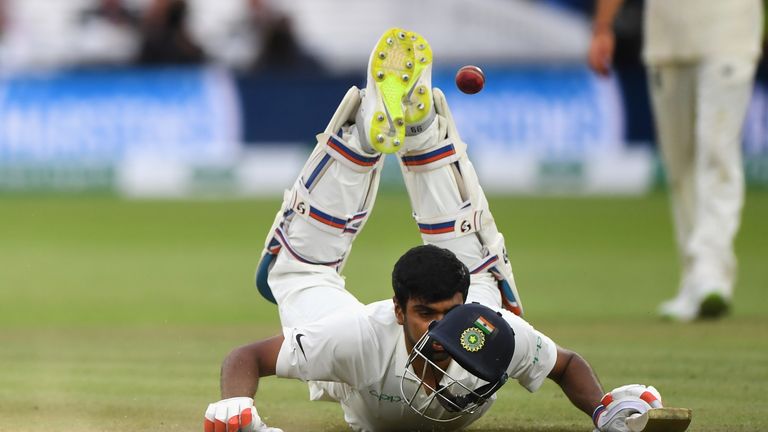 Nasser Hussain has challenged a beleaguered India side to "dig really deep" and prevent the "wheels falling off" after being thrashed by England at Lord's.
Virat Kohli's men are 2-0 down in the five-match Test series after losing by an innings and 159 runs, a week after they went down by 31 runs at Edgbaston.
India have been bundled out for 162, 107 and 130 in their last three innings, while skipper Kohli was impacted by a back strain during the hammering in London.
"England are arguably the best in the world in these conditions but the real eye has to be on India - they have to be wary of the wheels completely falling off," Hussain told Sky Sports Cricket looking ahead to Saturday's third Test at Trent Bridge.
"India are No 1 in the world and it was meant to be a gun, tight series but at the moment it is men against boys. Their curve is going in the wrong direction.
"They were in the game for a long time last Test [at Edgbaston] but the back injury to Kohli is a concern, the fingers of [Ravichandran] Ashwin took a blow, the rest of their batting line-up continues to fail and there are no practice games in between.
"They have got to dig really deep - there are some really good cricketers in that dressing room and they have to come out fighting.
"I don't think it will be as tough as this - they can draw on the fact it's been as hard as it can be - but Trent Bridge does a bit.
"[James] Anderson will be a threat, [Stuart] Broad got 8-15 there against Australia - these England players have fond memories, so it won't get that much easier.
"This is payback time a little bit for England after losing 4-0 in India and I don't see them letting up. I have seen that they are a hungry team. They won't rest on their laurels, they want to get better and better."
England were shorn of Ben Stokes at Lord's, with the all-rounder - who bowled his country to victory on the final day of the first Test at Edgbaston - attending his trial for affray at Bristol Crown Court.
And, despite the convincing triumph in the capital, Hussain says he would recall Stokes for the third Test in Nottingham, if the 27-year-old was available for selection and in the right frame of mind.
"You have to work out if he is mentally right to play - the court case will have taken a lot out of him," said Hussain. "If you feel he is and he is available then he comes straight back in.
"The two young lads [Sam Curran and Ollie Pope] then become a bit vulnerable. Is Stokes currently a better batsman than Pope? Probably. Is he currently a better cricketer than Curran? Probably.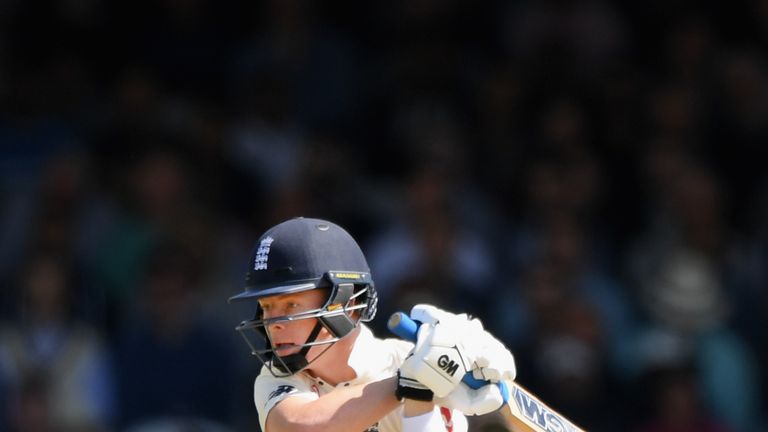 "Curran has had such a good start, though, so do you want to knock him at the knees and drop him?
"I might go Bairstow at No 4 - he is a Test No 4, even with the gloves, and if anyone has the energy to do it he does - and then have Stokes at five.
"Then [Jos] Buttler at six, [Chris] Woakes at seven and Curran at eight. That way you have your batting and bowling but it is difficult."
Anderson struck nine time at Lord's to move on to 103 Test scalps at the venue, while Broad's four-wicket burst on Sunday put England on the brink of victory.
Woakes' unbeaten ton and Bairstow's 93 had also helped earn the hosts a 289-run lead on first innings - but Hussain also saw fit to praise England skipper Joe Root's captaincy.
"Credit to Root - who had short leg in to Kohli just to push him back in the crease a bit with his bad back, Bairstow up to the stumps to Curran, and a leg slip for [Ishant] Sharma.
"It's easy to captain in conditions like that with Anderson, Broad, Woakes and Curran but Joe made the right moves at the right time and had the right fielders in the right place."
Will England wrap up the series at Trent Bridge? Join us from 10am on Saturday on Sky Sports Cricket and Sky Sports Main Event to find out.