Cricket Expert & Columnist
Heather Knight showed class leading England Women to World T20, says Nasser Hussain
'Amy Jones' form as wicketkeeper-batsman another big tick'
Last Updated: 26/11/18 7:37am
Heather Knight has enhanced her status after leading England to the World T20 final 16 months after guiding the side to the 50-over World Cup title, says Nasser Hussain.
England's hopes of holding both World Cup trophies simultaneously were ended by an eight wicket-defeat to Australia in Saturday night's 20-over showpiece in Antigua, with Knight's team bowled out for 105 before the Southern Stars eased to their target in 15.1 overs.
Sky Cricket expert Hussain expects further success for England under captain Knight and coach Mark Robinson, with Knight already setting her sights on next summer's Ashes series on home soil and another World T20 taking place in Australia in 2020.
"Even though Knight's reputation was high anyway, she has shown a lot of class and calmness," said Hussain.
"When they lost to the West Indies in their final group game and dropped catches she didn't panic and England then fielded really well against India in the semi-finals.
"What [Knight and Robinson] have done is been very, very brave - not just in the last 16 months but two years ago when England suddenly decided to jettison Charlotte Edwards, one of the greatest female cricketers we have ever produced.
"They said: 'We are going down the road of fitness, I don't care how many runs you've got, you have got to be mobile'.
"It was a dangerous decision but it led to the side winning the 50-over World Cup and led them to within one win from doing the double.
"They will continue to be brave and they are a good combination. In general, England's women's cricket is going in the right direction."
England were shorn of wicketkeeper-batter Sarah Taylor during the tournament as she continues to manage her anxiety condition, while all-rounder Katherine Brunt was ruled out on the eve of the competition with a back injury.
Hussain thinks Knight's side missed the duo in the final, while he also questioned the skipper's decision to bat first in Antigua with dew affecting England's spin-heavy attack during the run chase under lights.
"[Without Brunt and Taylor] they did miss a bit of experience batting first - Brunt's batting has been vital down the order," said the former England captain.
"Robinson says if they had got 30 more Australia might have crumbled - Australia were abysmal in the field, I've never seen them field like that.
"There were signs of nerves so maybe a bit of experience and 30 more runs [might have made a difference].
"Knight will have to think about the decision to bat first, which I think was the wrong one even though I understand why they did it because when you are chasing in a final, you can be under a bit of pressure.
"I don't think they realised how much dew was going to come down. England played four spinners and they were really struggling to grip the ball."
Hussain labelled Amy Jones as "the biggest tick" for England in the tournament after the 25-year-old stepped in for Taylor behind the stumps and at No 3.
The Sky Cricket expert also believes the strength of the Kia Super League in England and the Women's Big Bash in Australia has been proven by those nations reaching the World T20 final.
"Kirstie Gordon, who only made her England debut a week ago and is playing in a World T20 final, has bowled beautifully throughout, while Nat Sciver played well in periods and Anya Shrubsole bowled well in St Lucia," added Hussain.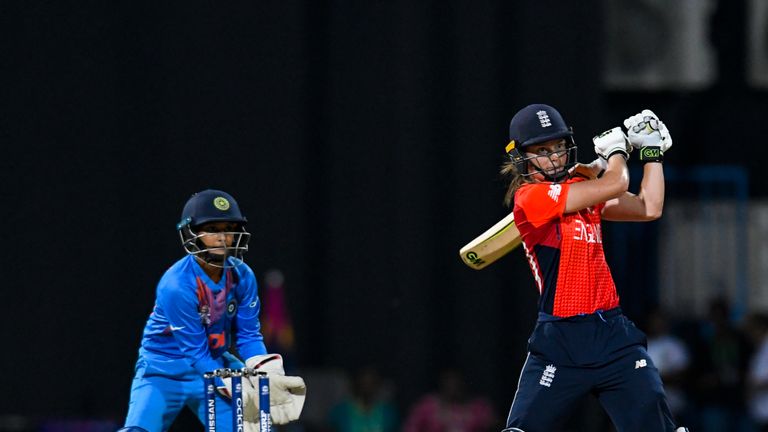 "The most impressive for me has been Jones. She is replacing a legend in Taylor, the best wicketkeeper-batsman in the world, but she has not looked too far away from that. Her [half-century] against India, her glovework - she has probably been the biggest tick.
"It shows England's strength in depth - when I first saw no Taylor, no Brunt I thought 'Crikey' but because of the Kia Super League, all these women were picked on the back of performances.
"It can't be any surprise that the two sides that got to the final are the ones with the best franchise tournaments - the Women's Big Bash in Australia is an outstanding standalone tournament and the KSL is a very good tournament.
"There is a massive difference between the haves and the have-nots. If the game is going to grow it needs to grow across the board, not with just three or four teams."
Watch England Women take on Australia Women in the 2019 Ashes, live on Sky Sports Cricket next summer.